Spain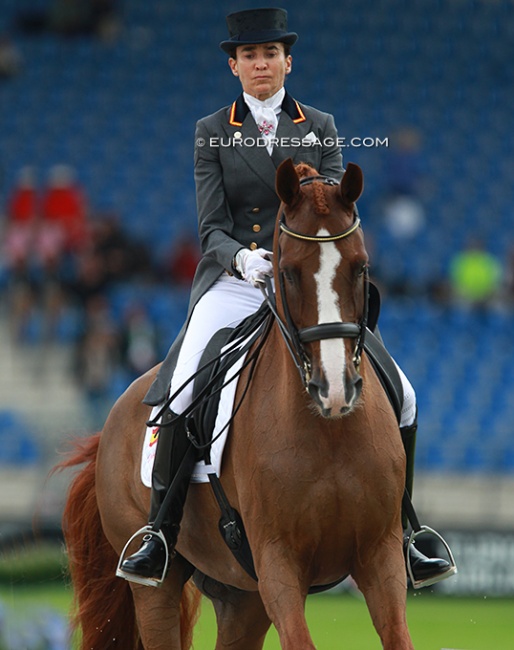 Beatriz Ferrer-Salat will officially retire her 20-year old Grand Prix horse Delgado in a special ceremony at the 2021 Madrid Horse Week on Saturday 27 November 2021. 
Delgado was born in 2001 and is by De Niro out of Wildrose (by Weltmeyer x Absinth). He is bred by Wilhelm Lambardt in Germany.
German Start
Delgado was first competed by Astrid Schaper as a 3-year old in Germany in 2004.  He sold at the 2004 Westfalian Autumn elite auction to Catrin Wingender and continued his show career under Anja Endrullis in the A-level classes in 2005.
Knut Wingender climbed aboard in 2006 and presented him at L-level in the Bundeschampionate qualification classes, winning in Duisburg and Hamm-Rhynern, before selling Delgado to Spain in 2007.
In Beauvalais' Footsteps
The chestnut Delgado became the next Grand Prix horse to take Beatriz Ferrer-Salat back to the highest echelons of the sport after the retirement of her 2004 Olympic bronze medal winning Beauvalais. 
The pair made its international show debut at small tour level at the Sunshine tour in Vejer de la Frontera, Spain, in 2009. They also showed in Saumur that year.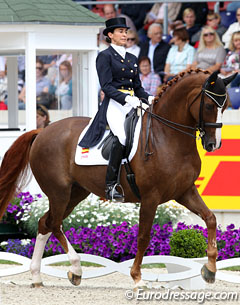 Their Grand Prix debut was in July 2010 at the CDI Achleiten, where they immediately posted 71.020 and 73.080%. Two weeks later they repeated that feat at the CDI Fritzens with 71.7 and 74.12% scores.
Delgado was immediately one of the biggest shooting stars on the European dressage scene and one to watch leading up to 2010 World Equestrian Games. Unfortunately a severe tendon injury, on which he was operated, kept them from going to Lexington. 
Niggling Injuries
After a long recovery, he made a slow, but difficult come back. His scheduled first CDI in Stuttgart in November 2011 did not go according to plan. In the warm-up he regrettably took a wrong step and had to be withdrawn.
He returned to the CDI ring four months later at the CDI Toledo in March 2012, where he won both rounds. He went on to Compiegne, Fritzens and Aachen in great form with solid results between 71 - 75% and was expected to be Spain's strongest ticket for the London Olympics? 
Unfortunately at the end of July Delgado had to be replaced by the team reserve pair (Jose Daniel Martin Dockx on Grandioso) due to an injury and did not make it to the 2012 Olympics.
He returned to the arena at the CDI Vidauban in March 2013 for one international and then was off again for two years!
Remarkable Come Back to Career Peak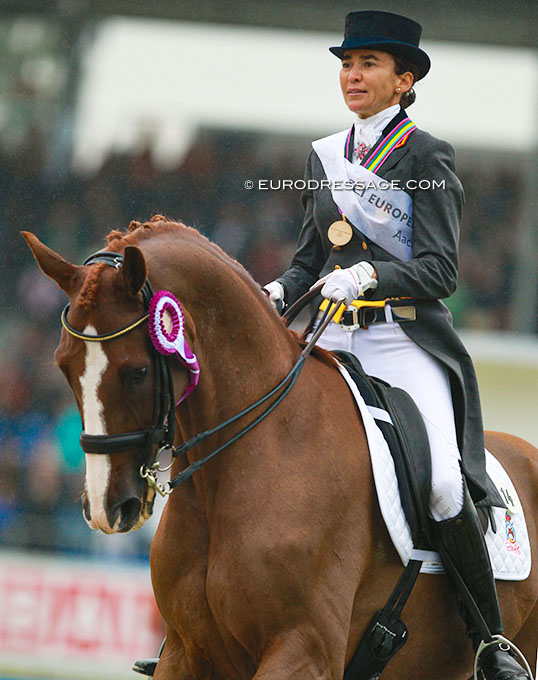 Although Delgado was beset by injury problems over the last eight years, Beatriz kept faith in the gelding, which was repaid handsomely. 
In 2015 they made a stellar come back to the arena to produce their career highlight performance in the summer. Delgado was reintroduced to CDI level competition in Barcelona in March 205 and went on to win at Oliva and score up to 75-77% in Hagen.
The horse looked changed. He was no longer as bulky and muscled as before because his injuries forced Ferrer-Salat to rethink his fitness plan, focusing on light work to keep him happy and healthy, instead of bodybuilding for strength and power. 
At the 2015 European Championships in Aachen they rode their personal besst scored with a 77.186% in the Grand prix, a fourth place in the Special (77.395%) and a bronze medal with a magnificent freestyle in the Kur to Music on a score of 82.714%.
They finished the year with a double World Cup victory in Lyon and Stuttgart. 
Energizer Bunny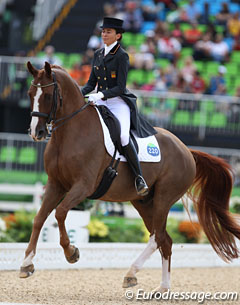 That European Championship success fuelled Ferrer-Salat's fire. In 2016 she rode the 15-year old Delgado in Den Bosch, Oliva and Munich before heading the 2016 Olympic Games in Rio de Janeiro, where they could not bring the same brilliance to the table as the year before, but still produced some wonderful work to finish 10th in the Freestyle. 
Delgado got a long 9-month break over the winter as he had strained a tendon in Rio. He picked up competitions again in May 2017 with Segovia, followed Aachen. The pair was selected on the team for the 2017 European Championships in Gothenburg, but had to withdraw as shortly before the show, Beatriz tripped over one of her dogs and sustained an intercostal sprain and cracked rib. In the autumn that year she rode Delgado in Lyon and Madrid with another double win at that latter show.
Consistently proving their value for the Spanish team, Ferrer-Salat and Delgado could clinch their team selection with the minimum number of shows and in 2018 they did Segovia and Aachen to be selected for the 2018 World Equestrian Games in Tryon, where they finished 13th in the Grand Prix Special.
Last Season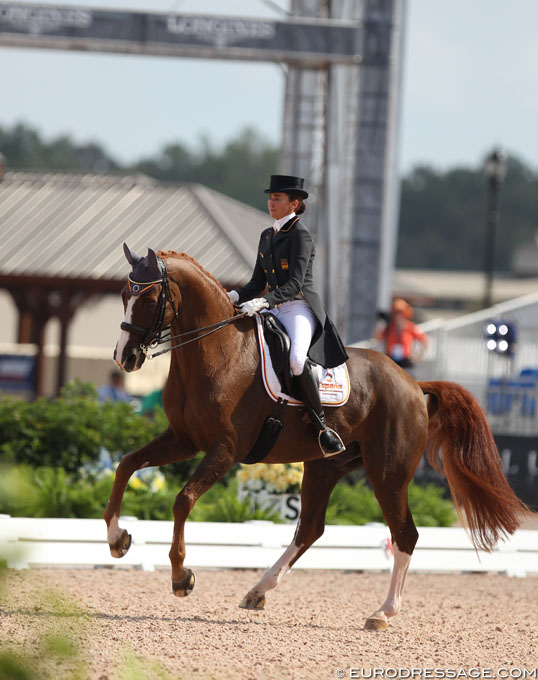 2019 turned out to be Delgado's last show season. The gelding had turned 18 and after winning two trophies at the CDI Saumur in May, he was no longer required to prove form at the team selection trial in Aachen. They were nominated on the Spanish team for the 2019 European Championships in Rotterdam.
At the Euros Delgado looked incredibly fit and fresh for his age in the Grand Prix test, scoring 74.363%. However in the Special he was rung out for being unlevel.  A delay in the programme lengthened Ferrer's warm-up beyond her planning and probably was too much for the horse. 
It was an undeserved career end for a horse that had defied the odds and overcome numerous injuries. 
Delayed Retirement
At the beginning of 2020 it came as a slight surprise that the 19-year old was still short listed by the Spanish Equestrian Federation for the Olympic team consideration for 2020 Tokyo. 
In an interview with Eurodressage in April 2020, Ferrer-Salat was not yet thinking of Delgado's retirement, but in the end the horse did not return to the competition arena since Rotterdam. The postponement of the Games by another year made the decision to retire almost inevitable.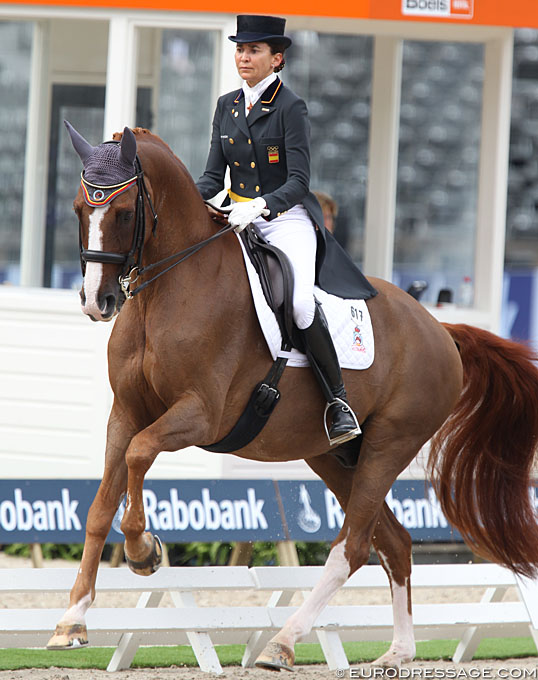 Furthermore in his 11-year career in international sport, Delgado assisted in four Spanish Grand Prix Champion's titles which his rider could add to her ever growing list of accolades. They won the Nationals four years in a row, in 2016, 2017, 2018, and 2019.
The wonderful gelding will now get his well earned retirement ceremony at Madrid Horse Week, where he is scheduled to perform his freestyle one last time. 
Photos © Astrid Appels
Related Links
Eurodressage Photo Database: Delgado
Short Listed Riders for Spanish Team for 2019 European Dressage Championships
Beatriz Ferrer-Salat Win 2019 Spanish Grand Prix Championships
Spanish Team Selected for 2017 European Dressage Championships, Ferrer-Salat Out
Ferrer-Salat and Delgado Dance in the Rain to 2017 CDIO Aachen 4* Kur Victory
Ferrer-Salat and Delgado Still Got Swagger, Win 2017 CDI Segovia Big Tour
Beatriz Ferrer-Salat: Inspired by Her Family, Worked For Success
Spain's Ferrer-Salat Steals Limelight at 2015 CDI-W Lyon
Dujardin Retains Title with Kur Gold at 2015 European Dressage Championships
Kristina Broring-Sprehe wins 5* Grand Prix with Personal Best Score at 2015 CDIO Hagen
Martin Dockx and Grandioso to Step in for Delgado, Faberge Reserve
Spanish Team Selected for 2012 Olympic Games
Come Back Kids Take Centre Stage at 2012 CDI Toledo in Spain