Spanish Dressage News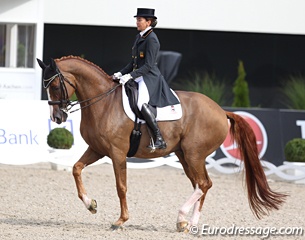 The Spanish equestrian federation has announced the team that will represent Spain at the 2017 European Dressage Championships in Gothenburg, Sweden, on 22 - 26 August 2017. The definite selection of the team was already a week ago, but yesterday anchor rider Beatriz Ferrer-Salat has announced her withdrawal due to a personal injury.
After the 2017 CDIO aachen, the Spanish Equestrian Federation (RFHE) and its technical dressage director Luis Lucio selected the team:
Beatriz Ferrer-Salat - Delgado
Claudio Castillo Ruiz - Alcaide
Severo Jurado Lopez - Deep Impact 
Jordi Domingo - Statesman
Reserve: Cristobal Belmonte - Diavolo de Laubry
Beatriz Ferrer-Salat has now announced her withdrawal from the team as she herself had a minor accident at home and will not be fit in time. 
"Two weeks ago I stumbled at night over one of my dogs in the room and fell with my ribs on the edge of a wooden bed," Beatriz explained. "First I thought it wasn't much, but every day it began hurting more. I went to the doctor who diagnosed me with an intercostal sprain with a potentially cracked rib. He told me that recovery would be 3 to 5 weeks."
As a consolation Beatriz will go on holiday to Ibiza instead. "I can rarely do that to at least that's a bit of a consolation," she admitted. "I'll watch the dressage on live streaming."
Cristobal Belmonte will now take Ferrer-Salat's place on the team.
Photo © Astrid Appels
Related Link
Eurodressage Coverage of the 2017 European Dressage Championships