2012 CDI Toledo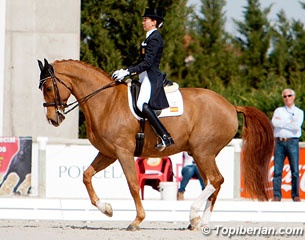 With 115 competitors entered for the international dressage competition in Toledo, Spain, the brand new three-star CDI Toledo became a fantastic show. Nice weather, nice facilities and good competiton during the first weekend (30 March - 1 April 2012) set the bar as the competition continues next week with a second CDI on 6 - 8 April 2012. The breaking news of this weekend wa the strong comeback of Beatriz Ferrer Salat and Delgado on the road again to Olympics.
Beatriz' ride on her Westfalian gelding Delgado was probably one of the most anticipated tests in Friday's Grand Prix and Saturday's Olympic Grand Prix Special. The couple seemes to pick up their career where they stopped almost 2 years ago due to a tendon injury. They were unbeatable and won both tests.
Beatriz left no option and took her chances at the Grand Prix and Special and won them both. Her impressive chestnut was with her every moment. His wonderful trot tour is an eye-catcher: the regularity and elasticity are two outstanding features that mark this combination. A small mistake in the one tempi changes was not a major issue. The crowd and the judges were very very happy with them. There is no doubt about it that Delgado is probably Beatriz' once-in-a-lifetime horse.
German 5*-judge Peter Holler was one of two judges who had scored Beatriz and Delgado over 74% at their last appearance at the 4* CDI in Fritzens, Austria in June 2010. Their Grand Prix Special ride on Saturday was only the third Special in their career. Again 2 judges had them over 74%, it was Peter Holler again and 5* judge Maribel Alonso.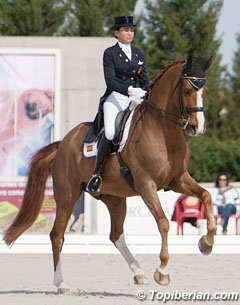 Beatriz was delighted with her test, as well as Ton de Ridder her trainer and of course Jan Bemelmans, Spanish Team Trainer. "It looks very good, we are happy," were their comments. Beatriz herself was delighted "he is such a reliable and a wonderful horse, but I am for too long in this business to make big plans already now. Our next step will be Mannheim, then Fritzens and then we will see. Here we are again and I am so pleased with my test."
Beatriz and her horse Fabergé would have almost made a double whammy in first and second place, if it wouldn´t have been for Minna Telde's big, black, gorgous Hanoverian Santana (by Sandro Hit) which the Swedish rider bought from Ingo Pape in Germany. Telde is back in the big time after a baby break and Santana was in an accident in which he lost his left eye. Minna and Santana finished 2nd in the Grand Prix and won the Kür, while Beatriz and Fabergé were breathing down their neck in both tests.
The CDI Toledo was a selection trial for the Spanish combinations. Two of the pre-selected riders were on the spot, Beatriz Ferrer with her horses and Carmen Naesgaard and Ciowa. This young pair presented a very correct test and make a very elegant combination.
Although no Portuguese riders were at the show, Lusitano horses caught the attention in the Grand Prix arena: French rider Stephanie Delpierre with Sino de Almeida, Juan Antonio Jimenez with Raio, and a new pair, last year's Spanish team rider Antonio José Diaz Porras with Xenfonte.
Jan Bemelmans, Spanish team trainer, was on the spot to inspect his pupils. Now he is off for Addington where team candidate Morgan Barbançon will show Painted Black. The next Spanish observation trial for the Olympics will be in Saumur in three weeks time.
Dutch Olympic judge Wim Ernes acknowledged Minna's and Santana's future possibilities, "there are some issues but they are all very expressive. Beatriz is within the 20 top riders of the world and Delgado is of course top quality, as well as Fabergé. These 3 combinations really produce sport at the highest level. Fabergé could have been more supple in the Kür, but they had very nice music."
Wim Enres mentioned another combination which stood out in this CDI, "the rider did a very good job within the potential of the horse." The Dutch judge referred to Eduardo Mellado and Piconero IV, who finished 3rd in the Kür. Both have international experience and are veterans in the competition ring. The PRE bred Piconero is owned by Yeguada Ovelar and was part of the spanish team with Juan Antonio Jimenez in 2009 at Windsor. Eduardo Mellado represented Spain with the national team in 2004 in Aachen.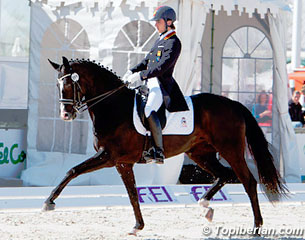 The Prix St. Georges was dominated by new riders in the adult category, young Carlos del Castillo, who returned recently from Germany to win  with Rubin Primera (by Rubin Royal x Don Primero) owned by Vicente and Raquel Beneyto. Recuerdo, a veteran Lusitano, has been with his rider Laura Reija since he was 6 years old and is still a reliable compangnon at this level. The horse helps to smooth Laura's transition to the senior ranks. The duo won the Inter I Kur to Music.
Nice young horses are being prepared for the World Champinships for Young Dressage Horses in Verden this coming summer 2012. The Matutes´ team project Dhannie (by Don Crusador x Weltmeyer) is ridden and owned by Juan Francisco Fernandez and scored over 85% judged by Cristoph Hess, Maribel Alonso and Mariano Santos. The black youngster was an eye-catcher in the 5 year old division, while 6 year old category was dominated by Valvanera Palacios and Don Corleone (by Don Federico x Donnerhall) from Centro Ecuestre Olivares.
The Young riders division was a more thinly spread category. Erik Balasch and Dorado as well as Cristina Giros and her Sunday Boy dominated the class once again. In junior ranks, Maria Dolores Moncayola and her new horse Zchufro as well as Andreu Busutil with Don Luka (by Don Larino) adn Ana Roca with Hot Chocolate showed a lot of potential.
Text and Photos © Katharina Braren/Top Iberian
Related Links
Scores 2012 CDI Toledo
Bemelmans and Rash Return to Spain to Train in Preparation of 2012 CDI Toledo