2006 Bundeschampionate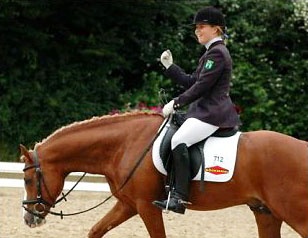 While all eyes were focused on the CDIO Aachen the weekend of May 20-21, 2006, in the near distance in Duisburg, Germany, a Bundeschampionate Qualifier was being held. The winning qualificants were Delgado, Rousseau, Daylight and Voyager.
In the 5-year old Dressage Horse division Knut Wingender scored an impressive 8.8 aboard Delgado and won the class. He was just ahead of Belgian Philippe Jorissen aboard Amaro Abano. This Belgian duo scored 8.6. Claudia Haller-Petzold completed the top three on Romanowa. She got 8.3.
In the 6-year old Dressage Horse class, Heiner Schiergen and his lovely Rousseau scored 8.6 and topped the field. Schiergen beat Lamborghini, a young horse he trained himself and recently sold to Anna Katharina Luttgen. She got 8.5 for her ride with the bay gelding and placed second. Helen Langehanenberg and Donlino got 8.4 and placed third.
In the 5-year old pony division, Lydia Camp won the class on Daylight, scoring 7.8. While horses need to achieve a qualification score of minimum 8.0, ponies qualify for the finals with a 7.5 mark or higher. In the 6-year old dressage pony class, Helena Camp and Voyager won with 8.7 ahead of Verena Leuchten on Don't Thatch W (8.0).
Photo copyrighted: Barbara Schnell
5-year old Dressage Horses
1 Delgado - Wingender,Knut - 8.8
2 Amaro Abano - Jorissen,Philippe - 8.6
3 Romanowa - Haller-Petzold,Claudia - 8.3
4 Samira - Förster-Henrich,Bärbel - 8.1
5 Da Vinci - Schiergen,Heiner - 8.0
6 Westpoint - Heinze,Sebastian - 7.6
7 Rotwelsch - Heinze,Sebastian - 7.5
8 Alesi - Knieps,Eva Julia - 7.4
8 Peppo - Nabben,Barbara - 7.4
10 Del Cento - Knapmöller,Ludger - 7.3
11 Rimko - Engel,Alexa - 7.2
11 Faradai - Ueffing,Christina - 7.2
13 Fabella - Frieß,Stefanie - 7.0
14 Freundeskreis FJ- Janßen,Sabrina - 6.8
14 Don Amigo - Koch,Martina - 6.8
16 Dundee M - Jensen,Angoli-Anne - 6.7
17 Lukow - Krüppel,Olaf - 6.5
17 Fürst Felix - Wittenbrink,Jonas - 6.5
19 Bon Jovi - Hoffstadt,Daniel - 6.3
6-year old Dressage Horses
1 Rousseau - Schiergen,Heiner - 8.6
2 Lamborghini - Lüttgen,Anna-Katharina - 8.5
3 Donlino - Langehanenberg,Helen - 8.4
4 Fiego M - Knapmöller,Maik - 8.0
5 Rosencharmeur - Schiergen,Heiner- 7.4
6 Calinus - Klimke,Michael - 7.3
7 Roman Lifestyle - Langehanenberg,Helen - 7.2
8 Röwer - Berger,Ingrid - 6.8
9 Santana - Brinkmann,Susanne - 6.2
5-year old Dressage Ponies
1 Daylight MW - Camp,Lydia - 7.8
2 Pegasus B - Lüttgen,Louisa - 7.6
3 Baumann's Daylight - Baumann,Alexandra - 7.3
4 Donnertraum - Kienbaum,Florine - 7.1
5 De Angelo B - Pelle,Alessandra - 6.9
6 Baumann's Garfield - Baumann,Alexandra - 6.5
6 Dirty Dancing - Bohnes,Katharina - 6.5
8 Top Nashvil - Hassenbürger,Carlotte - 6.4
9 Destination W - Aretz,Isabelle - 6.3
10 Dance of GloryW - Klein,Patrick - 5.7
11 Devidahn - Pieler,Maiva - 5.4
6-year old Dressage Ponies
1 Voyager - Camp,Helena - 8.7
2 Don't Thatch W - Leuchten,Verena - 8.0
3 Arts-Demaran - Lüttgen,Louisa - 7.7
4 Dinarion - Camp,Helena - 7.2
5 Dirty Dancing - Bohnes,Katharina - 6.7
6 Do it later H - Leimkühler,Jana - 6.5
7 Do it now H - Rittmann,Lena-Marie - 6.3
Back to the 2006 Bundeschampionate Index