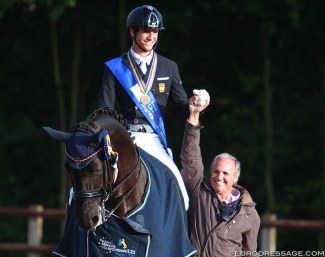 Spanish Grand Prix rider Juan Matute Guimon is making steady progress in his recovery process, following a brain bleed on 5 May 2020. 
On 5 May Matute Guimon suffering from a massive brain bleed and was twice operated on for an arteriovenous malformation (AVM).He was kept in an artificial coma for two weeks and as of 20 May the sedation was lowered. On Whitsunday weekend he was finally extubated and breathing on his own. 
Massive brain trauma normally triggers aphasia, but Juan Matute has shown a miraculous recovery from a highly critical condition and seems to have no speech problems. 
"It's unbelievable," the thrilled father, Juan Matute Azpitarte, told Eurodressage. "Of course he speaks (in a) very low (voice), but he is full of conversation with no problems. Actually sometimes combining Spanish and English. For one week he was not able to talk, because he has pain in his throat, which is normal after so many weeks with the tubes."
When it comes to his mobility, it seems like Juan first has to cope with the severe muscle loss he suffered from lying in a hospital bed for over a month.
"At the moment it's hard to say how his mobility will be," Juan told Erudoressage, "because most of the time he's in bed. It is so sad to see how the medicines kill the muscles, but also the doctors agree it is normal process after this big surgery."
Nevertheless, the 22-year old athlete is showing strength and perseverance. 
"Because he changes (improves) day by day, the full team of doctors at the hospital Fundacion Jimenez Diez are very impressed with Juan's strength," said Matute. "They expect to start him going to the rehabilitation in the gym in one week. Either way, it is going to be very long and slowly recovery."
Photo © Astrid Appels
Related Links
Juan Matute Guimon Extubated, Breathing on His Own, and Sitting Up
Juan Matute Guimon "Opened His Eyes and Began to Cry," Responsive during Gradual Wake-up from Coma
Juan Matute Guimon's CT-Scan Shows Improvement, Waking Up Process Slowly Started
Juan Matute Guimon Shows "Light Improvement", Remains in Artificial Coma
Juan Matute Guimon Recovering from Second Brain Operation
Second Operation on Juan Matute Guimon to 'Repair' Brain Bleed Deemed Successful
Juan Matute Guimon Transferred to Jimenez Diaz Hospital, Second Operation Scheduled
Juan Matute Guimon Makes Minor Progress, Tremendous Outpour of Support
Juan Matute Guimon Hospitalized and in Critical Condition