Spain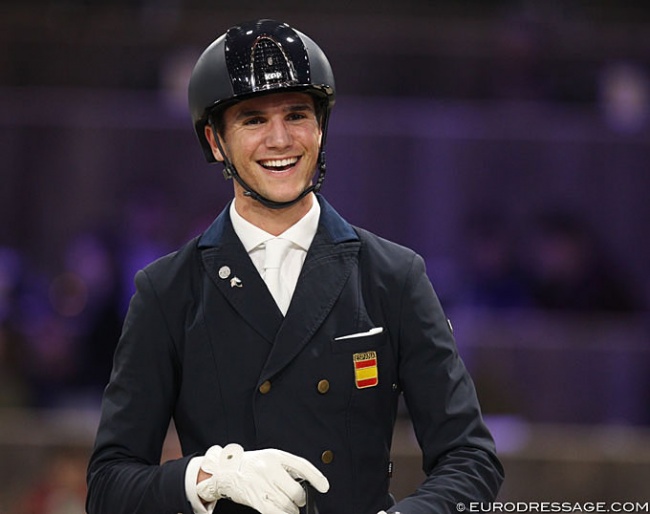 Spanish Olympic short listed rider Juan Matute Guimon has been hospitalized in critical condition with brain bleeding on 5 May 2020.
The 22-year old had been struggling with severe headaches all week. Yesterday he felt unwell after riding, got off his horse, collapsed and lost consciousness. 
He was air lifted by helicopter to the Madrid city hospital La Paz, where he was diagnosed with severe brain bleeding. He is now in a coma.
His condition remained critical overnight and doctors are working to stabilize him first before further testing will be done. y.
Juan's parents, former Spanish team rider Juan Matute Azpitarte and his mother Maria, are with Juan in Madrid. Juan's sister Paula Matute is still in Wellington, Florida, which used to be the winter base of the Matute family. 
"Juan was suffering from headaches for the last week, but we thought it was an allergy," said father Juan sr. "He has very serious bleeding in the brain and is in very critical condition. As a positive young man he is fighting to win the big competition of his life."
"My brother Juan is suffering from severe brain bleeding and he is in critical condition, the cause is yet unknown," his sister Paula posted on Instagram. "More than ever I ask that we all unite, come together to give my brother the strength he needs to battle."
Update - 6 May - 18h20
This morning a CT scan was made to determine the cause and extent of the brain bleed. 
A 3-hour surgery followed this afternoon, but Juan remains to be in critical condition.
Professional Independence in Spain
Matute began his international competition career in 2013 and became the Kur gold medal winner at the 2015 European Junior Riders Championships. 
Sponsored by Yeguada de Ymas, he was able to spend his winters in Florida and summers competing in Europe. 
However in 2018, Matute decided for professional independence and split from his long-time sponsors. He permanently moved to Spain and based himself at the yard of Russian-Spanish Cristina Khamidoulin in Moraleja de Enmedio, Spain, half an hour from Madrid city centre.
He competed for Spain at the 2018 World Equestrian Games in Tryon and with horse Quantico is now short listed for the 2021 Tokyo Olympic Games. With Don Diego he had qualified for the 2020 World Cup Finals in Las Vegas, which were cancelled due to Covid-19.
Photo © Astrid Appels
Related Links
Corona Times: Hit & Run with Juan Matute Guimon
Spanish Grand Prix High Performance Group Set Up as 2020 Olympic Year Begins
Juan Matute Guimon and Yeguada de Ymas Part Ways
Short Listed Riders for Spanish Team for 2019 European Dressage Championships