Spain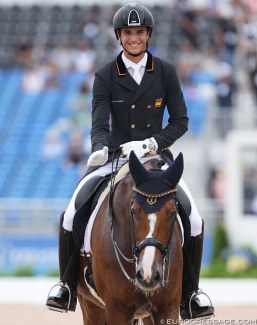 Spanish WEG team member Juan Matute Guimon and his life-long sponsor Yeguada de Ymas have parted ways. Matute Guimon has decided to relocate from Wellington to Madrid and commit to university studies and his own horses.
"My role representing Yeguada de Ymas has come to an end," Juan took to Instagram. "The main reason for this outcome is that our paths are no longer aimed in the same direction. I keep with me the many unforgettable memories shared with them of overall success. This has been a beautiful chapter in my life and in my career as an athlete. I say goodbye with a big smile on my face and a feeling of gratitude towards Ymas knowing that I have achieved all of my goals, year after year, while representing their team. A new chapter begins and I look forward to the future!"
Christine Danguillecourt and Javier Bacariza, who own Yeguada de Ymas with facilities in Oropesa Toledo (ESP) and Wellington (USA), have sustained a loyal twenty-year collaboration with Juan Matute Azpitarte (senior). Ymas breeds PRE horses in Spain but also invests in quality warmbloods which Juan Sr has scouted. Senior is based at the Ymas Wellington property where he assists in training the horses.
Juan Matute Guimon began his international dressage career as a junior, always on horses sponsored or owned by Yeguada de Ymas.
Aboard Don Diego (by Don Frederico x Weltruhm) he rode in his first championship at the 2012 Junior Euros in Berne. In 2013 he was fourth. At the 2014 Euros in Arezzo he rode Dhannie. In 2015 his partnership on Dhannie (by Don Crusador) culminated in a historic Kur gold medal at the European JR Championships in Vidauban.  Juan began competing at Under 25 Grand Prix level with Don Diego in 2014 and in 2016 he participated in the inaugural European under 25 Championships in Hagen, where he earned the Short Grand Prix bronze medal. At the 2017 Under 25 Euros he got bronze again but in Quantico (by Fighting Fit).  A dream was achieved this year when Juan junior got selected on the Spanish team for the 2018 World Equestrian Games, where Spain secured a team spot for the 2020 Olympic Games.
Matute Guimon has now severed his ties with Yeguada de Ymas to stand on his own feet. 
"We have different goal, our sights are aimed in different directions," Juan told Eurodressage. "We spoke and we were very realistic about what our expectations were for the coming seasons and we decided our projects were no longer compatible. They have been expanding quite a bit these past two years, sponsoring new riders and what I need is something they no longer can provide. This is fine. I was privilege to have had all of that support at such a young age, but was very well aware that this could all go away. Life goes on, one door closes, another opens."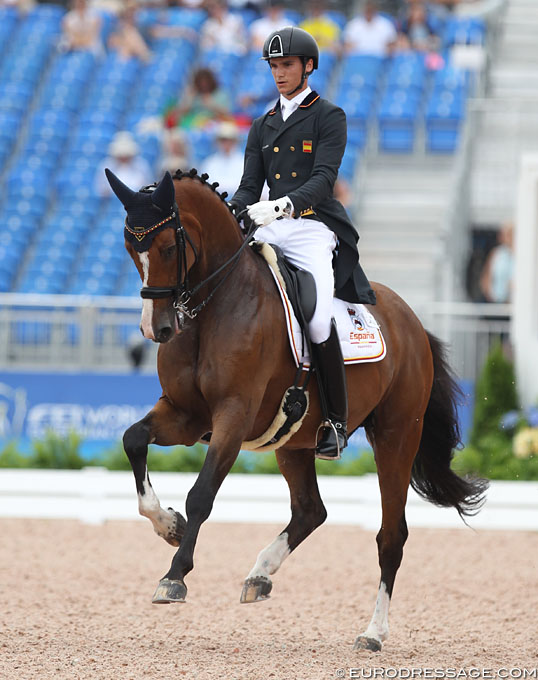 The now 20-year old Juan has decided to permanently base himself in Madrid, Spain, where he will combine riding some horses owned by his father with university studies in Business and Technology. He has been enrolled in Pennsylvania State University for online courses on business and technology, but now the young professional will commit to campus life at a University in Madrid combined with his riding. "As elite (sport) athletes they give us the flexibility enough to make the dual career compatible," Juan explained.
To Eurodressage Matute talked openly about his "change in lifestyle", mentioning that he was "wanting to stay longer in Europe, have more of a presence here, also during the winter circuit. And participate in some of the world cup shows."
Juan will continue on the horses that are owned by his father, including Grand Prix horses Don Diego and Quantico, as well as rising stars Copernico and Galactico amongst others. 
"I approach this new lifestyle with joy, determination and a big smile on my face," he added. "Being based now in Europe I think I'm going to have a chance to make more business, not only with our own horses, but also with other owners. Maybe we can create new format of businesses, or design a relationship or agreement to work together. This is all very exciting. For me as a learning experience, this is going to be great. I'll have to be more on top of all the logistics behind the traveling for the big shows. I'mno longer have a manager, which was convenient and comfortable. Now it's time to mature and grow up, which is normal for a professional. This is very positive, new chapter that I will begin."
Juan Matute senior will continue his relationship as a trainer with Yeguada de Ymas.  "We always made it clear that our roles in the team were different. My father is the trainer, a hired professional that helps them in their training, the horses they have, helps them set up a guideline to achieve."
Photo © Astrid Appels
Related Links
Natalia Bacariza Danguillecourt Takes Over Ride on Matute's Dhannie
Klössinger Takes Individual Gold at 2017 European Under 25 Championships
Matute Guimon and Ferrer-Salat Win 2017 Spanish Dressage Championships
Juan Matute Guimon Wins Under 25 Kur at 2017 CDIO Rotterdam
Sanneke Rothenberger Wins Individual Gold at 2016 European Under 25 Championships
Irons, Hendricks, Matute Guimon, Molina Win 2016 Florida International Youth Dressage Championships
Matute Guimon Writes History by Winning Kur Gold at 2015 European Junior Riders Championships
Spanish Junior Juan Matute Guimon Beats Pros in 2014 CDI-W Wellington Prix St Georges