Spain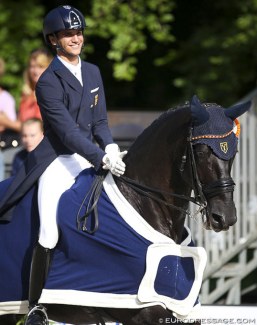 Juan Matute Guimon is recovering from a life-saving second brain operation at the University Hospital Jiménez Díaz Foundation in Madrid and will remain in an articificial coma until the doctors deem him ready to be woken up.
On Tuesday 5 May Mate Guimon collapsed and was airlifted to Hospital La Paz in Madrid. 
CT scans on Wednesday and Thursday showed that Juan suffered from arteriovenous malformation (AVM) in the hypothalamus area in the left temporal lobe.
A first operation on Wednesday was no success, but by the end of the evening, the bleeding had stopped. 
On Friday he was transported to the University Hospital Jiménez Díaz, where on Saturday the neurosurgical team of Dr. Claudio Rodriguez (ARG), Drs. Alberto Gil Garcia and Pedro Ruiz Garcia, 'repaired' the AVM. 
"The procedure is very unusual and involves high risks," Juan's father told Dressage-News. Juan Matute Azpitarte and his wife Maria are in Madrid with their son, while sister Paula is in Wellington, Florida. "There are very few doctors that can do this with success. We are very proud of them. They came to us like three angels and saved Juan's life. Now we've learned that patients from all over Europe come to them for surgery in Madrid."
Juan will remain in a coma until he's ready to be taken out of the artificial coma. 
"He's sedated until the end of the week or whatever needed to recover," Juan sr told Eurodressage. "No rush, he is fighting."
Photo © Astrid Appels
Related Links
Second Operation on Juan Matute Guimon to 'Repair' Brain Bleed Deemed Successful
Juan Matute Guimon Transferred to Jimenez Diaz Hospital, Second Operation Scheduled
Juan Matute Guimon Makes Minor Progress, Tremendous Outpour of Support
Juan Matute Guimon Hospitalized and in Critical Condition