Spain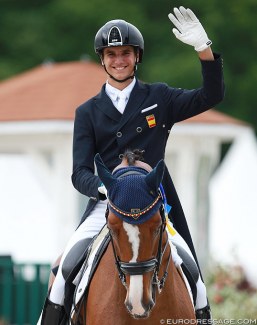 A major step in the recovery process of Juan Matute Guimon has been taken. After being in an artificial coma for three weeks, the 22-year old has recovered enough to be extubated and to breathe on his own.
On 5 May Matute Guimon collapsed, suffering from a massive brain bleed. He was hospitalized and twice operated on for an arteriovenous malformation (AVM) in his left temporal lobe. 
Matute was kept in an artificial coma for the brain pressure to decrease and as of 20 May the doctors began to lighten the sedation and gradually bring him back.
On Whitsunday weekend he was finally extubated and breathing on is own. On Sunday he even sat up in a chair for a while.
"Today when mom and dad walked in the room Juan wasn't in his bed, he was sitting in a chair waiting for them with a smile," his sister Paula.
It is yet unclear what the neurological consequences are of the brain bleed. Juan is not yet allowed to speak, even though he wants to, but his reactions make the doctors more than hopeful.  His full rehabilitation will be a long, slow process.
"Although he can't speak yet because of the ventilator, Juan seemed to completely understand what my parents were saying and used his head to answer. his memory also seems to be there as he remembers the situation with COVID as well as the moment of the incident, which he now knows about," she said.
"Today was a huge step forward," Paula concluded. 
Photo © Astrid Appels
Related Links
Juan Matute Guimon "Opened His Eyes and Began to Cry," Responsive during Gradual Wake-up from Coma
Juan Matute Guimon's CT-Scan Shows Improvement, Waking Up Process Slowly Started
Juan Matute Guimon Shows "Light Improvement", Remains in Artificial Coma
Juan Matute Guimon Recovering from Second Brain Operation
Second Operation on Juan Matute Guimon to 'Repair' Brain Bleed Deemed Successful
Juan Matute Guimon Transferred to Jimenez Diaz Hospital, Second Operation Scheduled
Juan Matute Guimon Makes Minor Progress, Tremendous Outpour of Support
Juan Matute Guimon Hospitalized and in Critical Condition