Spain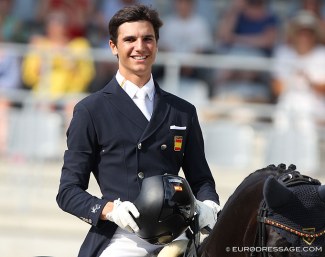 Nine days into his battle for life, 22-year old Spanish team rider Juan Matute Guimon is showing "light improvement" but will remain in an artificial coma for longer than initially suggested one week.
On Tuesday 5 May Mate Guimon collapsed after riding his horse, fell into a coma, and was airlifted to Hospital La Paz in Madrid, where he was diagnosed with a massive brain bleed due to an arteriovenous malformation (AVM) in his left temporal lobe.
On Friday 8 May he was transported to the University Hospital Jiménez Díaz, where a second operation was successfully carried out to 'repaired' the AVM. Juan has been in an induced coma since his arrival in the hospital nine days ago and will remain so until his brain 
On Wednesday 13 May, Juan's father Juan Matute Azpitarte told Eurodressage that his son's "values" are "even more stable than yesterday. Waiting for next scan tomorrow morning to confirm positive evolution."
Today (14 May) a new CT-scan was done of Juan's brain and it showed "light improvement."
"They want to keep him sedated a bit longer, whatever is good for his brain to rest and recover," Juan senior told Eurodressage. "It's a long battle and we keep strong."
Photo © Astrid Appels
Related Links
Juan Matute Guimon Recovering from Second Brain Operation
Second Operation on Juan Matute Guimon to 'Repair' Brain Bleed Deemed Successful
Juan Matute Guimon Transferred to Jimenez Diaz Hospital, Second Operation Scheduled
Juan Matute Guimon Makes Minor Progress, Tremendous Outpour of Support
Juan Matute Guimon Hospitalized and in Critical Condition