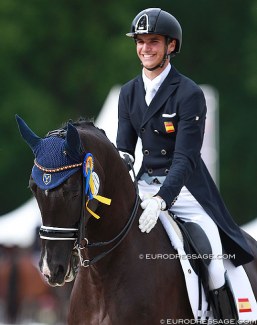 Juan Matute Guimon has started to show sufficient improvement for the doctors to start the process of slowly waking him up.
A CT scan, which was postponed from yesterday to today, confirmed a decrease in swelling and pressure in the brain. 
"They will start giving Juan less sedation (so he is) ready to wake up on the weekend," Juan's father told Eurodressage. "It's a long way but we are very happy."
The 22-year old Spanish Grand Prix rider Juan Matute Guimon lost consciousness suffering a brain bleed on Tuesday 5 May 2020.
He was airlifted to a the La Paz hospital in Madrid; where he was diagnosed with an arteriovenous malformation (AVM) in his left temporal lobe. They operated on him for the first time a day later. He was then was transferred to the Jiménez Díaz hospital on 7 May, where a second operation was successfully carried out on 8 May.
Matute has been in a medically induced coma since his hospitalization. 
Twelve days into his recovery from his second operation, Juan is beginning to show sufficient improvement to start the process to lighten up the coma to see if he can come back and what the level of function is.
"He is resting with good reaction," Juan's father told Eurodressage yesterday. "They need to wait until Juan has woken up to see if there is any damage." 
Today Juan Matute Azpitarte said, "of course we must be prudent with the evolution in the next days, so many prayers around the world bring to us the strength to move forward. Juan will be very impressed and proud how many friends are behind him."
"Today was a big stride," Juan Sr. added. 
Related Links
Juan Matute Guimon Shows "Light Improvement", Remains in Artificial Coma
Juan Matute Guimon Recovering from Second Brain Operation
Second Operation on Juan Matute Guimon to 'Repair' Brain Bleed Deemed Successful
Juan Matute Guimon Transferred to Jimenez Diaz Hospital, Second Operation Scheduled
Juan Matute Guimon Makes Minor Progress, Tremendous Outpour of Support
Juan Matute Guimon Hospitalized and in Critical Condition