KWPN Breeding News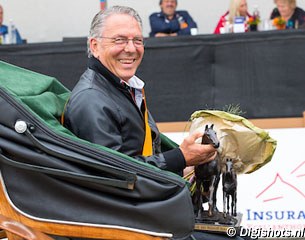 Grand Prix dressage rider, farrier, stallion owner and breeder Leunus van Lieren has been named KWPN Dressage Breeder of the Year 2017 during the KWPN Horse Days in Ermelo, The Netherlands, on Friday 18 August 2017.
The KWPN society chose Van Lieren as breeder of the year for this year because he has now bred his 22nd Grand Prix level competed horse. 
Based at Stable Hexagon in Schore, The Netherlands, Van Lieren and his late wife Mieke bred their first successful product with licensed stallion Rubiquil (by Rubinstein) out of keur mare Aquila (by Roemer). Since then numerous Grand Prix horses followed such as Ollright, Zodinde and Double Dutch.
"I absolutely did not expect this," said Leunis, who is always dressed in black. "I'm a bit overwhelmed. I didn't see it coming at all, even when they started announcing my horses. It wasn't until I heard my name that I suspected it. So great!"
Photo © Digishots
Related Links
Rubiquil Passed Away
Double Dutch Gets KWPN Breeding Approval
Hexagon's Fusion Sold to Haras de Hus
Hexagons Ollright Passed Away
Hexagon's Louisville Sold to the United States
Hexagon's Baldacci Sold to Canada
Hexagons Kyrain Passed Away
Laurens van Lieren, Rabo Talent of the Year 2005
Previous winners
Marianne Hendriksen Named 2016 KWPN Breeder of the Year
Rene Franssen Named 2015 KWPN Breeder of the Year
Jan Lamers Named 2014 KWPN Breeder of the Year
Emmy de Jeu, KWPN Breeder of the Year 2013
Van Os Family, KWPN Breeders of the Year 2012
Jansen Family, KWPN Breeders of the Year 2011
Van de Valk/Van Anholt Proclaimed KWPN Breeders of the Year 2010