Hanoverian Breeding News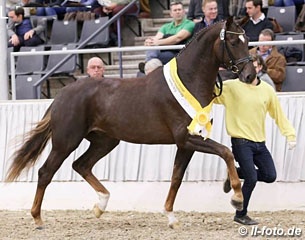 The 6-year old breeding stallion Quantensprung has stamped the 2016 Hanoverian Stallion Licensing in Verden, Germany, with his first crop of offspring. All five of the selected sons were licensed, three were named premium stallions and all three of them became the best sellers of the auction.
The Hanoverian society no longer proclaims a licensing champion, but based on the prices fetched at auction the Quantensprung get dominated this year's Hanoverian licensing for sure. 
The stallion licensing committee was in a very generous mode, approving no less than 53 of the 84 presented stallions. Ten of them were proclaimed premium stallion of which six were dressage bred. A huge total of 33 dressage bred colts was licensed.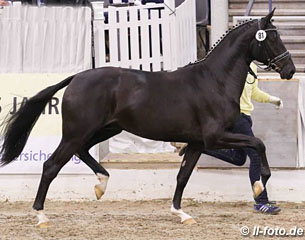 The black premium Quando Unico (by Quantensprung x Fidertanz), bred by Silke Groeneveld, sold for 280,000 to state stud Moritzburg, while the chestnut premium Quattroporte (by Quantensprung x Stedinger x De Niro), bred by Burkhard Wahler who is the owner of Quantensprung, sold for 270,000 euro to Andreas Helgstrand. Burkhard Wahler's premium Quantissimo (by Quantensprung x Distelzar) sold for 200,000 euro to Gut Staffelde.
There was a bit of commotion around the black Dancier x Wolkenstein II x Eichendorff, bred by Volker von Holten. This colt turned up unlevel on the day of the licensing, but was allowed to reappear in the ring an hour later, sound. He was licensed and got a premium. He sold for 200,000 euro at auction to Blue Hors stud in Denmark.
The other two premium stallions were Willi Gering's Best of Gold x Sungold x De Niro, which sold for 120,000 euro to Gestut Tannenhof and the tall liver chestnut Dimaggio x Jazz Time x Escudo I, which is owned by Gestut Bonhomme and was not offered for sale.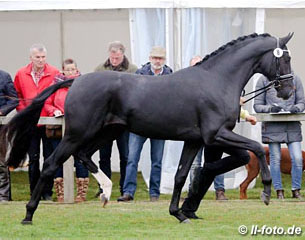 Good prices were fetched by the licensed Dohnanyi (by De Niro x Lauries Crusador xx), bred by A. Lubbers. He sold for 105,000 euro, while the licensed Danciano x Stockholm, bred by former German show jumping team trainer Kurt Gravemeier, sold for 85,000 euro.
The licensed stallion and one of the crowd favourites, the black colt Ferretti (by Funtime x Londonderry), sold for 120,000 euro to Lone Boegh Henriksen in Denmark.
The average price for a licensed stallion was 62,687 euro. The most expensive, non-licensed dressage stallion was a Don Nobless x Furst Heinrich, which sold for 38,000 euro.
Photos © LL-foto
Related Links
Seventy Dressage Colts Selected for 2016 Hanoverian Stallion Licensing
Rocky Lee Son Claims the Spotlight at 2015 Hanoverian Stallion Licensing
D'Avie Dominates Premium Ring and Auction at 2014 Hanoverian Stallion Licensing
Strong Crop and Big Prices at 2013 Hanoverian Stallion Licensing
Form or Function at the 2012 Hanoverian Stallion Licensing
Dancier x Rotspon Stands Out at 2011 Hanoverian Stallion Licensing
Ten Premium Dressage Stallions at 2010 Hanoverian Stallion Licensing
No Top Collection at 2009 Hanoverian Stallion Licensing but Super Price Highlights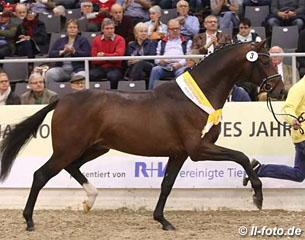 Belissimo M x Weltmeyer Colt Impresses at 2008 Hanoverian Stallion Licensing
Hanoverian Verband Abolishes "Licensing Champion" Title
Soliman de Hus, 2007 Hanoverian Licensing Champion
Lauries Crusador xx x Raphael Son, 2006 Hanoverian Licensing Champion
Hotline, 2005 Hanoverian Stallion Licensing Champion 
Dancier, 2004 Hanoverian Licensing Champion
Liberty Gold, 2003 Hanoverian Licensing Champion
His Highness, 2002 Hanoverian Licensing Champion, Sold to the United States
Nobleman, Champion of the 2001 Hanoverian Stallion Licensing
Don Crusador, Champion of the 2000 Hanoverian Stallion Licensing