Hit@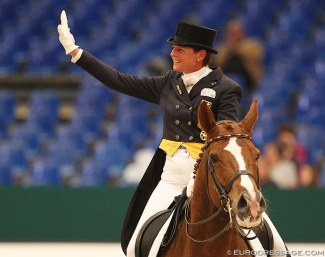 In corona times we are all ordered to stay at home, self quarantine, and do social distancing. With more time on your hands to spend online, Eurodressage launches a "Hit & Run" interview series so that you get to know the world's most famous dressage riders and personalities more closely. 
German Grand Prix rider Ulla Salzgeber (née Helbing) made her first claim to fame becoming the 1977 European Young Riders Championship. She became the world number one with super star Rusty. She won two team golds, one individual silver and one individual bronze at the 2000 and 2004 Olympic Games. She rode at the 1998 and 2002 World Equestrian Games where she got double team gold and one individual bronze. She showed at the European Championships in 1997, 1999, 2001 and 2003 (four team gold, two individual gold, one individual silver. She won the 2001 and 2002 World Cup Finals. With Herzruf's Erbe she returned to the 2011 World Cup Finals. She acted as dressage training adviser to the Australian team from 2005 till 2006. Salzgeber now focuses on training and coaching.
Hit & Run - Ulla Salzgeber
What is your earliest memory? 
My Mum always falted  my pocket square for my tail coat perfect for every single competition. That was always my good luck chuck.
Which person alive do you admire the most and why?
Meryl Streep- a person with a great attitude who cannot be pleasingly bent and twisted. And she is a wonderful actress.
When were you the happiest?
Winning my first Gold medal at German Championship in Balve with Rusty, a very long time ago 
What is your biggest fear?
Losing my daughter Kim
What was your first thought today?
Damn rain in Bavaria, so no sunbath today, even though we need the rain so desperately. 
What is your most annoying character trait?
Always being straight forward, even if i know a loop sometimes would make things easier.
Which trait do you dislike the most in other people?
Falsity and dishonesty 
What is your dearest possession?
My daughter, my students and my animals 
If you look into the future, what do you see?
Happiness in my life and great moments having  success with my horses and students. 
What makes you unhappy?
Having unhappy people around me - life  ist too short to be unhappy!
What is the love of your life?
My life, especially teaching and riding 
What was the best choice you ever took in life?
Moving from the North to the South of Germany
What's your guilty pleasure?
A good glass of white wine and Haribo Stafetten (Candy Coated Black Licorice)
What do you owe your parents?
They gave  me the base and the possibility to  be where I am and what I am
Who can sit next to you at your dream dinner table?
Meryl Streep
What was the worst job you ever did?
No idea
What was your biggest disappointment in life?
Loosing the individual Gold Medal in Athens by 0.03%
What would you change if you can go back into the past?
Nothing
Name one thing that would improve your quality of life?
Living in a sunny country close to the sea.
What is your biggest achievement?
Being a team member representing Germany and all the positive results of my students all over the world.
What is the most important life lesson you have learnt?
To follow my own way 
Where would you like to be right now? 
Where I am right now - at  my beautiful  home 
What's your favourite scent?
The sea
Which character would you dress up in for Halloween?
Not my thing
To whom would you like to say sorry?
To my mum
What does love feel like for you?
Happy dogs coming home from a trip 
When are you most relaxed?
Sitting at the dinner table after a perfect day with my students and horses 
What super power would you like to have?
I think I have enough power
When did you last cry, and why?
Death of my mum
When were you closest to death?
Car accident as a child on my way home from school 
How do you want to be remembered?
As the person I am - giving 100% for true friends and my passions.
Related Links
Ulla Salzgeber Says Goodbye to International Competition Career
Ulla Salzgeber Resigns as Australian Dressage Training Adviser
Ulla Salzgeber's Rusty Passed Away
Ulla Salzgeber's Wall Street Died Unexpectedly
Rusty Tested Positive To Doping
Grand Prix Kur: Ulla Salzgeber Claims Third Consecutive World Cup Title
Ulla Salzgeber and Rusty, World's Best at 2003 World Cup Finals
Ulla Salzgeber Has the Ride of her Life on Phenomenal Rusty
Ulla Salzgeber Prolongs World Cup Title at 2002 World Cup Finals
Ulla Salzgeber Wins 2001 World Cup Finals in Denmark
Ulla Salzgeber is the 2001 European Dressage Champion