2003 World Cup Finals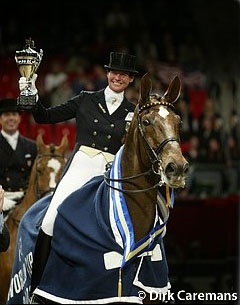 German dressage star Ulla Salzgeber claimed her third consecutive World Cup title at the 2003 World Cup Finals in Goteborg, Sweden, March 28-30, 2003.
Never before were the World Cup Finals so predictable in its ranking, yet its competion still highly interesting. Salzgeber fully lived up to her role as supreme dressage queen on the scene and the only combination able to challenge Salzgeber was American Debbie McDonald.
The Latvian bred Rusty was top fit and produced some textbook movements in the flying changes and pirouettes during his Carmina Burana Freestyle. Scoring 82.19%, Salzgeber did break her personal record score, but gave one of her best performances ever seen. Receiving a standing ovation from the crowd, Salzgeber left the arena like a Roman polemarch.
In their Gershwin flavored freestyle, McDonald and Brentina put in that extra effort that was lacking in their Grand Prix. The transitions were more fluent, the piaffe-passage tour was brilliant and only a flaw in the tempi changes kept her from an 80% score. Finishing second overall with a 78.89% kur score, McDonald's World Cup Finals jinx vaporised. McDonald admitted that she doesn't hold great memories from her 1998 World Cup Finals' experience, when she rode Beaurivage to a 12th place. McDonald was afraid that predictions prior to the event would put a jinx on her World Cup performance on Brentina and her silence paid off.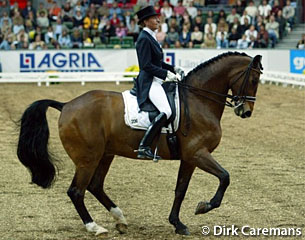 Surprisingly placing third were Heike Kemmer and her 16-year old Oldenburg gelding Albano. The duo had an off-season in 2002 and it was generally not expected the pair to make such a brilliant come back. Albano showed strong engagement, and confirmed Grand prix movements in his freestyle. With 76.94% Kemmer just beat American Guenter Seidel who ranked fourth aboard the Westphalian Nikolaus. Dancing to Latin tunes, Nikolaus was flawless in his exercises, but built up some tension in the first piaffe. Seidel was able to relax his sensitive bay and continued his test at a high level.
Placing fifth were Isabell Werth and Anthony FRH. The combination gave away their solid third position after the Grand Prix, as Anthony FRH predictiblt no longer behaved as a good boy. The dark bay gelding by Argument profoundly dislikes the piaffe and that showed again in their Kur. Fortunately, the Beatles music suited Werth's nicely constructed kur and the pair scored high on the artistic level. With 75.67%, they placed Sright in front of American George Williams.
Williams and his black diva mare Rocher brought electricity to the Scandinavium arena, which was packed with 11,000 spectators. Performing on a Madonna inspired freestyle, Rocher stayed energetic throughout the test, but came a bit too deep in the half passes. Scoring 75.56% and placing sixth overall, Williams had a wonderful World Cup Finals debut.