2003 European Dressage Championships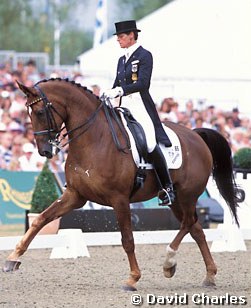 Journalists are supposed to be objective. They have to analyse a dressage test with skepticism and have to fend off all favouritism. In the case of Ulla Salzgeber and Rusty I humanly fail at this.
There were quite a few remarks to be made about Gigolo, and even more about Bonfire, but Rusty is just so superb that there can be no (major) fault found in this horse.
The Grand Prix Special, the second phase of the 2003 European Dressage Championships in Hickstead, England, was won by Ulla Salzgeber on her Rusty. This did not really come as a surprise, was it not for the phenomenal quality of the test. Never before have Ulla and Rusty shown such an impeccable test. Rusty was razor sharp to the aids, expressive in all his movements, impulsive in each exercise, and just absolutely brilliant in his appearance.
The judges noticed the absolutely amazing shape the pair was in and honoured their performance by putting a torrent of 9's and 10's on the score board. Even though one slight error at the end of the tempi changes every single stride snuck up into the test, the 80.36% score was worthy its Grand Prix Special World Record.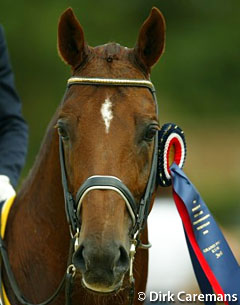 Only American Lisa Wilcox was able to get into the vicinity of Ulla Salzgeber's performance level. Aboard Relevant, Wilcox scored top notes for the piaffe and passage and excelled in elegance and lightness. With 78.32%, Wilcox comfortably finished second.
Placing third and having the show weekend of his life is Swedish Jan Brink on his licensed stallion Bjorsells Briar. Brink has brought a ready-set-go Briar to Hickstead and the horse is a shape-of-a-lifetime. The liver chestnut stallion passaged with wonderful rhythm and power to a 75,76% score, beating fourth placed Beatriz Ferrer Salat on Beauvalais.
Klaus Husenbeth and Piccolino are on track to become Germany's second best combination of the moment. Scoring 74.280% in the Special, Husenbeth is ecstatic about what is going on.
"We were much more sure of ourselves," Husenbeth commented, "and we will go all the way in the freestyle." The Hanoverian Piccolino arrived at Hickstead with a fever and needed a few days to recuperate and to get fit again.
Best Dutch combination in the Special was Antoinette Falandt on Jarwo. Falandt has said to like the Special more than the Grand Prix, because it has many more forward parts. Her preference for the test was reflected on her score of 71.72% and a ninth place. Gestion Goliath, who had a disappointing performance in the Grand Prix, was back to business in the Special. Teeuwissen had a more responsive horse between his legs and scored 71.24%. Due to his overall 16th place, Teeuwissen, the 2001 European silver medallist, is not allowed to ride the final leg of the Championships, the Grand Prix freestyle.
by Astrid Appels
Image copyrighted: David Charles - Dirk Caremans
Back to the 2003 EDC Index