2002 World Cup Finals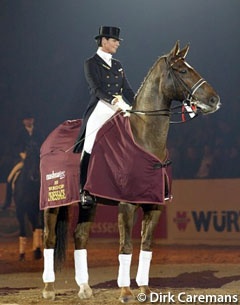 For the second consecutive year, 43-year old Ulla Salzgeber has won the World Cup Dressage Finals. Aboard her 14-year old Latvian bred Rusty (by Rebuss), Salzgeber rode a conservative kur to music that scored in its artistic qualities and elegance.
There was no doubt that Salzgeber would affirm her number one position in the world, but at the Finals in 's Hertogenbosch, The Netherlands, her victory was not as outspoken as the year before. Rusty was spooky near the judges' boxes and made an error in the tempi's. However, overall he still was the brighest star in the constellation. With a score of 81.57%, the combination unanimously placed first.
The Dane Lars Petersen rode a cheerful and correct freestyle, but Blue Hors Cavan (Cavalier x Damnatz) had a slight tendency to go deep and tight in the neck. The piaffe and passage were performed with great ease, but in general the combination needed more pezzaz. Nevertheless, they received 79.67% from the panel of judges and ranked second.
Spanish Beatriz Ferrer-Salat rode a World Cup season of a life-time. With three victories at CDI's in Belgium, Italy and France, she already won the Western European League, and now in the finals the Spanish diva ranked third. Her Hanoverian Vital Robert Beauvalais (Bolero x Grande) is an absolutely superb dressage mount with a wonderful suspension and front leg usage. Unfortunately, Ferrer-Salat did not keep her hands steady enough which slightly meddled with the combination's external appearance. They scored 79.12%.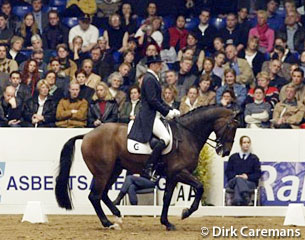 In a disappointedly fourth position came Dutch Arjen Teeuwissen. That Gestion Goliath T is one of the best dressage horses in the world, is without a doubt, but that rider Arjen Teeuwissen does not make a beautiful pair with his bay gelding is obvious too. The large Dutch rider is not delicate with his hand, nor leg aids. His freestyle started off at a high level, but the constant piaffe-passage reprise -- although it is Goliath's fortitude -- became boring in his mediocre freestyle. The canter zig-zag was untidy and Goliath regularly got leaned against the bit. 76.46% was the final judgment of the jury, which placed them fourth.
Extremely promising was the combination that ranked 7th overall: Ingrid Klimke and Nector van het Carlshof. The 2001 German Eventing Champion proves show after show that her dressage roots are deeply grounded. Daughter to the late legendary Dr Reiner Klimke, Ingrid is an absolute gorgeous picture of elegance and grace aboard the Belgian warmblood Nector van het Carlshof (by Randel Z). They scored 75.11%, but more is definitely in store for the future.
Photos © Dirk Caremans
Related Links
Scores 2002 World Cup Finals
Gina Capellmann-Lutkemeier Finishes 7th at 2002 World Cup Finals
Ingrid Klimke and Nector van het Carelshof, Revelations of the 2001-2002 Indoor Circuit
Bye Bye Bonfire, Bonfire Retired at 2002 World Cup Finals
Injuries Tackle 2002 World Cup Finalists
First Participants of the 2002 World Cup Finals Announced
Beatriz Ferrer-Salat Wins 2002 World Cup Qualifier in San Patrignano