KWPN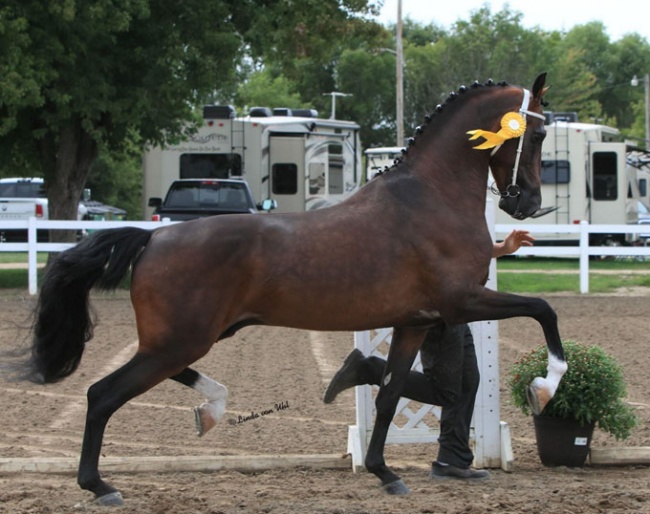 Renowned American KWPN breeder and stallion owner Scot Tolman of Shooting Star Farm has made an "out-of-the-box" purchase with the Dutch Harness Horse and KWPN-NA licensed stallion Jaleet. 
Jaleet is a 2014 born KWPN-NA registered Dutch Harness horse by Atleet (by Patijn x Waterman) out of the Hackney dam Dorenda (by Plain's Liberator x Manno). He is bred in The Netherlands by Wim Cazemier.
Scot and his wife Carol run Shooting Star Farm in Spofford, NH and have stood stallions such as Donatelli, Iroko, and Zeoliet. Their current flagship breeding stallion is the 9-year old KWPN sire Gaudi (by Totilas x De Niro x Romancier). This is the first time that Tolman has branched out to Dutch Harness horses. 
"I know it is an out-of-the-box decision for a dressage breeder, but a good horse is a good horse. Jaleet is a good horse," said Tolman about his newest addition to the barn. 
Peaked Interest in Dutch Harness Horses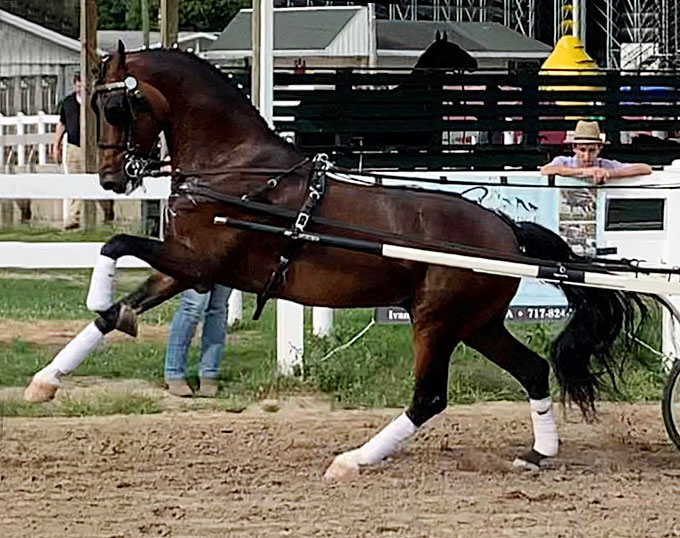 "I've loved the Dutch Harness Horse for years," Tolman explained about his new heart horse. "As they've become more modern and athletic, I've become convinced a few of the lines would cross really well for dressage breeding."
The success of Laura Graves' international Grand Prix horse Verdades has raised awareness for Dutch Harness horses and Gelderlander breeding. Verdades is KWPN registered gelding, sired by the Westfalian Florett As and out of a Gelderlander dam by Goya. He has been the U.S.A.'s leading Grand Prix dressage horse from 2014 till 2019, claiming podium places and medals at the World Championships and World Cup Finals.
"The success of Verdades has created a market for the Dutch Harness Horses and their crosses in the USA," Scot explained. "The stallion Atleet seems to be the common denominator for me in the modern DHH most suitable for dressage breeding, so I bought an Atleet daughter a couple years ago. We have a fantastic Gaudi baby from her this year. As a matter of fact, we have a ton of Amish breeders using Gaudi on their DHH mares because he niches so well with them, and they're able to sell the Gaudi x DHH babies for way more money than the full DHH foals. It has become a really interesting development. 
KWPN-NA Licensed Jaleet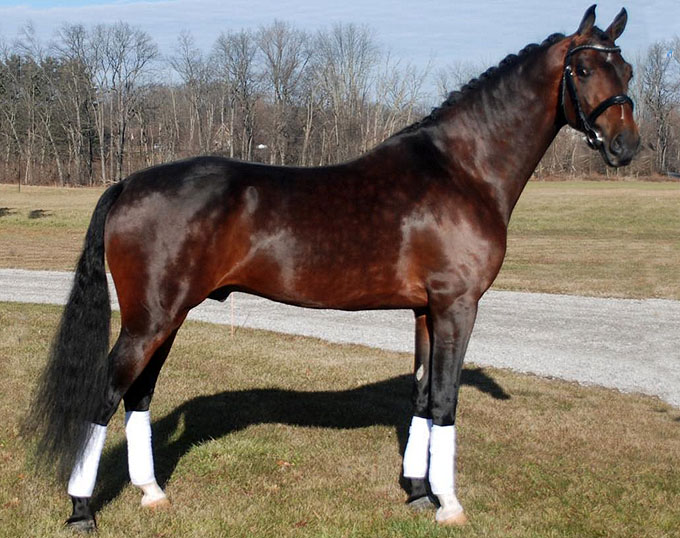 Tolman first came across Jaleet at KC Dunn's farm a few years ago and was blown away by his type and movement.  The success with the cross of his stallion Gaudi on his own Atleet dam prompted him to get in touch with Jaleet's owner Jesse Zehr. His Dutch Central Stables in Amish county imported Dorenda in foal to Jaleet in 2013.
"He did an amazing presentation, especially the canter in harness at KC Dunn's farm," said Scot. "Of course, he's a son of Atleet and that's the DHH blood I want. Then seeing video of his dam, I was hooked."
Tolman purchased the KWPN-NA licensed stallion for his breeding program. 
"I just found out he was available a few days ago. I jumped on it," said an enthusiastic Scot. "He's a real "blood" type with super suppleness through the body and great lift in the withers," said Scot. "He has a really expressive front and powerful hind end, with an excellent canter."
Jaleet's first crop of offspring all got first premium and he also sired the top DHH foal in North America in 2019. Tolman believes Jaleet will be an excellent addition to his stallion roster and for American dressage horse breeding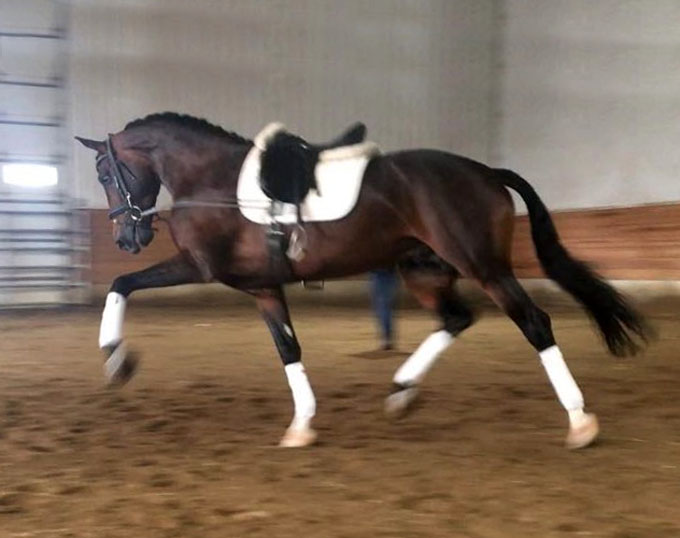 "Jaleet is going to add expression, blood, and movement to a mare. He's going to cross with a lot of mares well," he stated. 
Discover Jaleet at Shooting Star Farm at www.shootingstarfarm.com
Related Links
Gaudi Sold to Scot Tolman's Shooting Star Farm in the U.S.A.
Scot Tolman: "Hold European Stallion Owners Accountable for the Quality of Product They Export"
Donatelli To Stand At Shooting Star Farm in the U.S.A.
Harriett HF and El Paso ISF Excel in 2012 KWPN-NA Keuring Championships
2018 KWPN-NA Summer Seminar at Shooting Star Farm on 6 - 8 July 2018
Zeoliet Passed Away