KWPN Breeding News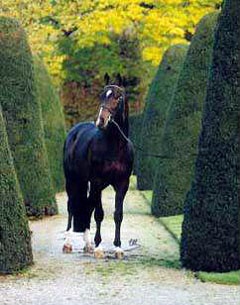 The legendary KWPN stallion Zeoliet has passed away at the age of 20. Residing at Shooting Star Farm in Spofford, NH, USA, Zeoliet was by Ramiro out of the Keur preferent mare Sargab (Abgar xx x Nimrod).
The stallion was bred by Eykenboom who still owned him together with the Dutch stallion station Nijhof in Geesteren, The Netherlands.
In 1984 Zeoliet was amongst the best stallion in the stallion performance test and he passed on his quality to his descendants. He received 9,2 for his dressage test and 9 and 9,5 for the jumping parts. Zeoliet competed in the Stallion Competition Circuit under Henk van den Broek and performed 4th level dressage with Roger Schulkens.
Zeoliet has two approved sons from his first breeding season, Elcaro and Eusebio. The dark bay was especially gifted as show jumping sire. He has sired several Grand Prix show jumpers like Escudo, Supercruise, Jumbo and Elando. Nevertheless, he also produced a large lot of top level dressage horses of which Dotato, Neoliet, Leoliet and Favoriet are renowned horses. The last two years of his life, Zeoliet was up for stud in the U.S. at Scot Tolman's Shooting Star Farm. There is still frozen semen available in the Netherlands.
Source: KWPN
Image released: Ellen van Leeuwen