KWPN Breeding News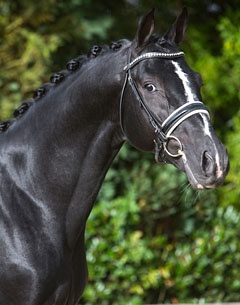 The 6-year old AES approved stallion Gaudi (by Totilas x De Niro x Romancier) has been sold to Scot Tolman's Shooting Star Farm in Spofford, New Hampshire, U.S.A. Gaudi is the first and only Totilas' offspring standing in North America.
Gaudi is a 2011 born Dutch warmblood stallion by Totilas out of elite preferent prestation mare Annabel (by De Niro x Romancier).
Bred by the Jansen family at Stable Joppe in The Netherlands, Gaudi has an exceptional pedigree. Dam Annabel also produced the KWPN licensed stallions Bretton Woods and Chagall D&R and from the same dam line comes the licensed stallion Four Legends KS.
Gaudi was presented at the 2014 KWPN Stallion Licensing and accepted for the Stallion Performance testing, but due to a sport career ending neck injury in training he could not participate. He is fully approved with the AES studbook.
Tolman is thrilled to have imported Gaudi as there are "very few quality stallions available to us with fresh cooled semen," the experienced breeder stated.
"Our primary interest in Gaudi is for our own breeding program," he added. "His breeders, the Jansen family, are friends, so we have known Gaudi since his birth. He has a fantastic pedigree and mareline. His dam leads the KWPN index for dressage mares. She has produced top, top sport and keuring horses. His pedigree also offers us, and other breeders, a stallion free of Jazz, Flemmingh, and Ferro. On top of the pedigree, he has a fantastic character and lots of power and expression in his movement."
American breeders will be able to register their Gaudi foals out of KWPN mares and mares from other recognized studbooks with the KWPN society and get Register A papers.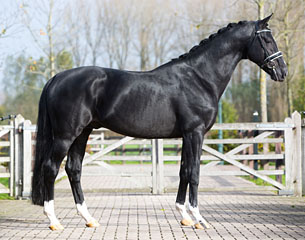 Scot and his wife Carol run Shooting Star Farm in Spofford, NH. They have previously stood stallions such as Donatelli, Iroko, and Zeoliet.
"Due to family and work commitments, we haven't stood a stallion in many years," Scot explained. "Carol and I are refocusing our lives a bit, so it is a good time for us to import another stallion. For the 2018 breeding season, Gaudi will stand with Wim Cazemier, at his facility in Indiana."
Tolman is running a special introductory offer of a 500$ discount for breeders who book a Gaudi breeding by 1 January 2018.
For more information, visit Gaudi on Facebook
Photos © Sjoert
Related Links
Glamourdale, Champion of the 2014 KWPN Stallion Licensing
Twenty Colts Passed on Second Pre-Selection Day for 2014 KWPN Licensing 
Donatelli Sold to Canada
Zeoliet Passed Away
Donatelli To Stand At Shooting Star Farm in the U.S.A.