Clinics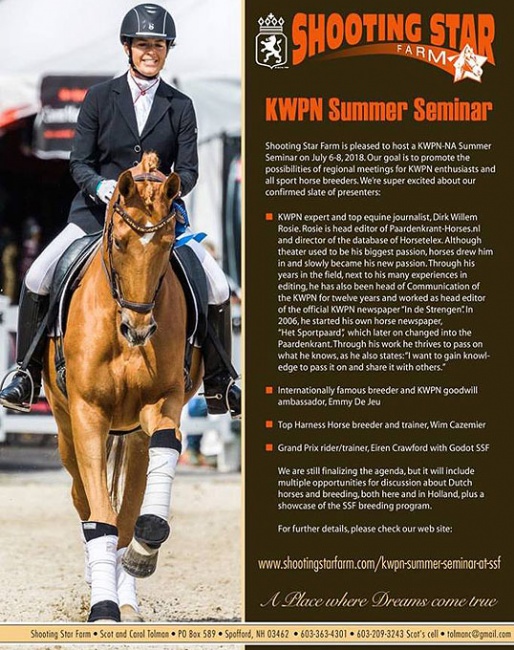 Shooting Star Farm is pleased to host a KWPN-NA Summer Seminar on 6 - 8 July 2018. The goal is to promote the possibilities of regional meetings for KWPN enthusiasts and all sport horse breeders.
Scot and Caroll Tolman of Shooting Star Farm are excited about the confirmed slate of presenters:
KWPN expert and top equine journalist, Dirk Willem Rosie. Rosie is head editor of Paardenkrant-Horses.nl and director of the database of Horsetelex. Although theater used to be his biggest passion, horses drew him in and slowly became his new passion. Through his years in the field, next to his many experiences in editing, he has also been head of Communication of the KWPN for twelve years and worked as head editor of the official KWPN newspaper "In de Strengen". In 2006, he started his own horse newspaper, "Het Sportpaard", which later on changed into the Paardenkrant. Through his work he thrives to pass on what he knows, as he also states: "I want to gain knowledge to pass it on and share it with others."
Further presenters are internationally famous breeder and KWPN goodwill ambassador, Emmy De Jeu, top Harness Horse breeder and trainer, Wim Cazemier, and Grand Prix rider/trainer, Eiren Crawford with Godot SSF.
To register for the 2018 KWPN Summer Seminar, click here.
Hotel options can be found here and here. The closest airports are Manchester, NH; Boston, MA and Hartford, CT.
Shooting Star Farm is long known for standing and using world acclaimed KWPN sires and is currently standing Gaudi (by Totilas).
Location
Shooting Star Farm
P.O. Box 589
Spofford, NH 03462
603-363-4301 phone
603-209-3243 Scot cell
For more information, visit Shooting Star Farm's brand new website at www.shootingstarfarm.com