KWPN Breeding News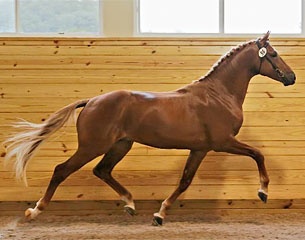 The 2012 born filly Harriet HF and the 3-year old colt El Paso ISF were named the North American champions of the 2012 KWPN-NA Keuring Championships for American bred Dutch warmbloods.
In the foal and weanling class the filly Harriet HF dominated the division. Bred and owned by Julie Ballard Haralson of Haralson Farm in Georgia, Harriett is by Uphill out of Deadora HF (by Jazz). The reserve foal champion was Hear Me Sing (by Voice x Jazz), bred by Judy Yancey.
Following the 2012 KWPN-NA studbook inspections for stallions, mares and geldings the 2009 born chestnut stallion El Paso ISF was named overall North American Champion. Bred and owned by Iron Spring Farm, El Paso is by UB40 out of Toscane (by Cabochon). The reserve champion in the gelding/stallion class was Dan and Gine Ruediger's Downtown S (by Johnson x Zeoliet).
Two mares excelled during the inspections and both were named reserve champion: Scot and Carol Tolman's D'Orites (by Donatelli x Jazz) and Susan Wildman's Carpe Diem (by Farrington x Pass the Glass). Worth noting is that the latter mare is also bred by Scot and Carol Tolman.
Iron Spring Farm and the KWPN-NA Award $7,500 to North American Breeders
Iron Spring Farm (ISF) has joined forces with the KWPN-NA (North American Royal Dutch Warmblood Studbook) to award $7,500 to North American Breeders through the Iron Spring Farm KWPN-NA Keuring Championships. These awards will distribute prize money and recognize the Champion and Reserve Champion Foal and Mature Horses (3-7 year-old stallion, mare or gelding) in each of the breeding directions-dressage, jumpers, hunters, harness and Gelders (riding horses).
"It is important for North American breeders to receive both recognition and monetary compensation for their efforts," explained Mary Alice Malone, owner of Iron Spring Farm, of her motivation for supporting the awards. "The best domestically-bred horses are on par with what is produced in Europe." The ISF/KWPN-NA Keuring Championships help shine the spotlight on breeders' work and determination.
The Champions and Reserve Champions are determined from scores received during the keurings held throughout North America. Horses must be bred in North America. Foals must receive a minimum of 75 points and Mature horses must receive a minimum score of 145 points from the KWPN jury. The breeder of each champion receives $500 and the breeder of each reserve champion earns $250. Prize money and recognition will be awarded at the KWPN-NA Annual Meeting.
Photo © Stacy Lynn Photography
Related Links
Special Festivities Planned at 2013 KWPN-NA Annual Meeting
Educational Experience for American Breeders at 2012 KWPN-NA Annual Meeting
Lieb and Fessenden Recognized with 2011 KWPN-NA Year Award
Donatelli To Stand At Shooting Star Farm in the U.S.A.
Zeoliet Passed Away