Germany
Totilas, the dressage horse that became the biggest sensation in global equestrian sport, has passed away. The 20-year old KWPN stallion succumbed to colic on Monday night 14 December 2020.
Totilas was by Gribaldi out of Lominka (by Glendale x Akteur). He was bred by Jan Schuil and Anna Visser. 
WCYH Finalist
First trained and competed by the Friesian rider Jiska van den Akker, Totilas made his first claim to fame at the World young horse championships in Verden, where he finished fourth.
In 2006 the black stallion sold to Dutch millionaire Cees Visser and the ride was allocated to Edward Gal.
Gal and Totilas
Gal and Totilas made their show debut at the national show in Schaijk, The Netherlands in July 2007, where they scored 73.3% in the Prix St Georges.
Their first big bang at the 2008 CDIO Aachen where they won the small tour classes
In 2009 they won the Dutch Championships and went to the 2009 European Dressage Championships in Windsor, where they shattered World Records and heralded a new era in dressage sport (and judging).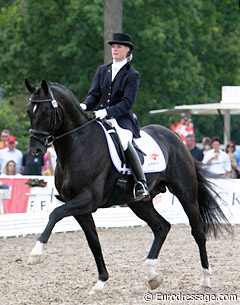 In 2010 they won the World Cup Finals and went to the 2010 World Equestrian Games, where they won triple gold. Edward Gal and Totilas were unbeatable and the black stallion was carried and beloved by the crowds like no other dressage horse has ever done before. 
11,2 Million Euro
The black got sold in 2010 for a rumoured record price of 11,200,000 euro.
The sale sent a shock wave through the horse world. Many fans mourned the break-up of the combination Gal/Totilas and voiced emotional opinions on social media. The end of this partnership led to major polarisation and heated discussions on social media, which still spark up a decade later. In addition to the break-up, the sale of a Dutch horse to a German rival was not appreciated by many.
Edward Gal remained infamously tight-lipped about the sale and his emotions over "losing" Totilas, even though he was royally compensated with a commission fee from Cees Visser.
Soon after his purchase, Schockemöhle sought to sell the sports rights to the stallion and knocked at Isabell Werth and Emma Hindle's door at the time, but they declined. German team rider Ann Kathrin Linsenhoff said yes and secured the ride on the stallion for her stepson Matthias Rath. 
Twice on German Team, Plagued by Injury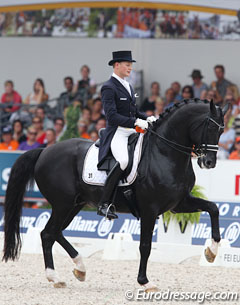 Rath and Totilas' best season together was their first one, in 2011, when they won the German Dressage Championships and represented Germany at the 2011 European Dressage Championships in Rotterdam. They won team silver and placed fifth individually. They were trained by Klaus Balkenhol that year.
In 2012 Rath made the highly controversial switch from the German training system to Dutch LDR trainer Sjef Janssen. After winning the 2012 CDIO Aachen, Totilas injured himself and missed out on the 2012 Olympic Games. It took him two years to recover from injury/
Rath made his comeback in May 2014 by winning the low-key CDI Kapellen in Belgium.  He competed in two tests at the 2014 CDIO Aachen but withdrew from the freestyle because of another injury.
In 2015 Totilas did one test show at a local event in Hulten, The Netherlands, before heading to the CDIO Hagen in July, where he was immediately selected on the German team for the 2015 European Championships in Aachen.
Swan Song
The 2015 European Dressage Championships in Aachen became a debacle. Although scoring 75.971% and placing sixth in the Grand Prix, the ride received much whistling - from detractors who spotted a horse unlevel in the trot extensions and half passes and from fans who disagreed with the "low" score the judges gave the pair. Germany ended up with team bronze, beaten by a golden Dutch team on home turf.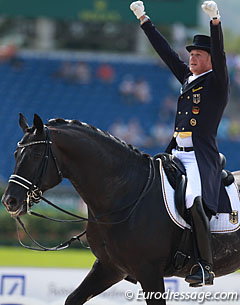 Neither rider Rath, nor trainer Sjef Janssen nor the entire German technical staff refrained from sending an injured Totilas into the show ring for the Grand Prix.
One day after the team test at the 2015 Europeans Totilas was withdrawn from further competition and transported to an equine clinic in Belgium, where he was diagonised with periostitis of the coronet band on the left hind hoof.
Retired from Sport
The next day, on 18 August 2015, owners Schockemöhle and Linsenhoff announced that Totilas would be retired from sport.
The horse spent the next five years of his retirement commuting between Schockemöhle's stallion station in Mühlen for breeding duties and enjoying an easy life at the magnificent Gestut Schafhof in Kronberg, Germany. 
Schockemöhle stated at the time that Totilas would never presented in public again but back paddled on his words when the stallion was invited to the 2019 KWPN Stallion Licensing for a special celebration. 
The horse was still ridden for fun by Matthias as well as owner Ann Kathrin Linsenhoff, who shared two training clips round Christmas 2019. 
Colic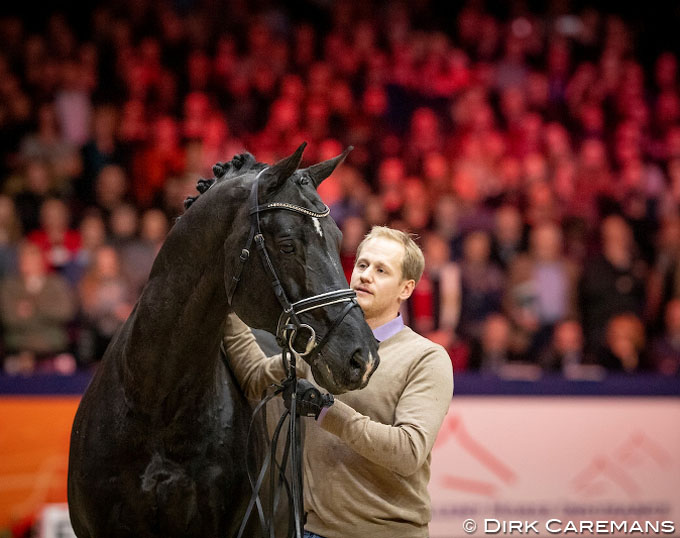 A severe colic attack ended the life of one of the most beautiful, memorable and celebrated dressage horses in the world.
"It happened last night, but we took our time today to process it," a saddened Matthias Rath told Eurodressage. "He was operated on and even standing up again, but then didn't make it. He was super fit. Ann Kathrin took him out on the canter track."
Rath confirmed that as soon as the stallion was retired from top level competition sport, he was fit and sound and happy at home. 
"It's a different training level out of sport, you don't train fully to compete. He was fit and sound all the time," Rath explained. "He was turned out daily in the paddock, he did a lot of walking, in hand and under the rider on the canter track. Twenty years of age is way too early. It's not so old."
Totilas was still lightly ridden, mainly by Ann-Kathrin. 
"You knew if he had a good day, it was just one click and he was piaffing, or when he wanted to have an easy day," said Rath about Totilas who was determining how he spent his days in retirement under the rider. 
Breeding Stallion
Totilas was licensed with the KWPN society in 2009, based on his achievements in sport. 
He was first offered at stud by Cees Visser in 2010. The owner received 800 breeding requests and honoured 250, charging 5,500 euro per breeding, which was an unprecedented amount for a dressage stallion.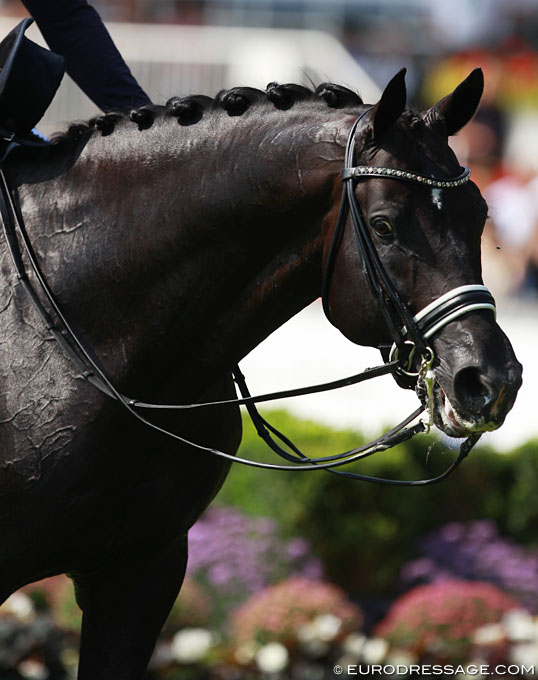 Upon his sale to Germany in 2010, Schockemöhle first stood the stallion at stud for a stellar fee of 8,000 euro. In 2016 he dropped it to 5,500 euro, than to 4,000 euro and then to 2,500 euro. In 2020 the stud fee was 2,800 euro. 
Totilas sired numerous licensed sons, which are also proving themselves in sport: Toto Jr, Tolegro, Total U.S., Total Hope, Top Gear, Governor, Trafalgar, Topas, King Karim, Konig, Gaudi SSF, Timolin, Mansion, Total McLaren, and many more. 
His most famous offspring in sport, alongside the stallions, are Go Legend (Marlies van Baalen), Gotilas du Feuillard (Corentin Pottier), Straight Horse Don Tamino (Philine von Bremen)? MSJ Top Secret (Charlotte Dujardin), Totem (Karen Pavicic), etc.
"When the first foals came, people said they were not super foal movers, but what they have now realized more and more that when his offspring comes under saddle, they want to work and be trained," Rath told Eurodressage. "Nearly all have the power and this positive attitude, they all want to learn. Character means a lot, especially for Grand Prix."
Totilas was a trendsetter, trailblazer and unprecedented magnet for international dressage sport. In addition he is a foundation stallion. 
"There will always only be 1 Totilas," Matthias concluded.

Photos © Astrid Appels - Dirk Caremans
Related Links
Another Totilas Teaser Released: New Year's Greeting from Linsenhoff
End-of-The-Year Totilas Teasers: Totilas under Linsenhoff, Total U.S Under Gal
Edward Gal Upclose and Personal about Totilas in Dutch NRC Newspaper
Totilas To Return to the Public Eye at 2019 KWPN Stallion Licensing
The End of an Era: Totilas Retired from Sport
Isabell Werth on Totilas: "Those Who Rise High, Fall Deep"
Totilas Diagnosed with Bone Inflammation, Five Months Out
Totilas Withdrawn from 2015 European Dressage Championships
Holland Takes the Spoils in Scandalous Team Battle at 2015 European Dressage Championships
Totilas Still Got Game, Wins 4* Grand Prix at 2015 CDIO Hagen
Totilas Makes First Outing of 2015 at Local Dutch Show in Hulten
Rath and Totilas to Make Show Come Back Tomorrow at 2014 CDI Kapellen
Matthias Rath and Totilas Withdrawn from 2012 Olympic Contention
Rath Secures National Title with Totilas at 2011 German Championships in Balve
Matthias Rath Presents New Ride, Totilas, to the Press
Matthias Rath: Riding Totilas is "A Real Pleasure"
Totilas' New Rider Announced Next Tuesday
Totilas Arrives at Paul Schockemohle's Stable in Muhlen, Germany
Totilas Sold to Paul Schockemohle
Sale Totilas Causes Shock Wave and Online Webquake
Editorial: Who's Not Afraid of Totilas
All That Glitters: Totilas Wins Kur Gold at 2010 World Equestrian Games
Edward Gal and Totilas, 2010 Aachen Grand Champions
Edward Gal and Totilas Win 2010 World Cup Finals
Edward Gal and Totilas Conquer 2009 Dutch Championships
Totilas Proclaimed KWPN Horse of the Year 2009
Total Pleasure with Totilas at 2005 World Young Horse Championships