KWPN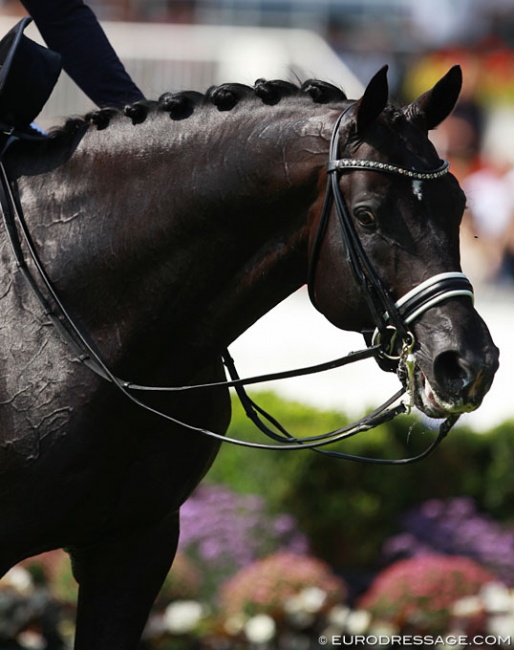 Never say never! In September 2017 Paul Schockemohle announced that the stellar stallion Totilas would "never" be presented to the public eye ever again. Two years later, the KWPN society has proudly announced that Totilas will make a public appearance in hand at the 2019 KWPN Stallion Licensing show. 
The 19-year old Dutch warmblood stallion Totilas (by Gribaldi x Glendale) was retired from sport in the autumn of 2015 after earning team bronze at the 2015 European Championships, but being withdrawn from the rest of the Championship due to an injury. 
Although Totilas has disappeared from the scene and is spending the majority of his retirement time at co-owner Ann Kathrin Linsenhoff's place Schafhof in Kronberg, Germany, the popular black stallion sometimes travels to co-owner Paul Schockemohle's yard in Muhlen for more breeding duties.
In February 2017 major commotion arose as Totilas would return in public at a small stallion show in Saint-Lô, France. His appearance was completely arranged and his box in Saint-Lô reserved, but as this attracted so much interest from the crowds, Schockemohle changed his mind and denied that he ever arranged an appearance. At the time he told SID:  "This was not planned. People are now gossiping and devaluing this horse cent by cent. All nonsense. Germany is a community of envy."
The "never shown in public" has now come to an end. Totilas is set to make a public come back at the 2019 KWPN Stallion Licensing in 's Hertogenbosch, The Netherlands, on Friday 1 February 2019.
He will be presented in hand during a presentation of his already licensed offspring. He will appear as well as his sons Toto Jr., Total U.S. and Trafalgar and his grand sons Kayne, Koning, King Karim, and Taminiau. The KWPN expects a rush on tickets for fans to witness the history-making dressage stallion once more.
Related Links
Totilas Completely Retired from Public Presentations
Matthias Rath Presents New Ride, Totilas, to the Press