Hit & Run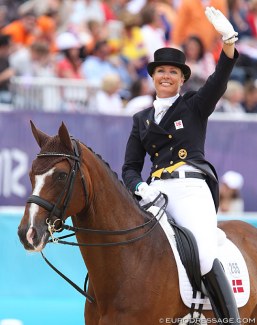 In corona times we are all ordered to stay at home, self quarantine, and do social distancing. With more time on your hands to spend online, Eurodressage launches a "Hit & Run" interview series so that you get to know the world's most famous dressage riders and personalities more closely. 
Danish Grand Prix rider Anne van Olst (née Koch Jensen) is a five-time Olympian, riding her first in 1988 and her last in 2012. At the 2008 Olympics in Hong Kong she won a historic team bronze medal for her country. She has represented Denmark at the seven European Championships (1989, 1991, 1993, 1995, 1999, 2009, 2011), at four World Equestrian Games (1990, 1994, 1998, 2010) and has been a triple Danish Grand Prix Champion. She lives with her husband, KWPN stallion owner Gert-Jan van Olst, in The Netherlands, and coaches British team rider Charlotte Fry. 
Hit & Run - Anne van Olst
What is your earliest memory? 
 Getting my boxer puppy Snoopy. 
Which person alive do you admire the most and why?
SORRY…. I cannot answer this. There are many people I admire from young till old.
When were you the happiest?
At my wedding
What is your biggest fear?
To lose my loved ones, and the day that Negro won't be among us anymore
What was your first thought today?
Yes, sunshine!!
What is your most annoying character trait?
Perfectionism and, if you ask my husband, I'm control freak
Which trait do you dislike the most in other people?
Fake people / dishonesty
What is your dearest possession?
The photos of my parents   
If you look into the future, what do you see?
A different world there have to get used to live in "the new normal life" and let's make the best out of it 
What makes you unhappy?
Seeing animals, but also older people suffering. That can break my heart.
What is the love of your life?
My husband Gert-jan
What was the best choice you ever took in life?
To take the big step following my heart moving to Holland to marry Gert-jan
What's your guilty pleasure?
Wine
What do you owe your parents?
A lot…they always stayed behind me in my decisions even though they were not always agreeing. I miss them loads
Who can sit next to you at your dream dinner table?
Best friends, and Kevin Costner would be welcome too
What was the worst job you ever did?
Alongside to my studies I did have jobs like in the supermarket, bakery, candy shop etc and they were not always fun, but because they made it possible for me to pay for the livery of my horse. I was doing it with pleasure.
What was your biggest disappointment in life?
Oh my God, there have been a few, but whats the use of looking back to that now 
What would you change if you can go back into the past?
That I wouldn't have smoked when I was young
Name one thing that would improve your quality of life?
A corona vaccine
What is your biggest achievement?
Being a member of the Danish Team in Hong Kong (Beijing) 2008 Olympic Games winning the first Olympic Team medal for Denmark, and of course being participating 5 times in the Olympic Games!
What is the most important life lesson you have learnt?
Watch out before you trust people for a 100%
Where would you like to be right now? 
Where I am … at home.
What's your favourite scent?
Jo Malone Candles -  Lime Basil and Mandarin scent
Which character would you dress up in for Halloween?
I don't like Halloween and I definitely don't dress up
To whom would you like to say sorry?
I don't need to say sorry to anyone, and if I should, I would have done it right away
What does love feel like for you?
It makes me smile
When are you most relaxed?
At home with my husband, all my horses, dogs, cats and pigs !! 
What super power would you like to have?
To stop animal cruelty all over the world
When did you last cry, and why?
oh…. I am very easy to tears !!. 
When were you closest to death?
Once crossing the street in Aachen during the CHIO, when a bus almost drove over me. Emile Faurie saved my life by pulling me back
How do you want to be remembered?
As an honest person with love for animals
Related Links
Clearwater Retired from Competition, Sent Back Home to Holland
Clearwater Sold to Japan
Clearwater to Replace Taikoen on 2012 Danish Olympic Team
Danish Team Selected for 2012 Olympic Games
Denmark Obtains Individual Olympic Spot for Fourth Rider
Anne van Olst Sets Hope On Broere Dexter
Anne van Olst's Future with Junior STV
Anne van Olst and Any How