Portugal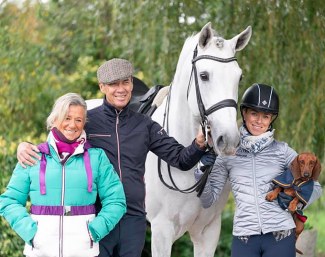 German based Portuguese Grand Prix rider Maria Caetano is strongly connected to the cultural heritage of her country. Raised in a family of farmers and horse breeders that cherishes the agility of Portugal's native horse, the Lusitano, Maria thrives on the athleticism of this Iberian breed. Her biggest successes in the dressage ring are boosted by Lusitano power, in the present and what seems the future.
Warmblood, Lusitano, or Luso-warmblood?
Of course Maria is no stranger to the warmblood horse and loves riding any type of horse. However grown up amongst Lusitano horses, the Iberian breed carries a special place in her heart. 
"I've been lucky to ride many different type of horses in dressage," Caetano told Eurodressage. "I started my international career riding warmbloods from Hof Kasselmann, first in the Young Riders division and later on at Big Tour level. "I would say a good horse is always a good horse, no matter the breed, colour or gender."
When asked what makes a Lusitano different from warmbloods, Maria replies that it is their character which sets them apart.
"The warrior character of the Lusitano is always present. They were selected to fight in war and bullfights, so they are always willing to protect and cooperate with the rider," she explained. "Their learning skill is truly impressive, as well as the ability to surpass their own physical capacities, by showing up with their heart. And everyone can see, their ability for collection and natural charm. This is what makes the Lusitano so special."
The Portuguese Sport Horse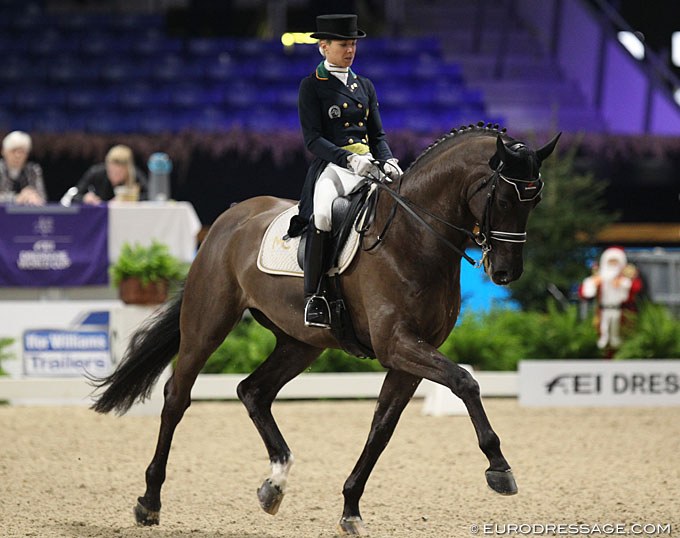 In Portugal horse breeders have begun cross breeding the Lusitano with warmbloods to combine the best of both worlds. Maria also has experience training these cross breeds, which are usually registered with the "Portuguese Sport Horse" Studbook (PSH, or  Associação Portuguesa de Criadores de Racas Selectas). 
"Warmbloods, which have been carefully bred for sport for such a long time, have incredible athletic capacity, strength and focus on the daily training. So, I truly believe that the mix between both breeds has lots of chances to succeed," she stated. "Personally I like a lot the 3/4 Warmblood - 1/4 Lusitano, so the horses have the athleticism of the warmblood but the willingness to collect and cooperate with the rider from the Lusitano. I have felt the best results on a cross bred with a warmblood sire and a dam that is half Lusitano, half warmblood. This cross-breeding project is clearly a process that takes time until they have reached that goal."
Present Stars
Maria's number one star in the barn is Juan Cordeiro's 13-year old pure-bred licensed Lusitano stallion Coroado (by Rubi x Xaquiro). The imposing grey stallion has taken Maria to the 2013 World Championships for Young Dressage Horses, the 2017 and 2019 European Dressage Championships, the 2018 World Equestrian Games, the 2019 World Cup Finals. Maria and Coroado also wrote history for the Lusitano breed as the first pair to ever crack the 80% barrier in the 2018 CDI-W Mechelen Kur to Music. And they did it again in Mechelen in 2019!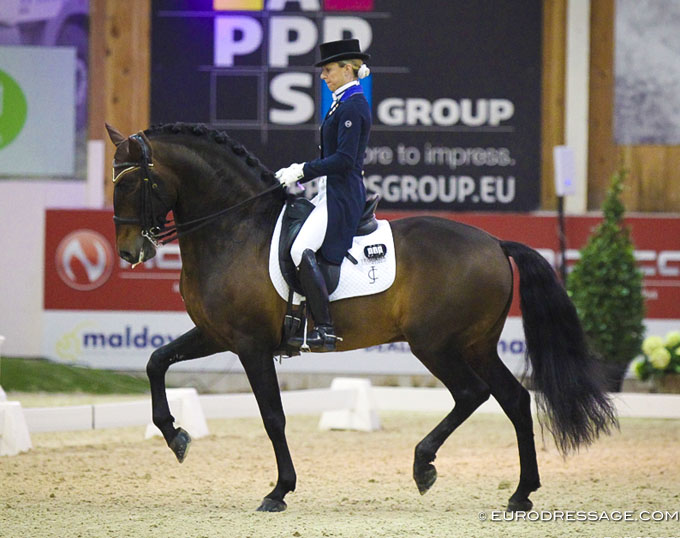 Maria's rising Grand Prix star, Fenix de Tineo, is also owned by her long-time, loyal supporter Juan Cordeiro. The 10-year old pure-bred Lusitano is by Rubi x Oheide and competed at the 2016 and 2017 World Young Horse Championships, before moving up to medium tour level in 2018 and Grand Prix level in 2019. The young star earned his first mileage at the highest level in dressage sport at CDI's in Ranshofen, Le Mans, and Lier with outstanding results. 
"The Cordeiro family and their stud farm Finca Tineo are my "angels," Maria admitted with emotion in her voice. "They showed up in the right moment to support my career by giving me the chance to train and compete these two amazing horses. Our two families have maintained a long-time relationship and my gratitude for them helping me is limitless." 
Future Stars
Maria has four "Luso-warmbloods" or Portuguese Sport Horses in the barn, which she considered her stars for the future. Three of them are bred by Dressage Plus, renowned for their cross breeding in Portugal, and all horses are owned by Maria's loyal sponsors. 
"Vasco Freire, the manager and partner of Dressage Plus, has always been a good friend of the family and he is a great horseman with super sensibility to breed sport horses," said Maria. "They have very interesting bloodlines and strategies to mix Lusitanos with Warmbloods, so I showed some of their horses that I like to my sponsors and I believe we found great horses for the future there."
The 8-year old Hit Plus (by Bretton Woods x Peralta x De Niro) is an 8-year old who has just made the transition to Grand Prix level. He is owned by Maria herself.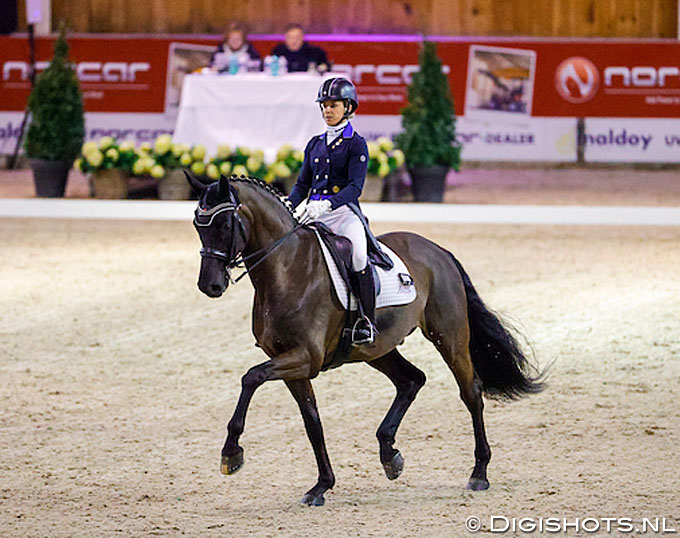 "He's a super mover with very expressive trot and passage work and a super easy piaffe," said Maria. "I just fell in love with him during a visit to my friend Vasco. He was just so easy to teach all movements, so now he's is already performing the complete Grand Prix. I can't wait to have opportunity, after the COVID-19 restrictions, to show him in the Big Tour."
Happy Plus (by Bretton Woods x Rubin Royal x Peralta) is an 8-year old Luso-warmblood owned by Manuel Luis Goucha and Rui Oliveira, the duo which previously owned Maria's highly successful successful Medium tour horse Biso das Lezirias. They acquired Happy Plus after selling Biso to Brazilian Barbara Laffranchi as Joao Victor Marcari Oliva's 2019 Pan American Games team horse. 
"Happy Plus is a real steal. He has an outstanding canter with beautiful flying changes. I already showed him at the CDI Lier in Small Tour and I'm planning to start on Medium Tour as soon as the season restart," said Maria. 
At the same time Goucha and Oliveira also purchased 5-year old purebred Lusitano Lampiao das Faias (by Escorial x Nuxeque x Xaqiero) from Dressage Plus. The stallion is bred by Coudelaria Luis Bastos. 
"Lampiao has been with me since he was saddle broken. He's a strong character horse, like Coroado, and with a lot of potential. He's the baby in the barn."
The 6-year old Jack Daniel's Plus (by Fürst Romancier x Peralta x Hohenstein), owned by the American Blueberry Farm, is one of the newest additions in Maria's stable. "Jack Daniel's Plus has a great ability for collection and a beautiful frame, he's full of charm. I hope to compete him next year on the Small Tour international circuit," said Maria. 
Corona Lockdown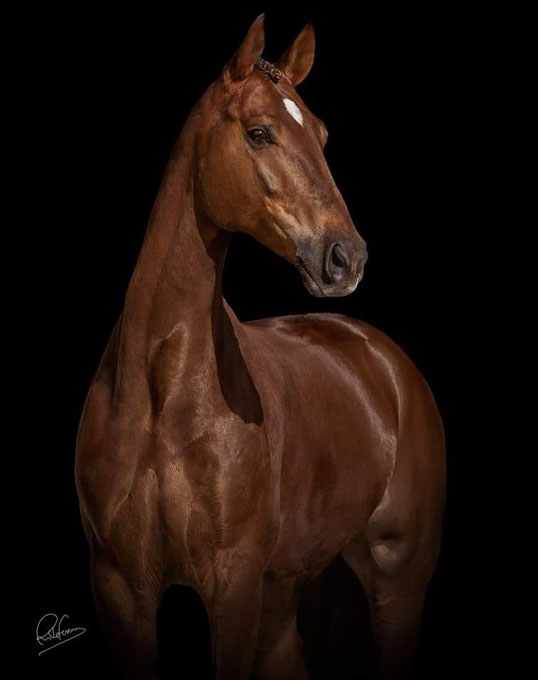 Like any other international competition rider based in Europe, Maria has a barn full of talent and potential, but nowhere to go due to the COVID-19 lockdown. 
"During this difficult times, I've been lucky to be able to continue training every day at the amazing Zetta Sport stables in Krefeld, Germany," Maria explained. "I took this time to give Coroado a rest and only ride him in a maintenance and fun workout. He is such an amazing horse, even in resting periods we have so much fun together!"
The time at home gives Maria the opportunity for focused training of the youngsters and bringing them up the levels.
"I've focused much on the development of the young ones, doing their regular work as well as do "pretending competitions" with my groom behind the camera and trainer Ton de Ridder as judge's eyes, so that we are ready when the season restarts. I'm looking very much forward to be out again with Coroado at the big stage and to introduce Fenix de Tineo and Hit Plus to the highest level of international dressage sport."
Photos © Astrid Appels - Digishots - private - Rita Fernandes
Related Links
Corona Times: Hit & Run with Maria Caetano
Caetano and Coroado Write History for Lusitano Breed by Cracking 80% Barrier
New Horse and More Help for Maria Caetano
Caetano In Winning Mood on New Small Tour Ride Biso das Lezirias at 2016 CDI Lisbon
Monteiro, Lopes, Meneres, Caetano Win 2017 Portuguese Dressage Championships
Maria Caetano Wins 2014 Portuguese Dressage Championships
Maria Caetano Crowned 2013 Portuguese Grand Prix Champion
Maria Caetano Is in It for the Long Term
Maria Caetano, 2008 Portuguese Grand Prix Dressage Champion