2008 Portuguese Dressage Championships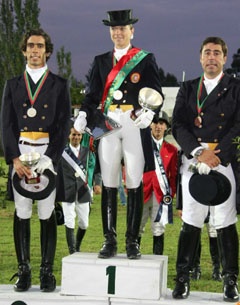 Maria Moura Caetano won the Grand Prix title at the 2008 Portugal Dressage Championships, held at the Sociedade Hipica Portuguesa in Lisbon, Portugal, October 10-12, 2008. With scores of 73,65% in the Grand Prix, 65,96% in the Grand Prix Special and 67,08% in the Kur to Music, Caetano totalled 206,69% with her horse Diamant (by Donnerhall) and grabbed her first national Seniors title.
Aboard the 15-year old German warmblood and PSI horse Diamant, the 21-year old Maria claimed all three rounds and led with a 4,43% point difference to silver medallist Gonçalo Carvalho on the Lusitano Rubi (202,26%). Jorge Pereira finished in the bronze medal position with his Grand Prix horse Ofi das Lezírias (196,35%). Taran IV under Pedro Castro Monteiro was fourth (184,50%).
Maria, who is trained by her father Paulo Caetano under the supervision of the German trainer Dolf Dietra Keller, rode her Kür to "Applause" a composition created by Karen Robinson, designer of some of several Olympic freestyles.
Last June at Ponte de Lima, this promising combination claimed the "Taça de Portugal", an important achievement and certainly a first of many to come.
From a field of 12 participants in various qualifying rounds this year, only four managed to qualify for the Grand Finale. The scores attained by the four combinations were very close to each other and provided a good level of dressage to the many spectators that attended the Championships.
Biggest absentees at the 2008 Portuguese Dressage Championships were Olympic riders Miguel Ralao Duarte, who is giving his Lusitano mare Oxalis de Meia Lua a break, and Daniel Pinto, whose Galopin de la Font is injured.
Results 2008 Portuguese Dressage Championship
Sociedade Hípica Portuguesa - Lisbon
Seniors
Gold - Maria Moura Caetano - Diamant 391 
Silver - Gonçalo Carvalho - Rubi 
Bronze - Jorge Pereira - Ofi das Lezírias
Young Riders
Gold - Maria Paes do Amaral - Wonderman (pictured right)
Silver - Julio Fernandes - Saltitão
Juniors
Gold - Mafalda Galiza Mendes - D'Artagnan (pictured below right)
Silver - Catarina Kemper - Prima Dona
Bronze Rodrigo Galiza Mendes - Ne-Opus
Beginners
Gold - Joana Carreira - Picasso 
Silver - Tomás Morais - Risco
Bronze - Diogo Godinho - Lord Zeus
Paradressage
Gold - Sara Duarte - Neopolitana Murella
Photos copyrighted: Aurélio Grilo
Related Links
Miguel Ralão Duarte, 2007 Portuguese Dressage Champion
2008 Portuguese Olympic Dressage Team Announced