2014 Portuguese Dressage Championships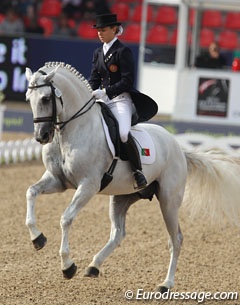 Maria Caetano has won her second back to back National Grand Prix title and third in her career at the 2014 Portuguese Dressage Championships held during the Feira Do Cavalo in Ponte de Lima, Portugal on 27 - 29 June 2014. Eight Portuguese Grand Prix riders competed at the Nationals.
The 27-year old Maria Caetano Couceiro  brought her number one GP horse Xiripiti, a gret Lusitano stallion by Qualificado x Moscatel, to Ponte de Lima. The duo scored triple victory in the Grand Prix (70.620%), Grand Prix Special (68.039%), and the Kur to music (72.325%) to finish on a winning total average of 70.328%.
"Xiripiti went very well," Caetano told Eurodressage. "I'm very happy with him. We were very consistent in the three days of competition. Xiripiti is in a very good moment in his career."
The silver medal went to Filipe Canelas, who has now scored his third consecutive silver national medal. Aboard the Westfalian bred Der Clou (by De Niro), Canelas scored 68.080% to finish fourth in the Grand Prix, second in the Special with 67.922% and then he scored 70.700% in the Kur to Music to finish on an average of 68.894%.
Daniel Pinto and Santurion de Massa landed in the third spot and got the bronze after earning 68.680% in the Grand Prix, 65.843 in the Special and 70.425% in the kur. He pulled an average of 68.316% for bronze.
Photo © Astrid Appels
Results -  2014 Portuguese Dressage Championships
1. Maria Caetano - Xiripity - 70.620 - 68.029 - 72.325 --- 70.328
2. Filipe Canelas - Der Clou - 68.060 - 67.922 - 70.700 --- 68.894
3. Daniel Pinto - Santurion de Massa - 68.680 - 65.843 - 70.425 --- 68.316
4. Marnuel Borba Veiga - Ben Hur do Broa - 68.780 - 66.490 - 66.750 ---- 67.340
5. Raquel Silva Falcao - Real - 64.840 - 65.275 - 68.725 --- 66.280
6. Ana Filipa Moura Carneiro - Treinado - 64.780 - 62.314 - 65.875 --- 64.323
7. Miguel Anacoreta Soares - Vinagre - 65.040 - 62.745 - 64.825 --- 64.203
8. Salvador Pessanha - Xenofonte d'Atela - 61.820 - 64.333 - 65.800 --- 63.984
Related Links
Maria Caetano Crowned 2013 Portuguese Grand Prix Champion
Goncalo Carvalho Wins 2012 Portuguese Dressage Championships
Scores: 2010 Portuguese Dressage Championships
Maria Caetano, 2008 Portuguese Grand Prix Dressage Champion
Miguel Ralão Duarte, 2007 Portuguese Dressage Champion