2013 Portuguese Dressage Championships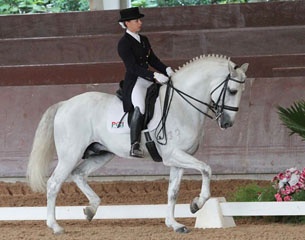 Newly wed Maria Caetano can add another achievement to her list in 2013. The 26-year old Portuguese team rider was crowned National Grand Prix Dressage Champion last weekend 25 - 27 October 2013 in Lisbon. Caetano claimed her second title in her career after having won the Nationals for the first time in 2008.
Aboard her 10-year old Lusitano stallion Xiripiti (vy Qualificado x Moscatel), she won the Grand Prix with 69.32%, the Special with a personal record score of 73.15% and the kur to music with 77.13% to average a total of 73.20%
The silver medal went to Filipe Canelas on the 14-year old Hanoverian gelding Der Clou (by De Niro).  He scored 68.89% in the Grand Prix, 70.50% in the Special and 72.78% in the Kur to music.
There was no bronze medal to be awarded as unfortunately only two Portuguese riders participated in the Grand Prix kur. There was a total of five competitors, including Caetano on her second ride Zingaro de Lyw and Rafquel Falco and Luciano Inacio who only contested the Grand Prix.
Biggest absentee was 2012 Portuguese champion Gonçalo Carvalho and his 15-year old Lusitano stallion Rubi, who is currently enjoying a real holiday in the field after a very busy show and breeding season this year. The fourth Portuguese team member at the 2013 European Championships, Luis Principe, is based in the U.K. and does not travel to his home country for the nationals.
Although hardly any Portuguese junior riders are competing internationally, the field for the National Championships was well filled. Maria Ines Cancio claimed the Portuguese Junior Riders Champion title aboard Xeque Mate. She scored 64.00%, 66.34% and 68.05%
Results - 2013 Portuguese Grand Prix Championship
1. Maria Caetano - Xiripiti - 69.32 - 73.15 - 77.13 ---- 73.20
2. Filipe Canelas - Der Clou - 68.89 - 70.50 - 72.78 -- 70.72
Maria Caetano - Zingaro de Lyw - 65.15 - 68.23
Raquel Falcao - Real - 64.55
Luciana Inacio - Watami - 57.57
Photo © Aurelio Grilo
Related Links
What's Happening: September 2013 - Part 1
Goncalo Carvalho Wins 2012 Portuguese Dressage Championships
Scores: 2010 Portuguese Dressage Championships
Maria Caetano, 2008 Portuguese Grand Prix Dressage Champion
Miguel Ralão Duarte, 2007 Portuguese Dressage Champion