Germany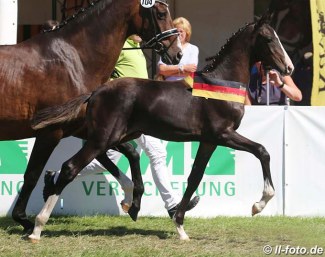 A colt by Zoom and a filly by Quantensprung became the winners of the 2018 German Foal Championships, which were held in Lienen, Germany, on 14 - 15 July 2018.
In the colt category, a Westfalian bred colt by Zoom out of a Blue Hors Don Romantic dam won the champion's sash. The winner is bred and owned by Arnd Schwierking. He scored a total of 102.6 points. The runner up was the show jumping bred colt by Balou de Rouet x Lissaro.
In the filly division, a Quantensprung x Quaterback foal took highest honours with 102.6 points. The Quaterback dam was a German Foal Champion 10 years ago. The champion filly is bred and owned by Zuchthof Vogtei. The runner up was a Franziskus x Dimension filly, bred by Ludwichowski, which scored 102.1 points. A Santo Domingo x De Niro filly ranked third with 101.1 points.
In the 3-year old Mare Championship the title went to Hartmut Ahmann's mare Gloria (by Goldberg). She edged out Horst Ebert's mare Belle Fleur (by Millennium) by two points. Klaus Grosse Lembeck's mare Emilie Louise (by Escolar) finished third.
Results - 2018German Foal Championships
Colts
1. Zoom x Don Romantic - Breeder: A. Schwierking - 102.6 points
2. Balou de Rouet x Lissaro - Breeder: Heinz Sprenger & Simone Kossel - 100.8
3. Danone I x Fidertanz - Breeder: Moormann - 1000
4. Dream Boy x De Niro - Breeder: Naumann - 90
5. Borsalino x Quaterback  - Breeder: Nieberg - 89.67
6. Zinedine x Cola  - Breeder: Sostmann - 89.5
7. Zoom x Sir Donnerhall  - Breeder: Kesten - 89.18
8. Franziskus x De Niro  - Breeder: Albers - 89.17
9. Fahrenheit x De Niro  - Breeder: Scherwitzki - 88.83
10. Florenz x Ampere  - Breeder: Moormann - 88.68
Fillies
1. Quantensprung x Quaterback  - Breeder: Vogtei - 102.6
2. Franziskus x Dimension  - Breeder: Ludwichowski - 102.1
3. Santo Domingo x De Niro  - Breeder: Schulte-Beckhausen - 101.1
4. Furst Romancier x Danone  - Breeder: Steffes - 91.83
5. Furstenball x Dancier -  - Breeder: Flasskamp - 90.83
6. Zoom x Lauries Crusador xx  - Breeder: Ruyter - 90.67
7. Belissimo M x Fidertanz  - Breeder: Goecke - 90.17
8. Quindale x Damsey  - Breeder: Rohleder - 89.83
9. Franklin x Uphill  - Breeder: ACLE Horse - 89.67
10. Toto Jr x Dressage Royal  - Breeder: Crome-Sperling - 89.33
Photo © LL-foto
Related Links
Sir Heinrich and Bonds Sire 2017 German Foal Champions
Floriscount and Fahrenheit Sire 2016 German Foal Champions
Escolar and Finest Sire 2015 German Foal Champions
Sandro Hit and Dante Weltino Sire Winners of First German Foal Show of 2015
Sir Donnerhall I and For Romance Sire 2014 German Foal Champions
Destano and De Niro Offspring Win 2013 German Foal Championships
Franziskus and Quintender Sire 2012 German Foal Champions
Furstenball and Surprice Sire Champions at 2011 German Foal Championship in Lienen