German Dressage News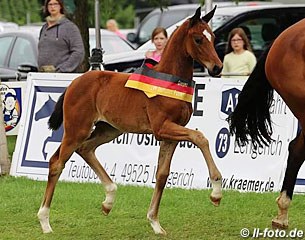 A colt by Sir Heinrich and a filly by Bonds were named champions in their gender class at the 2017 German Foal Championships held in Lienen, Germany, on 16 - 17 July 2017.
Ten colts and ten fillies were selected for the champion's ring where they battled it out for the title. Sir Heinrich stamped the 2017 German Foal Championships with no less than 3 offspring in the top ten.
In the filly division the palomino coloured Bonds x San Amour, bred by Stefan Hermann, topped the board with 105.17 points and claimed the champion's title. Josef Pottbaecker's Sir Heinrich x Jazz Rubin was the runner-up with 99.83 points, while Anja Mohrahrend's Furstenball x De Niro filly placed third with 99.50 points.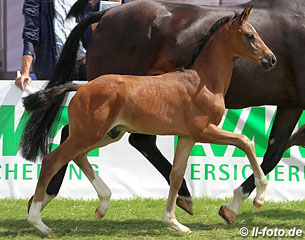 The champion colt is by Sir Heinrich x Furst Grandios, bred by August-Wilhelm Schmale. The foal scored 104.17 points for the title. Sietse Betten's For Romance x Dimension became the reserve champion with 102.00 points, while Arnd Schwierking and Johan Ifversen's Conthargos x Balou de Rouet landed third place with 101.83 points. 
In the pony foal division no distinction is made between colts and fillies. The champion was Grommel's Socrate x Cyriac WE foal which scored 103.17 points. Wolfgang Knufinke's Kachunga x Charm of Nibelungen was the reserve champion with 100.50 points.
Photos © LL-foto
Results - 2017 German Foal Championships
Colts
1. Sir Heinrich x Furst Grandios - breeder: August Wilhelm Schmale - 104.17 pts
2. For Romance x Dimension - breeder: Sietse Betten - 102.00 ps
3. Conthargos x Balou de Rouet - breeders: Schwierking & Ifverson - 101.83 pts
4. Vilancio x Furst Heinrich - breeder: Kan Crome-Sperling - 92
5. Franziskus x De Niro - breeder: Josef Albers - 91.50
6. Finest x Quatermann - breeder: Antje Mense Bussmann - 89.83 pts
7. For Romance x Lord Loxley - breeder: Antje Belludt - 89.67
8. Farbenspiel x Love Me - breeder: Beate Growe - 89.67
9. Franziskus x Rock Forever - breeder: Rainer Jaite - 89.50 pts
10. Finest x Jazz Rubin - breeder: Helga Schwätzler - 89.00
Fillies
1. Bonds x San Amour - breeder: Stefan Hermann - 105.17
2. Sir Heinrich x Jazz Rubin - breeder: Josef Pottbaecker - 99.83
3. Furstenball x De Niro - breeder: Anja Mohrahrend - 99.50
4. Bonds x Editorial - breeder: Frank Grütte - 99.33
5. Furstenball x Sir Donnerhall - breeder: Enrico Messelis - 90.67
6. Sir Heinrich x Blickpunkt - breeder: Manfred Hochhard - 90.00
7. Bernay x Fidertanz - breeder: Ellen Kurz - 89.83
8. Vivaldi x Furst Romancier - breeder: Jurgen Helm - 89.67
9. Qualito x Likoto xx - breeder: Eckhard Kögler - 89.5
10. Quantensprung x Caprimond - breeder: Beatrix Näsemann - 89.17
Related Links
Floriscount and Fahrenheit Sire 2016 German Foal Champions
Escolar and Finest Sire 2015 German Foal Champions
Sandro Hit and Dante Weltino Sire Winners of First German Foal Show of 2015
Sir Donnerhall I and For Romance Sire 2014 German Foal Champions
Destano and De Niro Offspring Win 2013 German Foal Championships
Franziskus and Quintender Sire 2012 German Foal Champions
Furstenball and Surprice Sire Champions at 2011 German Foal Championship in Lienen