German Breeding News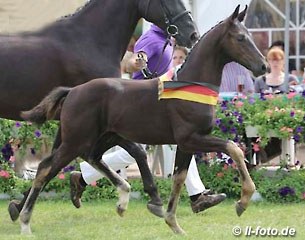 A Sir Donnerhall I filly and a For Romance colt were named the champions of the 2014 German Foal Championship held in Lienen, Germany, on 12 - 13 July 2014. For Romance was the best represented sire with four foals ranked in the top 10 in both divisions.
In the colt division the champion was Agrnes Beckhoff's colt by For Romance x De Niro the highest scoring foal of the day. With 93.33 points, this colt took home the national title and trophy. The runner-up was Jurgen Leuteritz' Follow Me x San Amour colt with 93.00 points. Otto and Rita Fritzlar bred the third placed colt by Franziskus Contendro I, which scored 91.50 points.
In the filly category Richard Klein's filly by Sir Donnerhall I x Rockwell totalled 93.67 points and was not only the high scorer amongst the fillies but also of the day. Friederike Pelzer has bred the reserve champion filly of 2014, a For Romance x De Niro offspring, which earned 93.33 points. Katharina Hadeler's filly by Bon Bravour x Dream On finished third with 91.33 points.
Results - 2014 German Foal Championships
Colts (top 10)
1. For Romance x De Niro - Breeder: Agnes Beckhoff
2. Follow Me x San Amour - Breeder: Jurgen Leuteritz
3. Franziskus x Contendro I - Breeder:Otto and Rita Solzer
4. For Romance x Depardieu - Breeder: Heinrich Kayser
5. For Romance x Dormello - Breeder: Peter Baade
6. Sir Heinrich x Goethe - Breeder: Breeders group Verhoeven
7. Fahrenheit x Sorento - Breeder: Sandbrink
8. Franziskus x Lanciano - Breeder: Robert Drenker
9. Quasi Gold x Samba Hit I - Breeder: Burkhard Thomalla
10. De Niro x Sir Donnerhall I - Breeder: Christine Arns Krogmann
Fillies (top 10)
1. Sir Donnerhall I x Rockwell - Breeder: Richard Klein
2. For Romance x De Niro - Breeder:Friederike Pelzer
3. Bon Bravour x Dream On - Breeder:Katharina Hadeler
4. Bon Bravour x Sir Donnerhall I - Breeder: Johann Martens
5. Van Vivaldi x Fiderstep - Breeder: Heinz Schutte
6. Franziskus x Sir Donnerhall I - Breeder: Bernd Ilting Reuke
7. Furst Heinrich x Donnerhall - Breeder:Ralf Blugger
8. Furstenball x San Amour - Breeder:Cornel Schulz
9. Follow Me x Stedinger - Breeder: Sabine Hubner
10. Franziskus x Dancing Dynamite - Breeder: Sigrid Schulze Lefert
Photo © LL-foto
Related Links
Destano and De Niro Offspring Win 2013 German Foal Championships
Franziskus and Quintender Sire 2012 German Foal Champions
Furstenball and Surprice Sire Champions at 2011 German Foal Championship in Lienen