2016 Austrian Dressage Championships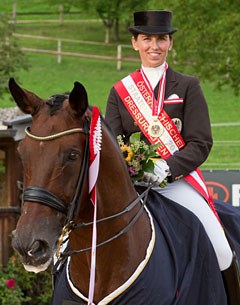 Pony and junior rider Nicola Ahorner, young rider Florentina-Gisi Lorenz and Grand Prix rider Belinda Weinbauer became the grand champions of the 2016 Austrian Dressage Championships held at Evelyn Haim-Swarovski's Schindlhof in Fritzens, Austria, on 9 - 11 September 2016. Weinbauer pulled an impressive feat in the senior division, breaking Victoria Max-Theurer's 13-year long reign as Austria's Number One Grand Prix rider.
Weinbauer Rises to the Top and Grabs Grand Prix Title
The title for national Grand Prix champion was a tough one with a duel between the 40-year old Weinbauer and the 30-year old Max-Theurer. Recently partnered with Marianne Jerich's Grand Prix horse Sohnlein Brilliant MJ, a 14-year old Hanoverian by Shakespeare in Love, Weinbauer won the Grand Prix and Kur to Music with 72.240% and 77.675% to finish with the champion's sash and gold medal on a total of 149.915%.  Victoria Max-Theurer and her 13-year old Oldenburg mare Della Cavalleria (by Diamond Hit) were very closely on Weinbauer's heels in the kur with 77.650% but the pair had to give Belinda more leeway in the Grand Prix as Victoria scored 71.220%. With a total of 148.870 points Victoria earned silver and was unable to complete her 14th consecutive streak to the national title. Astrid Neumayer and her 16-year old Brandenburg bred Rodriguez (by Rubinstern Noir) were good for bronze with 69.580% and 75.050% while show host Evelyn Haim-Swaroski and the 14-year old Danish mare Dorina (by Don Schufro) landed just off the podium in fourth place.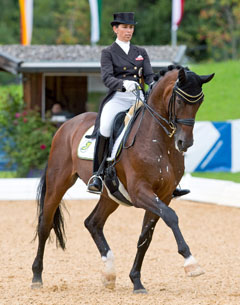 "Yesterday after the prize giving for the Grand Prix I had to cry, today I can't believe I've become Austrian Champion," said an overjoyed Weinbauer. "It was a great show of a very high level. I couldn't have imagined a better and more fair opponent than Vici." Weinbauer was a former assistant trainer at Max-Theurer's yard and currently is training Austrian junior rider Nicola Ahorner. 
Jerich moved away her FEI level horse horse from German Matthias Bouten in the spring and has now allocated the ride on the experienced Grand Prix horse Sohnlein Brilliant to Weinbauer.  "I wasn't able to practise the difficult freestyle with Sohnlein very often, but I believed it was better to just give it a go than ride a lukewarm freestyle. He was just super to ride, very attentive. Mrs Jerich was also ecstatic that we earned the title."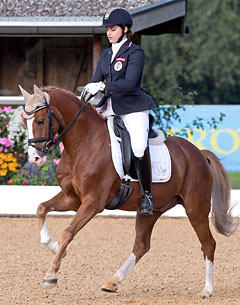 Max-Theurer admitted her defeat and rejoiced in the great title match that took place in Fritzens. "It was fun to ride Della here. It was still tough despite the expensive mistakes I made. Such duels are what makes our sport exciting," said Victoria. "I congratulate Belinda and am very happy for her. If you also take my youth rider's titles into account, I have won the Austrian Championships 18 times. This series is something very special for me. After a very busy summer programme I'll take a holiday now and when I'm fresh again, I'll continue to work with Della and my other horses. I'm looking forward to future challenges."
Ahorner and Lorenz Claim Youth Titles
Nicola Ahorner has been doing double duty for the past two years, competing at pony and junior riders level, both nationally and internationally. At national level she's the undefeated champion in both division as she can rely on a large collection of high quality ponies and horses.
In the pony division Ahorner reigned aboard the 10-year old German bred Mad Max (by The Braes My Mobility). She achieved her third consecutive pony title by winning the team test with 69.615% and the individual with 70.935% to total 140.550 points. Chiara Pengg and the 14-year old German bred Maximus (by Horsegate Minstrel) were a solid silver with two second places on 68.889% and 69.756%. The bronze went to Kathrin Brugger's on the 10-year old buckskin Dornik's Dream (by Dornik B) with 67.179% and 68.862%.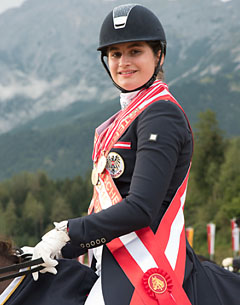 In the junior division Ahorner grabbed her first title in this age category aboard the 13-year old Oldenburg bred Robbespiere (by Rohdiamant). She twice topped the board with 71.802% and 72.342% to finish with gold on 144.144 points. Victoria Wurzinger and the 15-year old Oldenburg gelding Dorian (by D-Day) were second with 70.721% and 71.842%, while Lilli Ochsenhofer made a successful transition from Children to junior aboard the 10-year old Hanoverian Sanibel (by Samarant). The pair earned bronze with 69.009% and 69.105%.

At young riders' level Florentina-Gisi Lorenz and Diana Porsche battled for national glory but Lorenz ran away with the gold after finishing first in the team test (71.360%) and Individual (71.895%) aboard her 11-year old Oldenburg Coco Procol Harum (by Cheenook). Diana Porsche and the 12-year old Hanoverian Eloy (by Earl) earned silver with 71.140% and 71.395%, while Stefanie Achammer and the 11-year old Bavarian bred Le Mans (by Limoncello) landed bronze with 66.272% and 65.816%.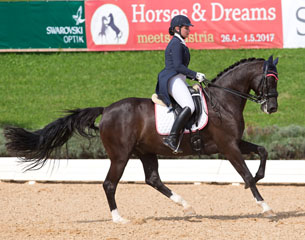 Photos © Michael Rzepa
Results - 2016 Austrian Dressage Championships - Fritzens
Pony Riders (top 10 only)

1. Mad Max WE    Ahorner Nicola - 69,615  - 70,935 --- 140,550
2. Maximus - Pengg Chiara - 68.880 - 69.756 --- 138.645
3. Dornik's Dream - rugger Kathrin - 67,179 -  68,862 --- 136,041
4. Rappenbergs Milky Way - Djaber Ansari Alessa Louisa - 66.923 - 67.520 --- 134.443
5. Der kleine Prinz  -  Stallmeister Pia - 66,410 -  65,854 --- 132,264
6. Heidewinde's Wesley  - Messner Lilly - 66.239 - 65.813 ---132.052
7. Mr. No - Krimascek Marlene - 64,444 -  66,911 --- 131,355
8. Pocahontas B  - Tröster Sophie - 62.863 - 67.805 ---130.668
9. Avellino - Grabenwöger Helene - 64,915  - 65,244 --- 30,159
10. Bruintje - Gosch Corina - 62.906 - 63.455 --- 126.361
Junior Riders (top 10 only)
1. Robbespiere    Ahorner Nicola - 71,802 - 72,342   --- 144,144
2. Dorian - Wurzinger Victoria - 70.721 - 71.842 --- 142.563
3. Sanibel    Ochsenhofer Lilli  - 69,009 -  69,105   ---   138,114
4. Feliciano - Pengg Chiara - 66.667 - 67.211 --- 133.878
5. Donnerbube Junior    Süss Lara - 67,342 - 66,368  ---    133,710
6. Cypria F - Strobl Valentina - 66.486 - 65.026 --- 131.512
7. Fasten Seat Belt    Artner Florian- 63,919 -  64,368   ---   128,287
8. Miss Moneypenny - Kropfreiter Sina - 63.694 - 64.211 --- 127.905
9. San Marino 35    Gebhard Nikolaus  - 64,910 -  62,079   ---   126,989
10. Furst Fidermann - Steinbach Lysan - 61.396 - DNS --- 61.396
Young Riders
1. Coco Procol Harum  - Lorenz Florentina-Gisi - 71,360 - 71,895  ---  143,255
2. Eloy - Porsche Diana - 71.140 - 71.395 --- 142.535
3. Le Mans  - Achammer Stefanie -  66,272 -   65,816  ---   132,088
4. Donna World - Tichy Johanna - 65.658 - 66.421 --- 132.079
5. Show Man M - Francz Sophie Marlene -65,482  -  64,842   --- 130,324
6. Zucherbube - Köck Daniel - 63.860 - 64.947 --- 128.807
7. Peer Gynt - Haas David  -  63,026  -  62,684  ---   125,710
8. Doris Day - Lechner Franziska - 61.228 - 61.974 --- 123.202
Senior Riders (top 10 only)

1. Söhnlein Brilliant MJ  - Weinbauer Belinda - 72,240 -  77,675 --- 149,915
2. Della Cavalleria OLD - Max-Theurer Victoria - 71.220 - 77.650 ---- 148.870
3. Rodriguez    Neumayer Astrid -  69,580 - 75,050 --- 144,630
4. Dorina - Haim-Swarovski Evelyn - 68.280 - 71.125 --- 139.405
5. Royal Happiness OLD    Palm Stefanie - 67,140 - 72,225 --- 139,365
6. Sandrose - Toniutti Jacqueline - 66.400 - 71.975 --- 138.375
7. Vienna A  -Erdmann Nikolaus - 67,180 - 70,800 --- 137,980
8. Picardo - Schumach Christian - 66.080 - 71.850 --- 137.930
9. Simply Red 8    Zach Timna  - 64,480 -  70,700 --- 135,180
10. Dresscode Black - Hartung, Amanda - 65.660 - 68.525 --- 134.185
Related Links
Ahorner, Wurzinger, Pointinger, Max-Theurer Win 2015 Austrian Dressage Championships
Ahorner, Lorenz, Pointinger, Max-Theurer Win 2014 Austrian Dressage Championships
Max-Theurer Claims Eleventh Consecutive Title at 2013 Austrian Dressage Championships
Lorenz, Valenta, Zach, Max-Theurer Win 2012 Austrian Dressage Championships
Max-Theurer Untouched to Ninth Austrian Grand Prix Champion's Title
Max-Theurer Wields the Axe of Power at 2010 Austrian Championships
Scores: 2009 Austrian Dressage Championships
Fifth Consecutive Austrian Dressage Champion's Title for Max-Theurer
Victoria Max-Theurer, 2006 Austrian Dressage Champion