2015 Austrian Dressage Championships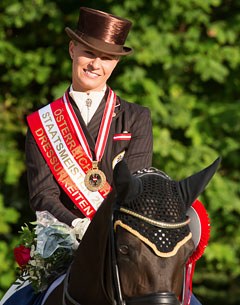 Pony rider Nicola Ahorner, junior rider Victoria Wurzinger, young rider Lea Elisabeth Pointinger and Grand Prix rider Victoria Max-Theurer became the grand champions in their division at the 2015 Austrian Dressage Championships organized by the riding club Steyr on 11 - 13 September 2015.
At Grand Prix level it was an all female podium with Austria's number one Victoria Max-Theurer capturing her 13th consecutive Grand Prix title. For the 2015 edition she saddled her 2015 European Championship horse Blind Date (by Breitling x Donnerhall) and kept home her former number one Augustin, who has only competed at one show this 2015 season so far. With Blind Date she produced two solid rounds for gold. The pair scored 74.94% in the Grand Prix and 78.55% in the Kur to Music. She stayed 10% ahead of silver medal winner Astrid Neumayer on her dark bay 15-year old Rodriguez (by Rubinstern Noir), who scored 69.44% and 74.35%. Katharina Wunschek slotted in third on the bronze medal position aboard Max-Theurer's chestnut Amusant (by Alabaster). They scored 65.84% and 71.33% in the kur, which was their first freestyle ever together. Only eight Grand Prix riders in total contested the Grand Prix Nationals this year.
"For Blind Date it's her second National title," said Max-Theurer. "She did two nice rounds here and did a good job. The 29-year old Victoria has now won the title on six different Grand Prix horses. "The season highlight were the European Championships in Aachen but a 13th title is of course also a nice thing. Such achievements are not evident on a national level but only feasible because of a strong team.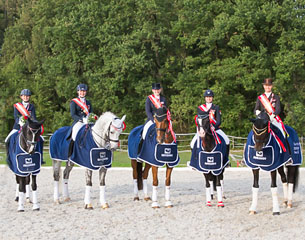 The youth riders had to contest two classes to determine the podium places and medal getters. In the pony category, Nicola Ahorner saddled her 11-year old Nice Blue Eyes (by Notre Beau) for gold. She was second in the first round (70.94%) but won the second round (70.94%) for the highest total.  Austria's number one junior rider at the 2015 Europeans, Victoria Wurzinger, also proved her power at national level aboard the 14-year old Dorian (by D-Day). She scored 70.32% and 72.15% to earn gold.  Young rider Lea Elisabeth Pointinger was absent from the 2015 European YR Championships, but returned to the Nationals with her 18-year old Gino (by Gardez) to take gold by a fraction of a point advantage to Oliver Valenta. Pointinger scored 71.40% and 71.62% for gold.
Photos © Andreas Schnitzlhuber
Results - 2015 Austrian Dressage Championships
Pony Riders
1. Nicola Louise Ahorner  - Dynasty  – 70,94 - 70,94 --- 141,88
2. Kathrin Brugger - Dornik's Dream – 71,154 - 68,05  --- 139,20
3. Chiara Pengg -  Maximus – 68,675 - 67,76 --- 136,44
4. Felix Artner - Calenberg's Serenade - 68.12 - 67.97 ---136.09
5. Daria Hohenwarter - Candyman - 67.39 - 68.29 --- 135.68
6. Helene Grabenwöger - Avellino - 67.31 - 68.21 --- 135.52
7. Marlene Krimaseck - Mr No - 67.48 - 67.97 --- 135.45
8. Lilli Ochsenhofer - Grenzehohes Lorenzo - 68.29 - 66.38 --- 134.67
9. Lilly Messner - Heidewinde's Wesley - 67.44 - 66.34 --- 133.78
10. Alessa Louisa Djaber Ansari - Rappenbergs Milky Way - 68.59 - 64.84 --- 133.43
11. Pia Stallmeister - Diogenes ut Deuten - 66.84 - 66.34 --- 133.18
12. Melissa Brugger - Arts Deitana - 66.97 - 65.53 --- 132.50
13. Anna Wischenbart - Queen Bee - 65.73 - 66.59 --- 132.32
14. Nikolaus Gebhard - Antares - 63.29 - 66.71 --- 130.00
15. Caroline Pock - Black Pearl - 63.89 - 62.93 --- 126.82
Junior Riders
1. Victoria Wurzinger - Dorian – 70,32 - 72,15 --- 142,47
2. Nicola Louise Ahorner - Diamantenbörse OLD – 69,595 - 70,0 --- 139,60
3. Nikolaus Gebhard  - Don Duarte – 68,51 - 67,06 --- 135,57
4. Florian Artner - Fasten Seat Belt - 67.34 - 66.71 --- 134.05
5. Anna Wischenbart - Flamenco - 66.44 - 65.70 --- 132.14
6. Marie Christine Fuhs - Artemis - 66.40 - 64.78 --- 131.18
7. Valerie Pitkowitz - Louisdora - 65.00 - 66.14 --- 131.14
8. Sophie Marlene Francz - Show Man M - 64.82 - 65.92 --- 130.74
9. Sophie Pock - Nestroy SP - 64.69 - 65.31 --- 130.000
10. Sina Kropfreiter - Moss Moneypenny - 64.41 - 65.57 --- 129.98
11. Lena Graf - Capri - 62.30 - 63.25 --- 125.55
Young Riders
1. Lea-Elisabeth Pointinger  -  Gino 333 – 71,4 - 71,62 --- 143,02
2. Oliver Valenta  - Rivel – 70,53 - 71,67 --- 142,2
3. Florentina-Gisi Lorenz  - Coco Procol Harum ­– 70,219 - 67,76 --- 137,98
4. Diana Porsche - Eloy - 69.25 - 67.85 --- 137.10
5. Katharina Haas - Saint Tropez - 65.04 - 67.98 --- 133.02
6. Alina Larissa Djaber Ansari - Donna Rubina - 65.22 - 64.56 --- 129.78
Grand Prix Riders
1. Victoria Max-Theurer  - Blind Date – 4,94 - Kür: 78,55  --- 153,49
2. Astrid Neumayer - Rodriguez  – 69,44 - 74,35 --- 143,79
3. Katharina Wünschek  -  Amüsant  – 65,84 - 71,33 --- 140,23
4. Evelyn Haim Swarovski - Dorina - 68.12 - 71.18 --- 139.30
5. Caroline Kottas Heldenberg - Shylock - 67.04 - 71.95 - 138.99
6. Stefanie Palm - Royal Happiness - 67.08 - 70.43 --- 137.51
7. Nikolaus Erdmann - Vianna A - 66.76 - 70.03 --- 136.79
8. Pia Gabriel - Al Pacino - 67.32 - 68.85 --- 136.17
Related Links
Ahorner, Lorenz, Pointinger, Max-Theurer Win 2014 Austrian Dressage Championships
Max-Theurer Claims Eleventh Consecutive Title at 2013 Austrian Dressage Championships
Lorenz, Valenta, Zach, Max-Theurer Win 2012 Austrian Dressage Championships
Max-Theurer Untouched to Ninth Austrian Grand Prix Champion's Title
Max-Theurer Wields the Axe of Power at 2010 Austrian Championships
Scores: 2009 Austrian Dressage Championships
Fifth Consecutive Austrian Dressage Champion's Title for Max-Theurer
Victoria Max-Theurer, 2006 Austrian Dressage Champion