2013 Austrian Dressage Championships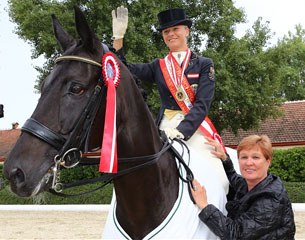 Victoria Max-Theurer claimed her eleventh, consecutive Austrian Grand Prix Champions' title at the 2013 Austrian Dressage Championships held at the Wunschek family yard Gutenhof in Himberg, Austria on 13 - 15 September 2013. Pony rider Sandrine Urbanowicz, junior rider Diana Porsche and young rider Oliver Valento won the titles in their divisions.
For Victoria Max-Theurer the Austrian Championships have been a walk in the park since she first started competing in them at Grand Prix level in 2003. This year she saddled the 15-year old Westfalian bred Eichendorff (by Ehrentusch) and won the Grand Prix (72.87%) and Kur to Music (77.50%) to finish on a winning total of 150.37 points. Karin Kosak and her Rhinelander mare Lucy's Day (La Poco) were good for silver after placing second in the Grand Prix (70.62%) and third in the freestyle (72.83%). The bronze medal went to Belinda Weinbauer on the 14-year old Danish warmblood Debut Dallas (by Don Schufro x Romancier). She scored 69.83% in the Grand Prix and 73.33% in the Kur.
"77.50%, I don't know if Eichendorff ever got a higher score in the kur," said a happy Max-Theurer. "He was full of power, knew where he had to go. I had so much fun." The 27-year old Victoria was happy about the level of competition at this year's Nationals. "It was super that there were so many great rides. The battle for the second place was really tight and that's a sign how high the level was in this big field of competitors."
Reserve champion Karin Kosak commented that "despite mistakes in the one tempi changes it was our kur high score. I'm very happy that I could get silver after having won bronze last year. Belinda rode really strongly." Weinbauer was equally full of praise for Kosak. "Karin produced a really good Grand Prix and was well on her way despite that small mistake. I'm happy that Dallas was so fit and on my aids. We came to Gutenhof without any expectations for a medal. It's unbelievable that the competition was so tight."  
Photo © Andreas Schnitzlhuber
Results - 2013 Austrian Dressage Championships
Pony Riders
1. Sandrine Urbanowicz - The Mickle's Motion - 69.67 - 70.43 --- 140.10
2. Victoria Wurzinger - Sappori - 69.29 - 70.60 --- 139.89
3. Nicola Ahorner - Dornik's Donovan - 65.58 - 67.35 --- 132.93
4. Kathrin Brugger - Dornik's Dream - 65.96 - 65.94 --- 131.90
5. Kimberly Wächter - Didgeridoo - 65.58 - 65.26 --- 130.84
6. Alessa Louisa Djaber Ansari - De Luxe - 66.92 - 62.01 --- 128.93
7. Lilly Messner - Heidewinde's Wesley - 64.333 - 63.42 --- 127.75
8. Anna Wischenbart - Queen Bee - 64.83 - 61.41 ---- 126.24
9. Xenia Herta Schumann - Baribaldi - 63.25 - 62.78 --- 126.03
10. Pia Stallmeister - Varello - 61.50 - 61.84 --- 123.34
11. Denise Saverschel - Don Davidoff DS - 58.38 - 59.92 --- 118.30
12. Henriette Steiner - White Gold B - 56.04 - 0.00 --- 56.04
Junior Riders
1. Diana Porsche - Eloy - 71.04 - 71.93 --- 142.97
2. Florentina Gisi Lorenz - Sir Anthony - 69.69 - 70.75 --- 140.44
3. Kristina Sober - Perfect Illusion - 66.94 - 69.56 --- 136.50
4. Anna Lutonsky - Final Destination - 66.89 - 69.04 --- 135.93
5. Xenia Herta Schumann - Remidemi - 66.67 _ 65.13 --- 131.70
6. Camilla Montecuccoli - Don Giovanni - 65.81 - 65.57 --- 131.38
7. Marie Martin - Calogero - 63.47 - 63.38 --- 126.85
8. Stefanie Achammer - Docissima - 61.26 - 63.99 --- 125.25
9. Stephanie Hormann - Amouroso - 60.77 - 62.98 --- 123.75
10. Sophie Pock - Friendship - 60.45 - 59.17 --- 119.62
Young Riders
1. Oliver valenta - Rivel - 71.97 - 73.60 --- 145.57
2. Lea Elisabeth Pointinger - Gino - 70.75 - 71.54 --- 142.29
3. Florian Lorenz - Luigi - 67.76 - 68.64 --- 136.40
4. Franziska Fries - Alassio's Boy - 67.11 - 69.17 --- 136.28
5. Alina Larissa Djaber Ansari - Donna Rubina - 64.12 - 66.84 --- 130.96
6. Petra Sögl - Rovigo - 62.94 - 0.00 --- 62.94
Grand Prix Riders
1. Victoria Max-Theurer - Eichendorff - 72.87 - 77.50 --- 150.37
2. Karin Kosak - Lucy's Day - 70.62 - 72.83 --- 143.45
3. Belinda Weinbauer - Debut Dallas - 69.83 - 73.33 ---- 143.16
4. Peter Gmoser - Two to Tango - 68.30 - 72.93 --- 141.23
5. Karina Prochaska - Don Walesko - 66.15 - 68.95 --- 135.10
6. Martin Hauptmann - Frechdachs H - 67.51 - 66.98 --- 134.49
7. Amanda Hartung - Wolkenritter - 65.70 - 68.60 --- 134.30
8. Katrin Wergetis - Waldano - 66.28 - 67.75 --- 134.03
9. Sonja Grossauer - Don Dolany - 63.64 - 67.98 --- 131.62
10. Eva Maria Bachinger - Palazzo - 63.57 - 67.03 --- 130.60
11. Katharina Stumpf - For My Love - 62.68 - 66.53 --- 129.21
12. Hannes Mayr - Scenario - 65.11 - 63.38 --- 128.49
13. Nikolaus Erdmann - Lamborghini - 64.49 - 63.98 --- 128.47
14. Astrid Neumayer - Rodriguez - 63.15 - 63.05 --- 126.20
Related Links
Lorenz, Valenta, Zach, Max-Theurer Win 2012 Austrian Dressage Championships
Max-Theurer Untouched to Ninth Austrian Grand Prix Champion's Title
Max-Theurer Wields the Axe of Power at 2010 Austrian Championships
Scores: 2009 Austrian Dressage Championships
Fifth Consecutive Austrian Dressage Champion's Title for Max-Theurer
Victoria Max-Theurer, 2006 Austrian Dressage Champion
Eloy Sold to Austrian Junior Rider Diana Porsche