2007 Austrian Dressage Championships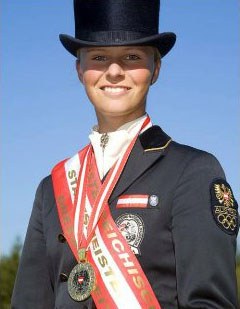 Victoria Max-Theurer won her fifth consecutive Austrian Dressage Champion's title last weekend. Aboard her 15-year old Oldenburg gelding Falcao (by Feiner Stern), Max-Theurer was undefeated in the two rounds of the championship.
Trainer by her parents Hans and Elisabeth Max-Theurer, the 22-year old Victoria won the Grand Prix with 72,50 % and the Kur to Music with 77,15 % totalling 149,65 which earned her the gold medal. The silver went to Hannes Mayr on the 13-year old Austrian bred mare Ellis who scored 66,25 % and 71,25 % (total : 137,50), while Eva-Maria Bachinger claimed the bronze on Palazzo. She achieved 65,41 % in the Grand Prix and 67,15 % in the Kur to Music. Her total was 132,57.
2007 Austrian Dressage Championships
1. Victoria Max-Theurer - Falcao - 72,50 % 7- 7,15 % -- 149,65
2. Hannes Mayr - Ellis 66,25 % - 71,25 % -- 137,50
3. Eva-Maria Bachinger - Palazzo - 65,41 % - 67,15 % -- 132,57
4. Renate Vogelsang - Davidoff - 65,87 % - 66,50 % -- 132,38
5. Evelyn Haim-Swarovski - Chopin - 64,20 % - 67,90 % -- 132,11
6. Isabella Willibald - Willibald´s Independent - 63,25 % - 68,25 % -- 131,50
Related Links
Victoria Max-Theurer, 2006 Austrian Dressage Champion
Victoria Max Theurer Reclaims Austrian Champion's Title