2010 Austrian Dressage Championships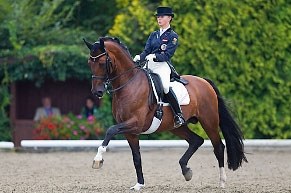 Victoria Max-Theurer wielded the axe of power at the 2010 Austrian Dressage Championships hosted at Gut Auhof in Fernitz, Austria, 3 - 5 September 2010. The sympathetic blond, who is based at her mum Sissy Max-Theurer's castle in Achleiten, claimed the eigth consecutive national Grand Prix title in her career.
Max-Theurer opted not for her number one mount Augustin OLD, but for her second Grand Prix ride, the 12-year old Westfalian stallion Eichendorff (by Ehrentusch). The Championship consisted of two rounds, the Grand Prix and Kur to Music, which "Vici" both won with 69,149% and 73,800%. She totalled 142,949 points 
"It's strange but I'm always very nervous at the national championships," Max-Theurer confessed. "Maybe because everybody expects me to win, but nothing is sure in our sport. Edi went really well today, so nothing could really go wrong."
Hannes Mayr and his home bred 16-year old Austrian warmblood mare Ellis became the reserve champions with. The pair placed third in the Grand Prix (67,489%) and second in the Kur (71,200%) to total 138,689 points. Isabella Willibald and her 16-year old chestnut Willibald's Don Giovanni slotted in third and got the bronze with 136,848 points.
Quadra-Hainz, Pointinger, Lorenz win Youth Division
At young riders level, the national title went to Fiona Quarda-Hainz for her ride on Rainman. Timna Zach and Calogero were reserve champions, Anna Kleindienst was third with Wyoming.
"The title is a big surprise to me," Quarda-Heinz admitted. "I only have been Rainman for a few months and for me the nationals were a training show. Because he didn't go that well and we made mistakes last weekend at the regional championships in Wr. Neudorf, I had no expectations for Fernitz. But this makes the joy for the victory even bigger. My trainer and example Peter Gmoser, with whom I've been training since I was five, was also very happy."
Junior Rider Lea-Elisabeth Pointinger won the junior riders' division, keeping Franziska Fries on Alassio's Boy and Florian Lorenz on Lancer's Lady at bay.
"Gino was in great form," said Pointinger. "I'm really happy. In July it didn't really go as planned at the European Championships so I didn't count on defending my national title. However, luckily in August we found our old form again."
Pony rider Florentina-Gisi Lorenz surfaced at the top for her tests on the palomino Golden Juicy. Stefanie Auinger and Vivaldi were the runners-up and Alina Larissa Djaber Ansari finished third with Negrino.
"The competition was pretty though even though I was one of the favourites," said Lorenz. The young student rides after school and is aiming for the 2011 European Pony Championships in Poland next year.
View Full Scores here.
Photo (c) Michael Rzepa - courtesy Max-Theurer
Related Links
Fifth Consecutive Austrian Dressage Champion's Title for Max-Theurer
Victoria Max-Theurer, 2006 Austrian Dressage Champion