2014 Austrian Dressage Championships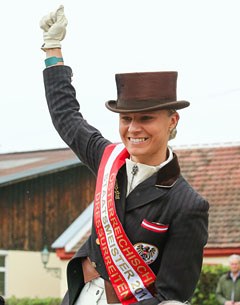 Pony rider Nicola Ahorner, junior rider Florentina Gisi Lorenz, young rider Lea Elisabeth Pointinger and Grand Prix rider Victoria Max-Theurer claimed the national title and champion sash in their division at the 2014 Austrian Dressage Championships held at equestrian centre Gutenhof in Himberg, Austria, on 12 - 14 September 2014.
Nicola Ahorner has been doing the double this year, competing in the FEI pony division as well as at junior riders' level. At the Austrian Championships she won the national title with her pony, though. Aboard her 10-year old palomino mare Dynasty (by Deinhard B), Ahorner swept the board in both rounds, scoring 71.92 and 71.71% to win the title. Sandrine Urbanowicz and her 14-year old New Forest pony gelding The Mickle's Motion (by Sander) crept close in the second round, nearing Ahorner's score with her 71.50 but end difference was still 2% so Sandrine got silver. Kathrin Brugger and her 8-year old buckskin Dornik's Dream (by Dornik B) were good for bronze after posting 68.08% and 68.46%.
In the junior division Austrian team rider Florentina Gisi Lorenz and her 9-year old Oldenburg bred Coco Procol Harum (by Cheenook) dominated her division with the winning scores of 70.68% and 71.40%. Ahorner and her 11-year old Hanoverian stallion Florinero (by Furst Heinrich) landed the silver medal with 68.74% and 68.55%. Tatjana Hartwig and the 18-year old Haflinger Sir Albert (by Ambros) were third with 66.76% and 67.02%.
A small group of Young Riders - just four in total - contested the Under 21 class and Lea Elisabeth and her 17-year old Baden Wurttemberger gelding Gino (by Gardez) topped the field with solid seventy percentage marks (73.03% - 72.85%). Karoline Valenta and her 8-year old Hanoverian Diego (by Desperados) were second with a 4% score difference to Pointinger's end result. She achieved 71.62% and 70.09%. Diana Porsche and her 10-year old Saxonian mare Florencia (by Furst Heinrich) got the bronze with 67.90% and 69.74%.
For Austria's number one Grand Prix rider Victoria Max-Theurer the Nationals were a walk in the park as she claimed her 12th consecutive national Grand Prix champion's title. For the 2014 Nationals she saddled the 12-year old Hanoverian mare Blind Date (by Breitling) for the first time and earned a 74.52% in the Grand Prix and 79.13% in the Kur. Austria's number two, Renate Voglsang did not ride at the nationals, so WEG team member Karin Kosak landed the silver on her second Grand Prix horse, Florentino (by Florestan), who has been injured for a year. She earned a 68.24% in the horse's third Grand Prix and a 71.18% for his first freestyle ever.  Markus Jungwirth and the 16-year old Baden Wurttemberger stallion Count Basie (by Calido) got the bronze with 66.78% and 70.70%.
"I'm very proud of Blind Date. She produced top performances in the Kur and Grand Prix," Max-Theurer commented. "This 12th title is something special. I'm very happy that it work and I'm grateful for all who supported me along the way."
Photo © Andreas Schnitzlhuber
Results - 2014 Austrian Dressage Championships - Himberg
Pony Riders
1. Nicola Louise Ahorner  - Dynasty -  71,92 -  71,71 --- 143,63
2. Sandrine Urbanowicz - The Mickle's Motion – 69,66 - 71,50 --- 141,16
3. Kathrin Brugger - Dornik's Dream – 68,08 -| 68,46 --- 136,54
4. Chiara Pengg - Maximus - 68.29 - 68.25 --- 136.54
5. Alessa Louisa Djaber Ansari - De Luxe - 67.61 - 68.74 ))) 136.35
6. Daria Hohenwarter - Sulaika - 65.81 - 64.55 --- 130.36
7. Anna Wischenbart - Queen Bee - 64.06 - 64.84 --- 128.90
8. Victoria Girth - Nightfire VG - 62.35 - 65.37 --- 127.72
9. Lilly Messner - Heidewinde's Wesley  - 63.33 - 63.25 --- 126.58
10. Nina Schlegl - Night Dream - 61.58 - 64.11 --- 125.69
11. Pia Stallmeister - Diogenes ut Deuten - 61.07 - 63.29 --- 124.36
12. Helen Grabenwöger - Avellino - 59.40 - 61.55 --- 120.95
Junior Riders
1. Florentina-Gisi Lorenz - Coco Procol Harum – 70,68 - 71,40 --- 142,08
2. Nicola Louise Ahorner -  Florinero – 68,74 - 68,55 --- 137,29
3. Tatjana Hartwig  - Sir Albert – 66,76 - 67,02 --- 133,78
4. Valerie Pitkowitz - Louisdora - 66.71 - 66.67 --- 133.38
5. Alina Jost - Desiree - 65.23 - 65.09 --- 130.32
6. Daniela Srescher - Loriot - 64.41 - 65.09 --- 129.50
7. Lean Manuela Krizsanits - Escaya N - 62.97 - 65.61 --) 128.58
8. Chiara Popinger - Esteban el Primo - 64.78 - 63.20 --- 127.98
9. Hannah Frankmann - Quebek - 61.44 - 63.86 --- 125.30
Young Riders
1. Lea-Elisabeth Pointinger - Gino 333 – 73,03 - 72,85 --- 145,88
2. Karoline Valenta - Diego – 71,62 - 70,09 --- 141,71
3. Diana Porsche - Florencia ­– 67,90 |- 69,74 --- 137,64
4. Alina Larissa Djaber Ansari - Donna Rubina - 65.48 - 65.92 --- 131.40
Grand Prix Riders
1. Victoria Max-Theurer - Blind Date  – 74,52 - 79,13 --- 153,65
2. Karin Kosak - Florentino – 68,24 -71,18 --- 139,42
3. Markus Jungwirth - Count Basie – 66,78 - 70,7 --- 137,48
4. Katharina Wünschek - Salieri OLD – 65,84 - 70,18 --- 136,02
5. Alexandra Slanec - Lord of Dream - 65.48 - 69.08 --- 134.56
6. Katrin Wergetis - Waldano - 63.86 - 68.65 --- 132.51
7. Hannes Mayr - Scenario - 63.82 - 65.63 --- 129.45
8. Nikolaus Erdmann - Lamborghini - 63.14 - 64.85 --- 127.99
9. Eva Maria Bachinger - Le Coulier Bien - 63.60 - 63.10 --- 126.70
10. Katharina Stumpf - For My Love - 61.92 - 64.18 --- 126.10
11. Elfriede Hazrati - Di Caprio - 57.64 - 63.60 --- 120.94
Related Links
Max-Theurer Claims Eleventh Consecutive Title at 2013 Austrian Dressage Championships
Lorenz, Valenta, Zach, Max-Theurer Win 2012 Austrian Dressage Championships
Max-Theurer Untouched to Ninth Austrian Grand Prix Champion's Title
Max-Theurer Wields the Axe of Power at 2010 Austrian Championships
Scores: 2009 Austrian Dressage Championships
Fifth Consecutive Austrian Dressage Champion's Title for Max-Theurer
Victoria Max-Theurer, 2006 Austrian Dressage Champion