Interview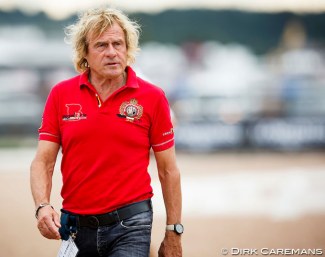 Former Belgian team trainer Sjef Janssen was interviewed by Dutch woman's magazine Margriet as part of their series "the partner of" on 31 October 2019. In the interview Janssen opens up to what it is like to be the husband of the triple Olympic champion Anky van Grunsven. 
The 69-year old Janssen is a dressage trainer, coach and entrepreneur, but also the partner of 51-year old Anky van Grunsven. The couple got married in Las Vegas  in 2005 and has been living together in Erp, The Netherlands.
Here is the English translation of the Margriet interview.  
"Initially we were each other's competitors. I remember a show in Brasschaat (BEL), where Anky rode me out of the Olympic team of Seoul. In the evening she sat with her father at the bar and we started talking," Sjef reminisced. 
"She's so Beautiful"
"I saw her for the first time in a dress, her eyes made up and I thought: she's so beautiful. At that time we were both in a relationship. I'm a bit naughty, Anky is very good girl. That's why it took a long time before we went on a date. After we rode together in the World Cup in Paris and went out until 5 AM with a group, I knew for sure I wanted to go for her."
Not the Ideal Son-in-Law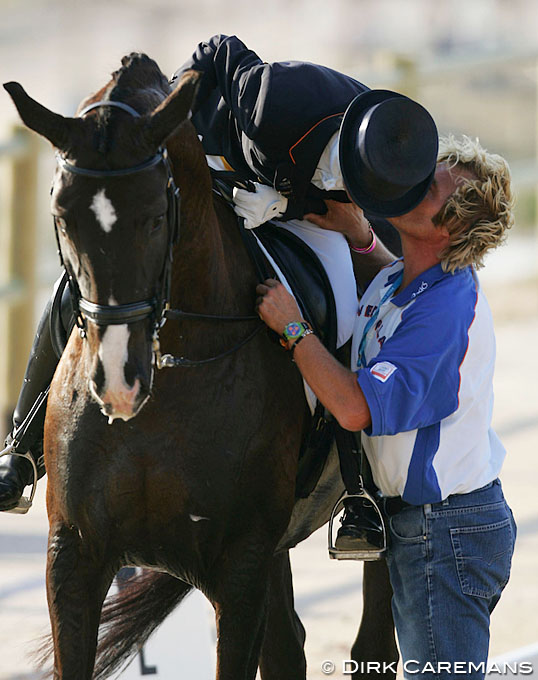 "A little while later she saw me appear at a training unexpectedly. "What do you do here," she asked me blushing, because she knew that I hadn't driven 200 kilometers for a training. I go straight for my target. And then I get either a twist around the ears or it works. I didn't get a twist from Anky, but from her family. I was far from the ideal son-in-law: 18 years older, twice divorced and I also had the reputation of womanizer. It took years before they accepted me."
Self-Will
"But Anky knew exactly what she wanted. We share that self-will. She says what she thinks and is not afraid to talk back. I am also that direct. When I still trained her, I could be hard, but it worked for her. We were known as a couple that verbally fought. Only, as soon as others started to intervene, we would walk away together smiling."
Unpredictable and impulsive
"At home I'm the one who cooks. Now Anky can make an egg and the baking is starting to work, so in all those years I taught her a bit," Janssen smiled. "I'm the team trainer of the Belgian dressage team, I invest in real estate and sell horses. I work as hard as I did thirty years ago. A few times my unpredictability and impulsiveness have cost me money and sometimes relationships, but I consider that part of life. It doesn't put me off sleep. My dad, who was a cycling coach, also never worried about anything. Just like my mother kept the ship afloat at home, Anky does here for us. I admire her for that."
"No whining, Just Do It"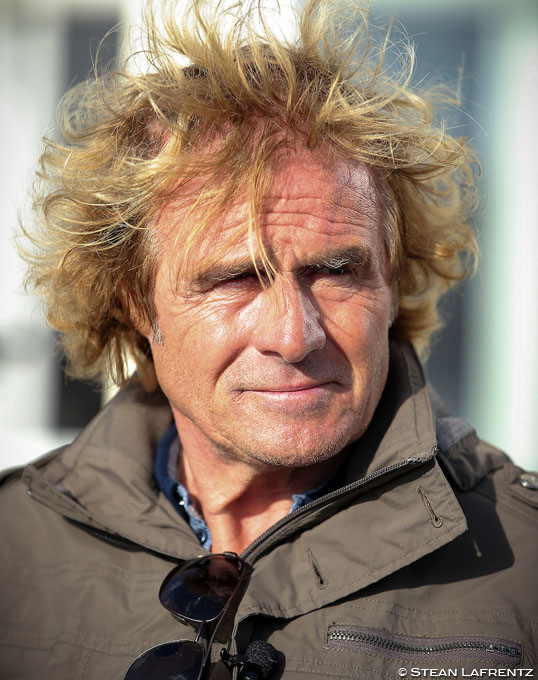 "Our son (14) and daughter (12) are also in equestrian sport, so we travel a lot, especially on weekends. Anky co-ordinates and manages it all. We never fight about work or money and we never will, because each of us runs our own companies. Anky makes her own living and does not depend on me. She's much more social than I am."
"I often keep to myself. Of course we've had a crisis, but we solve it really quickly. When we are irritated we address it full frontal. We don't want to take the risk that it rubs. As soon as we figure out what the problem is, it gets handled; completely according to the philosophy of 'no whining, just do it.' Don't linger when things are bad, but carry on with your head held high. This is typical for our lifestyle."
Brain Tumour
"When I was diagnosed with a benign brain tumour in 2011, Anky was strong and said, 'we are going to fix this'. Sometimes I want her to show more emotion, but her hardness has carried her through situations where others would have quit a long time ago. The moment I heard the diagnosis, my heart sunk. I thought, 'I still have young children, this can't happen, I have to go on'."
"Only in the second half of his sentence, the specialist said it was benign. He should have said that straight away. Yes, I was there alone. As an einzelgänger I'm used to that. I never take anyone along. I didn't dread the operation, but was afraid of the anaesthesia. I mentally prepared for it with one of our sport psychologists. It went well."
Medicine
"After the operation I struggled for a year. It was a grand tour to find the right dosage of medication. My pituitary was shattered by the tumour, which is why I no longer make any hormones. My adrenal glands and thyroid don't work, so I have to swallow and inject medication."
"I've Become More Sensitive"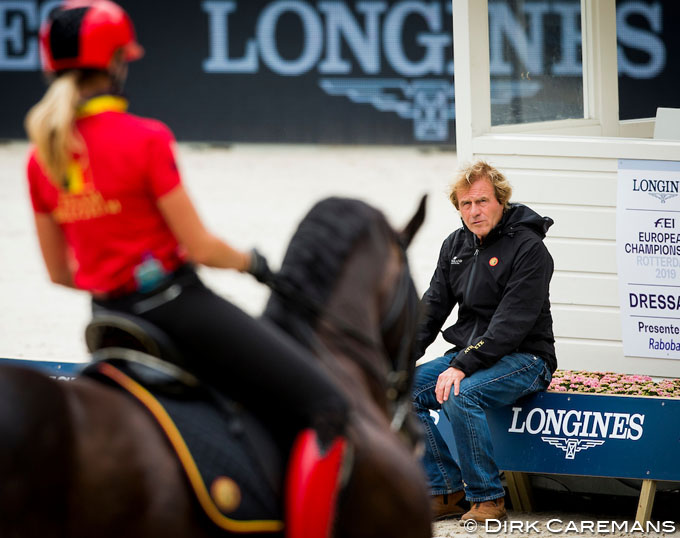 "If I have changed through that? Well, I don't know if it's because of the medication or me getting older, but I've become more sensitive. When my kids or students do great, I look at them with tears in my eyes. That was unthinkable before. One of the medicines I got is currently no longer available, so we are trying to find the right dosage again."
"It causes me to be tired more quickly and I can't stand hard noises. But when I'm fit, I feel young. On the inside I have actually remained a child. At the same time I know very well what I want. I have kids who do well, a strong and beautiful wife I'm proud of, I still have plenty of work and I do car racing. In short, life is still smiling upon me."
Interview reproducedwith permission of Margriet
Translated by Eurodressage - Photos © Dirk Caremans - Stefan Lafrentz
Related Links
KBRSF Terminates Contract with Sjef Janssen as Belgian Team Manager
Sjef Janssen's Contract as Belgian Team Trainer Renewed until 2020
Belgian Dressage Committee Changes Squad Selection Criterium
Sjef Janssen Hired as Dressage Technical Advisor for Belgium 
Janssen and Cornelissen Go Their Separate Ways
Patrik Kittel and Sjef Janssen Part Ways
Sjef Janssen Successfully Operated On
Greve Resigns as Dutch Team Vet Due to Conflict with Sjef Janssen
Anky and Sjef Marry in Las Vegas