Dutch Dressage News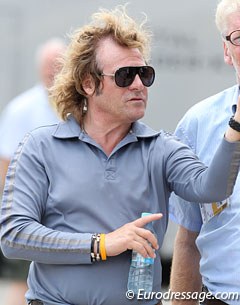 Dutch equestrian magazine De Hoeslag broke the news today that the Belgian Equestrian Federation has hired former Dutch team trainer Sjef Janssen as its dressage Technical Advisor for 2013. On Friday the federation will officially announce the details.
Janssen will be in charge of co-ordinating and structuring Belgian dressage starting at the top level with the Grand Prix riders. The 63-year old Dutch trainer is replacing former German O-judge Volker Moritz who was hired by the Belgian Federation as chef d'equipe during the 2012 Olympic year. His contract was not renewed.
The news of Janssen's appointment comes as a surprise to many; first and foremost because Janssen himself has recently been reducing his band of students in order to work less and focus more on those clients who can train at his home in Erp, The Netherlands, on a regular basis with several horses, such as Matthias Rath and Kristy Oatley. Janssen cited as reason for this student reduction that he wanted to spend his time more wisely due to health issues. Janssen quit his long-time training partnership with top riders such as Adelinde Cornelissen and Patrik Kittel.
It will be interesting to see how Janssen is going to implement his ideas for the future of Belgian dressage as many of the Belgian Grand Prix riders are classically schooled and reluctant to adopt "new" training methods.
With an absolute majority of the Belgian Grand Prix riders uninformed and not consulted about the appointment of Janssen as new technical advisor, they are unsure of what the future will bring this year leading up to the 2013 European Championships. On Friday more details about Janssen's function will be announced.
Photo © Astrid Appels
Related Links
Janssen and Cornelissen Go Their Separate Ways
Patrik Kittel and Sjef Janssen Part Ways
Sjef Janssen Successfully Operated On
Greve Resigns as Dutch Team Vet Due to Conflict with Sjef Janssen