Dutch Dressage News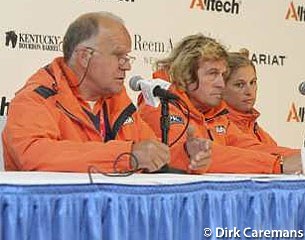 Jan Greve has resigned from his position as Dutch dressage team veterinarian for the Dutch Equestrian Federation (KNHS) effective immediately. The reason for his resignation has been described as an "incompatibility of characters" between Greve and Dutch dressage team trainer Sjef Janssen.
Maarten van der Heijden, technical director of the KNHS, used this phrasing to mark the collaboration between Greve and Janssen gone awry.
"We have much respect for veterinarian Greve's knowledge and experience, but noticed that the communication and collaboration between Greve and Janssen are not optimal, which made it impossible to work towards the Olympic Games in London," van der Heijden commented. "The KNHS of course respects Jan Greve's decision. Greve has indicated that he wants to be available for other teams and disciplines within the KNHS."
Arie Hoogendoorn, who just like Greve works at equine clinic De Watermolen in Haaksbergen, The Netherlands, will be replacing Jan as dressage team vet. Hoogendoorn has been team veterinarian of the Dutch show jumpers since 2011.
Photo © Dirk Caremans
Related Links
Scandic Sidelined
International Veterinary Sport Horse Congress at 2011 CDI-W Amsterdam
Rich American Continues to Sue Reesink Horses