Belgian Dressage News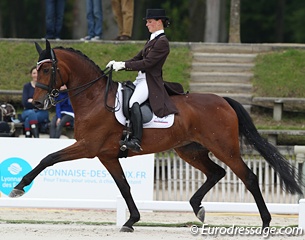 The Dressage Committee of the Belgian Equestrian Federation has made a change to the squad selection criterium after a meeting with team trainer and technical advisor Sjef Janssen.
At this meeting it was decided to extend the period for international selection from six to nine months. This means that a rider and horse combination can be selected for international shows based on a period of nine months. It also implies that the results from the 9 month period will count for squad selection.
The committee has also changed the squads and will continue with five teams: the A, B, C, U25 and High Potentials teams.
The current teams include:
A-Team (2x 69%)
Julie de Deken - Lucky Dance
Jeroen Devroe - Eres DL
Claudia Fassaert - Donnerfee
Françoise Hologne Joux - Wodan
Laurence Vanommeslaghe - Avec Plaisir
Fanny Verliefden - Annarico
B-Team (2x 67%)
David Engelen - Royal Rubinstein
Simon Missiaen - Vradin
Mario van Orshaegen - Wilco V
Fanny Verliefden - Vanita
C-Team (2x 65%)
Ona Dewagenaere - Dabanos D'O4
Tom Heylen - Universal
Delphine Meiresonne - Wipsy van 't Heihof
Serge Pais - Nintendo
Marc Peter Spahn - Ekwador
U25- Team
Alexa Fairchild - Timor
Laurence Roos - Fil Rouge
Jorinde Verwimp - Tiamo
High Potentials
Photo © Astrid Appels
Related Links
Belgian Equestrian Federation Extends Contract with Sjef Janssen
Belgian Youth Teams Updated for 2015
Belgian Team for the 2014 World Equestrian Games Announced
2014 Belgian Dressage Squads Updated