Belgian Warmblood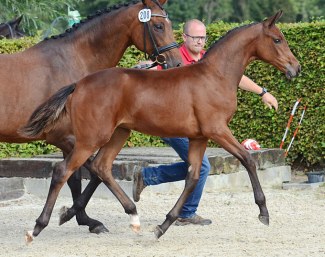 The filly Ta Vita der Steenakker and the colt Titalis van de Kempenhoeve became the dressage champions at the 2019 Belgian Warmblood Foal Championship on 7 September 2019.
A last minute location change of the Championships took place forcing the participatings not to travel to Stable Hulsterlo in Meerdonk but to the Vanderhasselt equestrian centre in Wambeek, Belgium. Stable Hulsterlo, which annually hosts the Belgian Dressage Championships in August, has been summoned to court by the town St. Gillis Waas for disturbances of the neighbours' peace with all their events. 
In the filly division it was Lambert Cuppens' bay Ta Vita der Steenakker (by For Ferrero x Lord Sinclair) that scored the highest total of 90 points, which was also the highest day score of all colts and fillies together. Breeder Cuppens achieved a double whammy as Ta Vita's full sister Steenakkers Diamant was the 2018 BWP Filly Champion. The reserve title went to T-Vitaniro van 't Westhof (by Vitalis x De Niro) who scored 89 points. She is bred by stud farm 't Westhof that also focuses on show jumping breeding. Mark Dries' Topgirl van de Kempenhoeve (by Furst Toto x Quaterback) slotted in third with 87 points.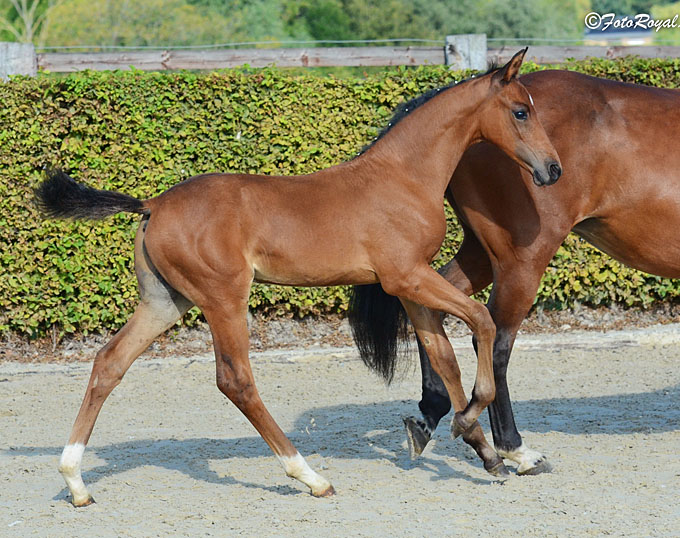 In the colt division Mark Dries saw his Titalis van de Kempenhoeve (by Vitalis x Stedinger) walk away with the champion's sash after scoring 87 points in total. Stijn Thijs' Tyrel van de Guldennagel (by Pegasus van den Guldennagel (by Apache x Quicksilver) out of a Cababis Z dam) became the runner-up with 85 points. Stephan van Dun's Talentino VD (by Just Wimphof x Fidertanz) landed third place with 83 points. 
Photo © Fotoroyal.be
Results - 2018 Belgian Warmblood Foal Championships - Wambeek
Fillies
1. Ta Vita der Steenakker (by For Ferrero x Lord Sinclair) - 90
2. T-Vitaniro van 't Westhof (by Vitalis x De Niro) - 89
3. Topgirl van de Kempenhoeve (by Furst Toto x Quaterback) - 87
4. T'Ophelie van het Hulsterhof (by Hermes x Radar) - 86
5. Tripoli van de Cousseboom (y Picasso van den Bruel x Sir Donovan) - 85.5
6. Toplady van de Kempenhoeve (by Furst Toto x Quaterback) - 85
7. Tender Dream (by Indian Rock x Pavarotti van de Helle) - 84
Colts
1. Titalis van de Kempenhoeve (by Vitalis x Stedinger) - 87
2. Tyrel van de Guldennagel (by Pegasus van de Guldennagel x Canabis Z) - 85
3. Talentino VD (by Just Wimphof x Fidertanz) - 83
4. Tavari d'Or (by Ferdinand x Florencio) - 82
5. Toothless IDC (by Sezuan's Donnerhall x Florencio) - 81.5
6. Tiago d'Art (by Secret x Fidertanz) - 81
7. Toyboy de Tamise (by Just Wimphof x Special Agent Amour) - 80
Related Links
Steenakkers Diamant and Sorrento van de Horne Win 2018 Belgian Warmblood Foal Championship
Quiz Me Quick van de Kempenhoeve and Quality van het Beukenhof, 2016 BWP Foal Champions
Panthero van de Vogelzang and Pearly Win 2015 Belgian Warmblood Foal Championship
Nurgella and Nelson, Dressage Winners of the 2013 BWP Foal Championship
Marac M, Dressage Champion at 2012 Belgian Warmblood Foal Championships
Lindenau, Dressage Champion at the 2011 Belgian Warmblood Foal Championship
Karenina d'Es Wins 2010 Belgian Warmblood Dressage Foal Championship
Jil Sandro Real Wins 2009 BWP Dressage Foal Champion