Belgian Warmblood Breeding News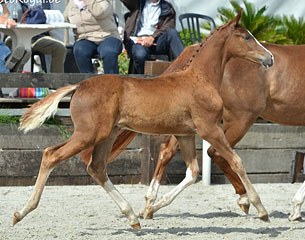 A small group of dressage foals qualified for the champion's ring at the 2012 Belgian Warmblood Foal Championship held at equestrian centre 't Overdijk in Moerzeke, Belgium, on Saturday 25 August 2012. Marac M was named dressage champion foal.
Only 10 dressage bred foals came into the spotlight at a show jumping dominated national foal championship. Roland Missiaen's BWP branded colt Marac M (by Charmeur x Krack C) was named colt champion by the BWP judges' committee.
The silver medal went to the best scoring dressage filly: De Weerdt-de Schutter's MAra van 't Tallaart (by Coraggio van het Bloemenhof x Flemmingh).
The bronze was awarded to Magic Amour de Barra (by Special Agent Amour x Don Renoir), bred by Julien and Eliane Lippens-van de Walle.
The top included Gert Vlekken's filly Mira Tachor (by De Niro x Sir Lui) and De Kampert's colt Mangohall van de Kampert (by Tango x Donnerhall).
Complete results here
Photo © Foto Royal
Related Links
Lindenau, Dressage Champion at the 2011 Belgian Warmblood Foal Championship
Karenina d'Es Wins 2010 Belgian Warmblood Dressage Foal Championship
Jil Sandro Real Wins 2009 BWP Dressage Foal Champion