KWPN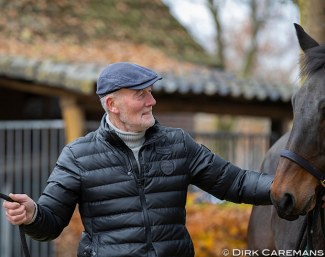 Willy Wijnen has been named KWPN Breeder of the Year 2019 and was honoured during the 2019 KWPN Horse Days on Friday 16 August 2019. 
For Wijnen the title was a complete surprise and he was moved to tears during the award ceremony. The moment couldn't have been better as his breeding product Imposantos had just won the 6-year old Finals of the Pavo Cup.
Wijnen's foundation mare was Barina (by Sultan) and he built his breeding programme with her, not only in dressage but also in show jumping. He bred Ben Maher's Grand Prix jumper Explosive W as well as the 2019 KWPN reserve licensing champion Liamant (by Diamant de Semilly). 
In his dressage programme, Wijnen bred the KWPN licensed stallions Landeur (by Grandeur), Tolando (by Krack C) and Imposantos (by Wynton).
"I was getting suspicious when I wanted to bring Imposantos' Pavo cup flowers to the car and regional secretary Wil Haarman insisted on storing them in the KWPN booth, because they desperately needed water according to him," said Wijnen. "And then they told me to listen well to the announcer. I started to suspect something, but boy, what an experience!"
Photo © Dirk Caremans
Related Links
Isabel and Wil van Gisbergen Named KWPN Breeder of the Year 2018
Leunus van Lieren, KWPN Breeder of the Year 2017
Marianne Hendriksen Named 2016 KWPN Breeder of the Year
Rene Franssen Named 2015 KWPN Breeder of the Year
Jan Lamers Named 2014 KWPN Breeder of the Year
Emmy de Jeu, KWPN Breeder of the Year 2013
Van Os Family, KWPN Breeders of the Year 2012
Jansen Family, KWPN Breeders of the Year 2011
Van de Valk/Van Anholt Proclaimed KWPN Breeders of the Year 2010