Great Britain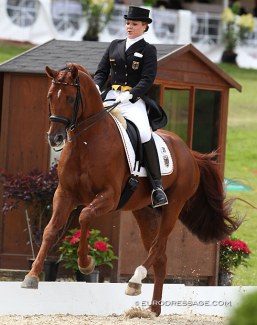 The Hanoverian stallion Eloy, who competed at the European Junior Riders Championships for Germany; Austria, and Great Britain, has been retired from competition sport. 
Eloy is a 16-year old Hanoverian by Earl out of Wladina (by Wendeburg). He is bred by Johann Fuseler.
Busy Days in Germany
The beautiful Eloy was licensed for breeding at the 2006 Hanoverian Stallion Licensing in Verden and did his 30-day stallion performance test in Schlieckau in February 2007, where he scored 7.75 for dressage and 8.51 for show jumping. He finished on an 8.13 total. He has no offspring registered in Germany though.
From a very young age, the chestnut had a very active career as a competition horse, doing the Bundeschampionate circuit as well as competing on the junior rider scene with sisters Christin and Lena Schütte
He made his competition start as a 4-year old in 2008 under Fredeke Strauss but as of 2009 Christin Schütte began competing him at L-level with many starts at shows in Buchholz, Dahlenburg, Okel, Nienhagen, Sittensen, Bremen, Bargstedt, Hanover, and Todstedt that spring and summer, before heading to the 2009 Bundeschampionate and winning bronze in the 5-year old division. 
In 2010 sister Lena took over the ride on the 6-year old. She placed 12th at the Preis der Besten for junior riders in May, rode him at the 2010 World Young Horse Championships in Verden, where he was 4th, and at the 2010 Bundeschampionate where he was fourth as well.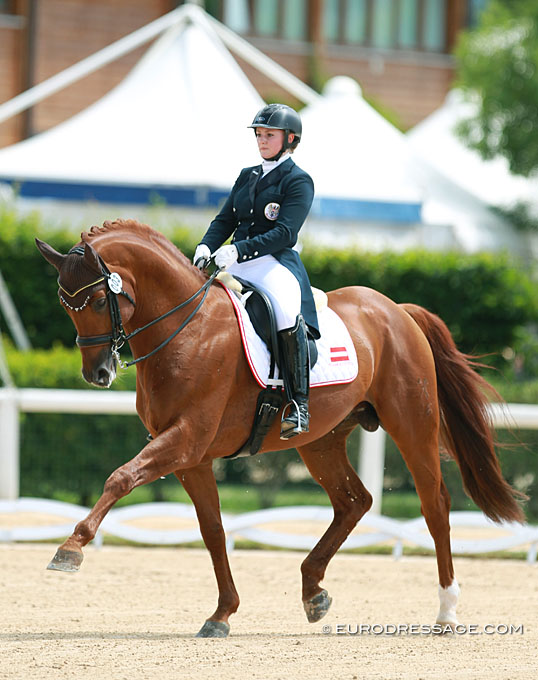 As of 2011 Schutte and Eloy focused on the junior division. They won the Preis der Besten and qualified on the German team for the 2011 European Junior Riders Championships in Broholm (DEN), where they won team gold and placed 4th and 9th individually. 
In 2012 Christin Schütte was back on board and took the horse to Prix St. Georges level, showing hum at national events in Germany through 2013.
Eloy to Austria 
In May 2013 Austrian Diana Porsche acquired the stallion and a year later the pair made its international show debut in Stadl Paura in April 2014, where they won both junior riders' tests. 
With successful starts in Saumur, Compiegne and Hagen, they were selected on the Austrian team for the 2014 European Junior Riders Championships in Arezzo (ITA), and placed 23rd in the individual test. 
In 2015 the combination moved up to Young Riders level but were not selected on the team. 
In 2016 Porsche had switched trainers from Dieter Laugks to Leida Collins-Strijk and spent the winter in Florida, where she campaigned him in the Young Riders classes in Wellington. 
Eloy for Great Britain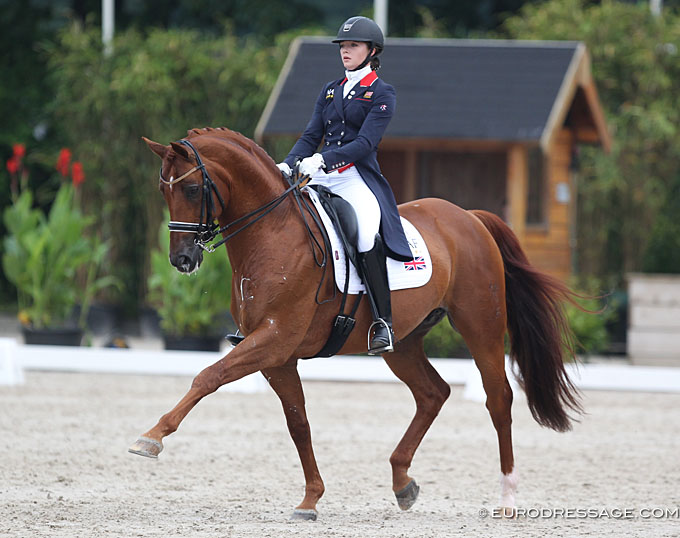 As Porsche had moved on to focus on Under 25 Grand Prix with her horse Di Sandro, Eloy was sold to British junior rider Jade Ellery, who had started training with Collins-Strijk. 
The new duo made its international junior debut in Wellington, Florida in 2017 and won 7 of 9 classes they had entered in. They were selected on the British team and showed at the 2017 European Junior Riders Championships in Roosendaal (NED), where they were 53rd in the individual test. 
Ellery returned to Florida with Eloy in 2018 and produced some good results. However at the CDIO Compiegne in France they performed below par and were not re-selected on the team. 
In 2019 the duo only did  one international, the CDI Keysoe in March, where they scored 65.343% in the team test and 53.186% in the individual test
Retirement to Spain
Ellery felt that for Eloy had not much left in the tank for competitions at age 15 after a very long and successful career for Germany, Austrian and Great Britain. He was retired from sport in July 2019.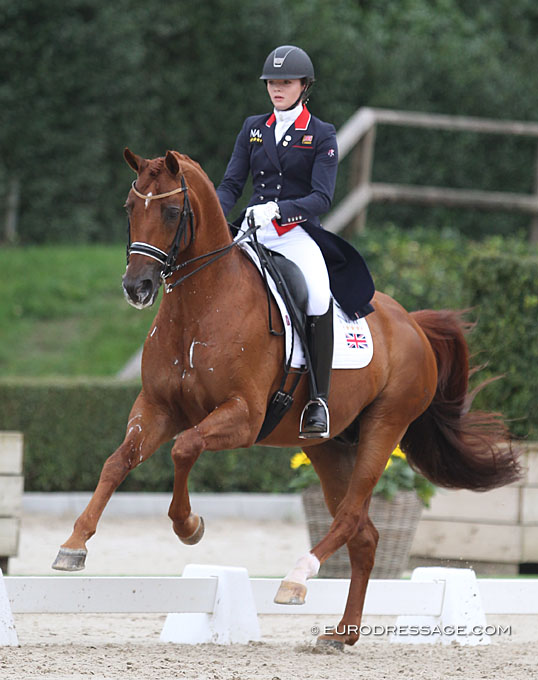 "It was a tough decision for me to come to. However, I had to do what was right for my partner in crime as horse's well-being always comes first to me," Ellery said about the retirement of Eloy back in July 2019. "I felt he wasn't enjoying competing and the pressure preparing for the internationals, I decided to do what is best for him and I have sent him home to Spain for my mum to continue riding him and looking after him at the beautiful Club Dos Lunas."
To Eurodressage, Jade added that "I felt in my last CDI in March 2019 that he really didn't enjoy the pressure of shows and I wanted to do what was best for him as he owed me nothing. He is still really happy, he has an easy life, and my mom is able to ride him out in Spain."
Ellery's family moved to Spain in 2013, where she started riding dressage and got in touch with Leida Collins-Strijk. The connection with her coach took her to Wellington and Holland, but Jade is now back in the U.K.
In her last year of Young Riders, she is currently riding the 13-year old KWPN gelding Bing (by Krack C) for owner Melise Witkin and owns a 6-year old by San Amour x Furst Heinrich. 
"I don't have a ride for U25 at the moment as I don't have a Grand Prix horse, but I am focusing on developing some younger horses," said Jade, who is now training with Jacqueline Siu. 
Photos © Astrid Appels - No reproduction allowed
Related Links
Eurodressage Photo Database: Eloy
British Junior Jade Ellery to Ride Diana Porsche's Eloy
Eloy Sold to Austrian Junior Rider Diana Porsche
Porsche and Ahorner Lead the Juniors at the 2014 CDI Stadl Paura
Detroit and Eloy Win 2010 Bundeschampionate Qualifier in Bremen
Brandon, Eloy, Rassolini Win Bundeschampionate Qualifier in Bargstedt
Eloy and Imperio Win Bundeschampionate Qualifier in Hannover