2009 Bundeschampionate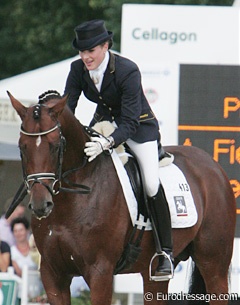 A huge field of competitors showed up at the Bundeschampionate qualifier in Hannover to strive for a berth at the 2009 Bundeschampionate Finals in Warendorf. Only two 5-year olds and one 6-year old made the cut, however.
Former European Young Rider champion Christin Schutte won the 5-year old dressage horse class aboard her chesnut Hanoverian stallion Eloy (by Earl x Wendenburg). She scored a solid 8.20 overall and even got a 9 for throughness and lightness in the bridle. Mira von Daake became the runner up with her bay Hanoverian mare Herzdame B (by His Highness x A Jungle Prince) with 8.0.
In the 6-year old division Imperio, the silver medallist of the 2008 World Young Horse Championships, reigned supreme under Anna Sophie Fiebelkorn. The bay Trakehner licensed stallion by Connery x Balfour xx scored 8.2 in total but got a 9 for trot and 8.5 for canter. The walk was less and judges scored it 7.5. Vera Nass and the Hanoverian gelding Dio Mio (by De Niro x Charmeur) finished second with 7.5.
Results
5-year old Dressage Horses
1 Eloy - Schütte,Christin - 8.20
2 Herzdame B - Daake,Mira von - 8.00
3 Lord - Keller,Manuela - 7.70
3 Rodolfo - Brünger,Friederike - 7.70
5 Real Dancer -Gießelmann,Jan-Dirk - 7.60
5 Da Vinci - Nesemann,Detlef - 7.60
7 Shira Mareen - Bramall,Leonie - 7.50
8 Don - Byström,Angelica - 7.40
8 Lemur - Habermann,Mike - 7.40
8 Labiat - Köhler,Ole - 7.40
8 Royal Doruto - Tietjen,Sylke - 7.40
12 Wellendorff - Platen-Elmerhaus,Julia-Katharina - 7.30
12 Hennes - Scholz,Thomas - 7.30
12 Coco Fee - Brünger,Friederike - 7.30
15 Freiherr Falco von Falkenstein - Klaus,Hans-Peter - 7.20
16 Elista - Palmer-Kraul,Daisy - 7.10
16 Werder-Fan - Platen-Elmerhaus,Julia-Katharina - 7.10
16 Belvedere - Thomas,Felix - 7.10
19 Rock Brasiliano - Brunkhorst,Juliane - 7.00
19 Donna Emilia - Habermann,Mike - 7.00
19 Figo - Möller,Meike - 7.00
19 Copain - Stradtmann,Uwe - 7.00
23 Rock my Soul - Hillmann, Anja - 6.90
24 Filou - Knetter,Ines - 6.80
24 Don Belindo - Müller,Carsten - 6.80
26 Hevona - Eyermann,Heike - 6.70
26 Flamaz - Liss,Klarissa-Alexandra - 6.70
28 Fürst Fridolin - Steen,Inger Jane - 6.40
29 Lizitant - Ersil,Susanne - 6.10
29 Delacour - Kernberger-Goeze Dr.,Stefanie - 6.10
31 Doyen's Belli - Eyermann,Heike - 5.80
6-year old Dressage Horses
1 Imperio - Fiebelkorn,Anna-Sophie -  8.20
2 Dio Mio  - Nass,Vera -  7.50
3 Shantou  - Stübig,Alexandra - 7.40
6 j. Hann Db S V: Sandro Hit MV: Rohdiamant
4 Dr. Jackson - Müller-Wuttke,Maren - 7.30
5 Figo RH - Deerberg,Sabrina - 7.20
6 Flora - Schomerus,Dora -  7.10
7 Rubin-Noir - Sandbrink,Stefan - 7.00
6 j. RHLD R W V: Ricardos MV: Rheinblick
8 Wylson - Bache,Isabel -  6.90
8 Laperouse - Röhrig-Suchantke,Kathrin-  6.90
10 Devon King - Oberdieck,Sabine - 6.70
11 Romanero B - Gerken,Kathrin - 6.50