2010 Bundeschampionate Qualifier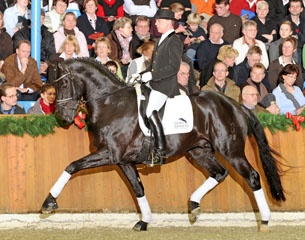 Detroit and Eloy became the winners of the Bundeschampionate qualifier held at the St. Georg zu Bremen Riding Club in Bremen, Germany, on 24 - 25 April 2010. 
Hermann Gerdes and the Oldenburg licensed stallion Detroit (by Dimaggio x Lord Liberty G x Goldloewe) were unbeatable in the 5-year old dressage horse division. The black stallion, owned by Gerd Sosath and bred by Clemens von Merveldt, has awe-inspiring basic gaits with incredible potential in trot and canter. Under Sosath's chief dressage rider Hermann Gerdes, Detroit scored 8.7 and beat Susan Pape on Barclay. The chestnut Hanoverian stallion by Belissimo M x Prestige Pilot x Grenadier achieved an overall mark of 8.5. Seven 5-year olds in total were able to score 8.0 or higher and qualify for the finals in Warendorf. 
Former European Young Rider champion Christin Schütte won the 6-year old dressage horse class aboard the Hanoverian Eloy. Last year the combination won bronze at the 2009 Bundeschampionate and this year they seem to be aiming for more. Acquired at the Verden Elite Auction, Eloy is by Earl x Wendenburg. In Bremen they scored 8.5 to win the class. Ester Maruhn and her Hanoverian Watulele (by Wolkenstein II x Frappant) finished second with 8.2.
Results
5-year old Dressage Horses
1. Hermann Gerdes - Detroit - 8.70
2. Susan Pape - Barclay - 8.50
3. Julia-Katharina Platen-Elmerhaus - Rembrandt - 8.30
4. Hermann Burger - Ricky - 8.10
4. Marita Pundsack - Ruling Cortes- 8.10
4. Klaus Schrader - haddington KHR - 8.10
7. Annemarie Finger - Hightime - 8.00
8. Wolfhard Witte - Hohenzollern - 7.90
9. Jan-Dirk Gießelmann - Leonardo - 7.80
9. Cathrin Beckmann-Meßfeldt - Rock Ribery - 7.80
11. Julia Bolte - Falco - 7.70
11. John Mc Cormack - Lux-Dressage Statesman OLD - 7.70
11. Christian Garweg - Dynamica- 7.70
14. Hella Kuntz - Royal Falcon - 7.50
14. Jessica Otten-Willers - Sagnol - 7.50
14. Kerstin Mayer - Soleado - 7.50
17. Verena Staffa - Lolita Lempica- 7.40
17. Andreas Homuth - Pino del Rio - 7.40
19. Susan Pape - Harmony's Fiorano - 7.20
20. John Mc Cormack - Lux-Dressage Sonnenreiter OLD - 7.10
20. Marco Bührig - Rasputin M - 7.10
22. Anne-Kathrin Pohlmeier - Daikiko - 7.00
23. Dagmar Zimmermann - Dancing Lord - 6.90
23. Jan-Dirk Gießelmann - Dragonheart - 6.90
23. Lena Stegemann - Harmony's Desiderio - 6.90
26. Ingrid Wilkens- Farelli - 6.80
27. Kristina Witte - Franz Ferdinand B - 6.10
6-year old Dressage Horses
1. Christin Schütte - Eloy - 8.50
2. Esther Maruhn - Watulele - 8.20
3. Wolfhard Witte - Estobar NRW- 8.10
4. Julia-Katharina Platen-Elmerhaus - Wellendorff - 8.00
5. Hermann Burger - Florenciano - 7.80
6. P Annemarie Finger - Don Elfredo - 7.60
7. Christina Thomas - Belvedere - 7.50
7. Laura Yubero Prieto - Rialto Star - 7.50
9. Hans-Peter Klaus - Lizitant - 7.40
10. Mike Bünger - Dycos D'Or - 7.30
10. Julia-Katharina Platen-Elmerhaus - Jack London - 7.30
12. Isabel Bache - Bergerac - 7.20
12. Christian Garweg - De Lorean - 7.20
14. Sabrina Jendsen - Heaven on Earth - 6.80
15. Daisy Palmer-Kraul - Elista - 6.70
16. Ina Thalmann - Hugo H - 6.60
Related Link