2009 Bundeschampionate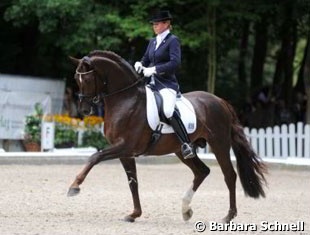 Brandon, Eloy, and Rassolini were the winners of the Bundeschampionate Qualifier in Bargstedt, Germany, June 12-14, 2009. The 5-year old division was split into two groups which resulted of course in two winners.
Nicole Deinzer and the Hanoverian bred chestnt stallion Brandon won group 1 of the 5-year old Dressage Horse division. The Breitling W x Rohdiamant offspring scored a solid 8.5 to take the lead. Susan Pape-Draper and the Oldenburg branded mare Rhapsodie (by Rubin Royal x Cordeur) finished second with 8.3. Birte Ahlers slotted in third place aboard the Oldenburg gelding Royal Dinaro (by Royal Diamond x De Niro). They achieved 8.1.
Former European Young Rider Champion Christin Schütte won group 2 with the 5-year old Hanoverian stallion Eloy (by Earl x Wendenburg), which was shown last year by Fredeke Trute. The dynamic duo scored 8.4 to top the leader board. Hans-Dieter Mangelsdorf followed in a distance with his Hanoverian gelding Don Quichotte (by Don Frederico x Weltruhm) on 8.2. Norwegian born Isabel Bache posted a score of 8.0 on Bergerac, a Hanoverian stallion by Belissimo M x De Niro, to place third.
Professional dressage rider Kathrin Meyer zu Strohen reigned in the 6-year old Dressage Horse division with the Hessian branded liver chestnut stallion Rassolini (by Rubioso N x Silvano N). The stallion scored a 9 for trot and 8.5 for walk and canter to average 8.5 in total and win the class. Stefan Sandbrink and the black gelding Rubin Noir (by Rubin Royal x Lancier) finished second with 7.6, while Martina Hannöver-Sternberg and the Oldenburg mare Donna Medici (by Don Larino x Rouletto) ranked third with 7.4.
Photo copyrighted: Barbara Schnell
Results
5-year old Dressage Horses - Group 1
1 Brandon - Deinzer Dr.,Nicole - 8.50
2 Rhapsodie - Pape,Susan - 8.30
3 Royal Dinaro - Ahlers,Birte - 8.10
4 Final Cut - Maruhn,Esther - 7.80
5 Don - Byström,Angelica - 7.60
5 De Lores - Urbath,Virginia - 7.60
7 Wallander - Finger,Annemarie - 7.50
8 Rodolfo - Brünger,Friederike - 7.30
9 Redmond - Wilkens,Antje-Kim - 7.20
10 Herzdame B - Daake,Mira von - 7.10
10 Benidetto - Frahm,Steffen - 7.10
12 First Class - Otten-Willers,Jessica - 7.00
13 Da Cadija - Bührig,Marco - 6.80
13 Don Elfredo - Finger,Annemarie - 6.80
15 Figo - Möller,Meike - 6.70
16 Rock my Soul - Hillmann, Anja - 6.10
Whispered Secret - Thiele,Anke - RET
5-year old Dressage Horses - Group 2
1 Eloy - Schütte,Christin - 8.40
2 Don Quichotte - Mangelsdorf,Hans-Dieter - 8.20 
3 Bergerac - Bache,Isabel - 8.00 
4 Fantastico - Brunkhorst,Juliane 7.70
6-year old Dressage Horses
1 Rassolini - Meyer zu Strohen,Kathrin - 8.50
2 Rubin-Noir - Sandbrink,Stefan - 7.60
3 Donna Medici - Hannöver-Sternberg,Martina - 7.40
3 First Love NRW - Hannöver-Sternberg,Martina - 7.40
5 Hofglanz - Beuth,Maire Carolin - 7.20
6 Nymphenburg's Lex - Fircks,Johanna von - 7.10
7 Binni Bo - Burfeind,Hartwig - 7.00
8 Camerino B - Bogenschütz,Frank - 6.40