KWPN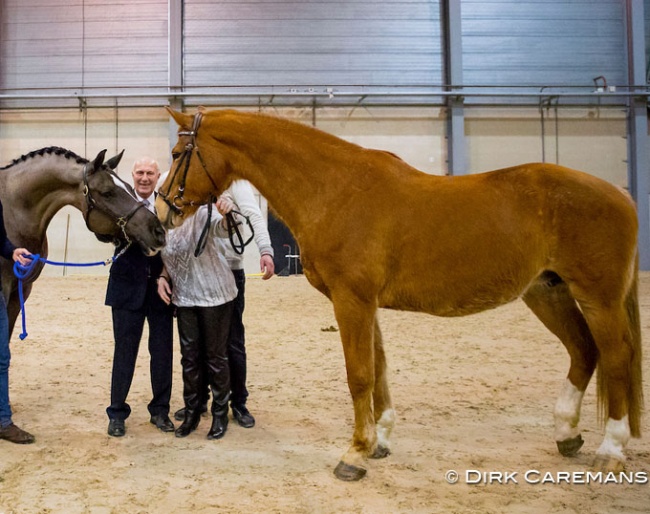 Maifleur, the dam to double Olympic champion Valegro, has passed away. The mare was 26 years old and owned by Joop and Maartje Hanse.
Maifleur was a 1994 born KWPN mare by Gershwin (by Voltaire x Nimmerdor) out of Weidyfleur (by Heidelberg x Frappant). 
Maifleur, Dam of Valegro
The couple Joop (82) and Maartje (73) Hanse own a farm with a mini camping in Haamstede, The Netherlands, in the province of Sealand. They have been breeding horses since 1978. Their first mare was an imported Polish mare named Manjo and their second was Pfleur (by Frappant), who produced keur mare Weidyfleur in 1980 and she produced Maifleur in 1994. 
Maifleur was champion of the Breed Show in Sealand as a yearling. In 1997 she did the mare performance test and scored 76 points as the best in a group of 25 mares. She was proclaimed "keur" mare and became the champion mare of the Breed Show in Vrouwenpolder in 1997. She competed at the KWPN Mare Championship that year.
"Maifleur has jumper blood and we chose Ferro blood for her. At Van Olst there was the KWPN stallion Negro. We had already bred with many stallions at Van Olst and for us the choice was logical," said Hanse in a KWPN interview. The result was Valegro. 
Maifleur produced six foals in her life, the first one, Soleil-Fleur, was born in 1999 and by Kennedy. In 2002 Valegro (by Negro) followed and his full sister Weidyfleur II (by Negro) in 2003. In 2005 she produced a filly named Aimfleur (by Lupicor) and then there was an almost 10 year break from breeding. In 2014 a filly by Negro was born, named Jalegrofleur, in 2016 the colt Lelegro (by Negro) followed. 
Maifleur was fit throughout her life. At age 25 she still went hacking regularly with Joop and only recently her health started to decline. 
Legacy
Valegro's full sister Jalegrofleur has been bred six times with embryo transfer in partnership with Gert-Jan Van Olst.
This procedure produced four offspring in 2018: the colts Nalegro (by Inclusive) and Nolegro (by Painted Black) and the fillies Nikitafleur (by Governor) and Nijntjefleur (by Toto Jr).  In 2019 two ET foals were born, Ofleur d'Or (by Painted Black) and Olympiafleur d'Or (by Fursten-Look).
Aimfleur and Jolegrofleur (by Everdale out of Aimfleur) are being ridden by Hanse's son and daughter-in-law. 
Maifleur last appeared in public at the 2017 KWPN Stallion Licensing in 's Hertogenbosch, where a special tribute and retirement ceremony was held for Valegro.
Photo © Dirk Caremans
Related Links
Joop and Maartje Hanse Honoured as 2015 WBFSH Best Dressage Breeders
What's Happening: May 2016
Valegro and KWPN Top Final 2015 WBFSH Dressage Horse and Studbook Ranking